Description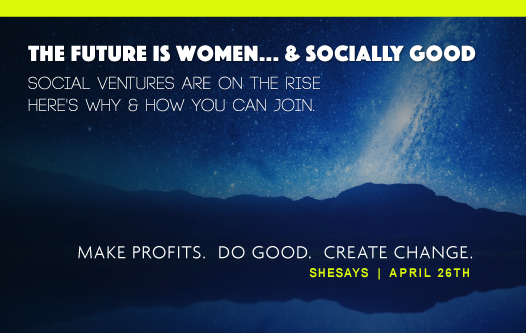 Ladies, we're tired of business as usual.

We're dead tired of businesses and paradigms that elevate profit over everything else. We think you can do good & make bank. Fortunately, we're not alone. The time has come for a new, kinder economy and new breed of business heroes.
This month we're diving into social ventures. Not only are they driven by values and goals to improve the world we live in, mission driven innitiatives are good for business, and these businesses also have a pretty strong feminine presence. Yes, ladies are owning this growing market.

We have 3 amazing women joining us to share their insites: Emily Winslow (VP of Ops at PeakChange), Megan French Dunbar (co-founder of Concious Company Media) and Amber Nystrom (co-founder SDG Marketplace and Triple Revolution Collective) are here to share insights on social ventures, funding, and what the future holds.
So how do you get involved and what does that even look like for a socially driven startup or business?
 we'll dig into:
What's the New Economy - and how it solves deeper problems
Examples of social ventures - in the PeakChange portfolio and Colorado community (Evrnu, Pharma Jet)
How YOU can to participate and use your influence to drive it's growth: Incubate (start your own or join one), venture (creative funding); Voice (storytelling & KPIs); Wallet (investment & philanthropic capital)
WHEN & WHERE

@Galvanize Boulder
6:00-7:00 = Mingling, Food & Drinks
7:00-8:00'ish = Presentation and Q&A
OUR SPEAKERS:
Emily Winslow
As VP of Operations of PeakChange, Emily Winslow brings her passion for empowerment of women entrepreneurs, alleviation of poverty, and innovation for social change to life through impact investing. PeakChange supports and engages in both direct and indirect investment in startup, early-stage social ventures within the United States and internationally. At PeakChange, she provides a multidisciplinary approach in applying best practices for capacity building and structured innovation by providing management consulting services and developing customized performance metrics. Among her responsibilities, Emily is a PeakChange board observer for Investor's Circle, Girls for a Change, ThinkImpact, and Unleesh.
Emily settled in Denver after receiving her Masters in International Development from the University of Denver Josef Korbel School. Emily's organizational memberships include Ellevate, Denver Young Professionals, Toniic, World Denver Young Professionals. Additionally, she is a Flock Mentor and SheEO Activator.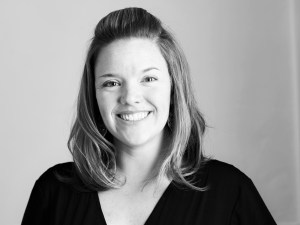 Meghan French Dunbar
Meghan French Dunbar is Co-founder of Conscious Company Media, which is the first multimedia organization in the country that specifically focuses on purpose-driven business. The company's flagship product — Conscious Company Magazine — was the first print and digital, nationally distributed publication in the United States to focus solely on sustainable and conscious business. After its launch in January 2015, the magazine was quickly picked up by Whole Foods Market, Target, HEB, Barnes and Noble, Kroger, and more. After more than two years on shelves, Conscious Company Magazine has firmly established itself as the authority in the space on the conscious business movement. The company has since broadened out to include events, research, career resources, and education, all with the intention of creating the world's premier purpose-driven professional community.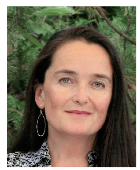 Amber Nystrom
Amber is a serial entrepreneur and among the foremost international pioneers in impact investing, social enterprise and global ecosystems and network innovation. She is among the world's top Master Facilitators in global systems change, and brings to this work over two decades of senior leadership launching and scaling world first innovations that channel the power of entrepreneurs and markets to address humanity's great challenges.
Amber is currently dedicated to a portfolio of work to meet the UN's Sustainable Development Goals (SDGs). This SDG portfolio includes Prosparity, a financial platform to aggregate capital resources for the SDGs; a global collective action based "SDG Marketplace" and Summit Series; and a moonshot SDG Lab to vet, incubate and capitalize the world's most promising 10X SDG breakthrough solutions. At the heart of this work, Amber is also leading a "Triple Revolution" global imperative to collectively mobilize women and millennials and the nearly $60 trillion wealth transfer they will receive into realizing the SDGs by 2030.
**AND PROPS TO OUR AMAZING SPONSORS!**


Boulder Digital Arts - GOLD SPONSOR
For 10 years, BDA has been a community-powered resource for people who create things. Whether you work in film, photography, design, technology or business, we seek to empower your creative process with membership, education, events, community and collaboration. They're happy to support SheSays and offer members awesome discounts AND the SheSays Mini-Scholarships! --WE <3 BDA!!
InspringApps - Food & Tasty Treats
InspiringApps is an award-winning web and mobile app design and development company. We're passionate about helping others use technology to strengthen their business, tell their story, or bring some other dream to life.
TapInfluence- Staunch Supporter
TapInfluence is the leading influencer marketing automation solution for brands and agencies. We make it easy to build, execute, and maintain successful influencer marketing programs.
Siren Vid - Video Production & Content Creation
Siren Vid is a Boutique Video Production Company that specializes in bringing artistic vision to commercially based video content in the form of Brand Story's, Interactive Videos, Product & Event Videos. From concept to completion, we work closely with our clients to ensure the final product is not only a direct reflection of their vision, but are emotionally compelling and have a cinematic flair.
MAPR.agency - Drinks
We are what a public relations firm should be: Integrated. Creative. Effective. Setting the standard in integrated PR, SEO, web design, and creative.
Galvanize Boulder - Event Space
Galvanize is a network of modern campuses and co-working spaces where you can learn the skills, knowledge, and network you need to make an impact. Learn. Work. Grow.