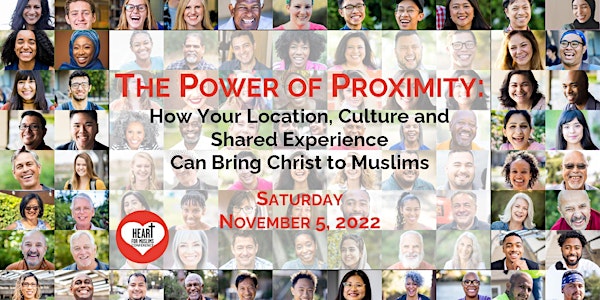 The Power of Proximity | 8th Heart for Muslims Conference | Nov 5
The Power of Proximity: How Your Location, Culture and Shared Experience Can Bring Christ to Muslims + Post-Conference Training Included
When and where
Location
Trinity Baptist Church 250 East 61st Street between 2nd and 3rd Avenues New York, NY 10065
Refund Policy
Contact the organizer to request a refund.
Eventbrite's fee is nonrefundable.
About this event
We focus on the power of your proximities: location, culture and shared experiences — living purposefully — the ways that nearness can make sincere connections possible with people who may have never heard the gospel of Jesus Christ
Choose 2 Workshops from 9 Choices
Dynamic Ministry Leaders Offer Insights from Local, National and International Perspectives
Meet & Greet, extended fellowship directly after the conference with other believers, speakers and ministry representatives
New & In-Person: One Post-Conference 'Conversation without Compromise 'Training Session available Nov 10, Nov 11 OR Nov 12 — Included with Registration
We invite you to come to Trinity Baptist Church, on November 5th and join like-minded Christians!
Explore Jesus' heart for Muslims.  Consider your own intentionality.  Rediscover ways you can reconnect your personal story with His eternal plan.
Your location, culture and life's experiences are so familiar. Those simple parts of life may not seem very impactful or far-reaching. But with the gospel, they are!
This year, we focus on the power of your proximities — living purposefully — the ways nearness can build bridges and make sincere connections possible with people who may have never seen the love, gospel or hope of Jesus Christ.
And for 2022 — a 2-hour, post-conference training session is available to learn what it means to have conversation without compromise, share stories and nurture relationship despite disagreement.
Would you join the vision to love Muslims and eliminate the fear of Islam through the power of the gospel!
Please pray for the conference and Jesus' faithful witness among Muslims in your community.
Post-Conference Training Session Included
At the Dinner Table with Muslims and Christians—Learn How to Extend Hospitality, Invite Community and Build Bridges Despite Fundamental Disagreement
In-Person — 1 Session (2hrs)
Available: Thursday Nov 10, Friday Nov 11 or Saturday Nov 12
Various Times and Locations to Choose From
Sign-up Details in Your Confirmation Email
This 2-hour training is a pre-requisite to participating in Ramadan outreach this spring. It is also helpful for anyone who would like to extend hospitality and build bridges in the Muslim community or to have fruitful conversations without compromise and despite fundamental disagreement.
Video: What's the 2022 Post-Conference Training About? — the approach to training, why Ramadan is a good time for outreach and how Christians can connect with Muslims through hospitality and sharing a meal.
Our Urban Voices Episode #43. A Christian Persecuted in Pakistan — an Advocate to Love Muslims in America
Dr. Javed grew up in a Christian family in a Muslim-majority country, Pakistan. Then in America, he was shunned as though he were Muslim. He shares experiences that reveal the need for Christians to love our enemies, support religious freedom, find common ground and love our Muslim neighbors well.
Featuring Heart for Muslims Conference Co-Founders:
Chris Clayman, Associate Director of Global Gates and Co-Founder of Heart for Muslims Conference, Guest Host
Dr. Alfonse Javed, Sr. Pastor of First Baptist Church of Metuchen and Heart for Muslims Executive Director
Vaccinations are not required.
Masks are optional.
This is an in-person conference, virtual registrations are not available.
Group and Student rates are available until Mon 10/31 when preregistration ends at 11:59 PM EST
Walk-ins, same day registration is $50 on Sat.11/5
Click the link above for full FAQ's