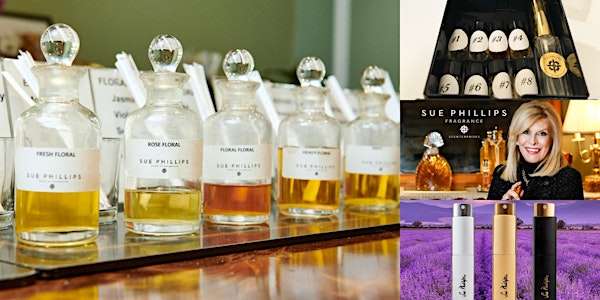 'The Power of Perfume' Webinar w/ Luxury Perfume Discovery Kit
Can't make it live? Register and get access to the full replay for one week! New York Adventure Club | www.AdventureClub.com
About this event
While the options of perfume varieties might seem never ending, did you know that every aromatic blend is derived from only a handful of ingredients? Or that it takes millions of flowers to create just a single bottle of perfume? With the help of a leading fragrance expert guiding you through eight exquisite foundational perfume blends, it's time to uncover the secrets behind the world of fragrance — all from the comfort of your home.
Join New York Adventure Club for a guided virtual perfume experience that will teach you about the fundamentals of fragrance through a curated scent kit featuring eight exquisite perfume blends.
Led by Sue Phillips — a globally-recognized expert in the fragrance, cosmetics, and personal care fields —  this interactive journey through the magic of fragrance will include:
A brief overview of Sue Phillips, who has crafted bespoke fragrances for iconic brands such as Tiffany and Burberry, as well as A-list celebrities including Jamie Foxx, Katie Holmes, Zendaya, Susan Sarandon, Laurence Fishburne, and many others
The history of fragrance and the ways perfumes have evolved — or remained largely unchanged — over the past several thousand years
A discussion around the different fragrance families, including fresh, floral, woodsy, and spicy
A guided scent experience with eight high-quality perfumes (ideal for men and women) and how each corresponds to a lifestyle personality (see 'Fragrance Kits' section below for more details)
The opportunity to craft and name your own unique perfume blend
Afterward, we'll have a Q&A with Sue — any and all questions about the fundamentals of fragrance are welcomed and encouraged!
Can't make it live? Don't worry, you'll have access to the full replay for one week!
See you there, virtually!
*Once registered, you will receive a separate, automated email containing the link to join this webinar
**For the best possible viewing experience, please ensure you're using the latest version of your internet browser — Google Chrome is the most compatible. Exact technical requirements and a webinar user guide will be shared in the automated confirmation email upon registration.
***A full replay will be available after the experience for all registered guests
FRAGRANCE KITS
The Observer: $10
Admission to the webinar (feel free to bring your own perfume!)
The Power of Perfume Experience: $100 (order cut-off: 11/29)
Admission to the webinar
8 high-quality perfume samples from the Sue Phillips House of Fragrance collection with matching blotter strips
4 pipettes
10ml refillable perfume bottle to mix and match scents to create your own perfume
*Sample varieties are subject to change based on availability
**Price inclusive of shipping & handling
***Kits can only be delivered to addresses in the continental United States. Kits will be scheduled for delivery roughly 10 days before the event — shipment takes up to one week depending on location within United States.
****Fragrance samples are roughly 3ml each
*****Full perfume bottle of mix & match custom scent not included
About Sue
Sue Phillips, founder of Scenterprises Inc., is a globally-recognized expert in the fragrance, cosmetics, and personal care fields. From an early age Sue has had a love affair with scents. Sue Phillips has held executive positions at Elizabeth Arden, Lancôme, Paris, and as Vice President of Fragrance for Tiffany & Company, developed the first iconic TIFFANY perfume for the 150th anniversary.
She has launched perfumes and colognes for leading fragrance brands. She created fragrances for TIFFANY, BURBERRY, TRISH McEVOY, LANCASTER, DIANE VON FURSTENBERG,AVON, TRISH McEVOY and many celebrities, Jamie Foxx, Katie Holmes, Zendaya, Susan Sarandon, Lawrence Fishburne and thousands of fragrance lovers. As a fragrance expert, Sue recognizes and anticipates trends and launched a successful CustomBespoke Perfumery, originally The Scentarium in Tribeca, New York, now SUE PHILLIPS FRAGRANCE located at 19 East 80th Street, NY NY 10075.
She has presented innovative Corporate Teambuilding for Fortune 500 companies: AOL, DSW, GOOGLE, LINCOLN NAVIGATOR, PINTEREST, WELLS FARGO, METLIFE & hundreds of others.
Disclaimer
By attending a New York Adventure Club experience, you accept our terms of service.
Categories: Virtual, Art & Entertainment