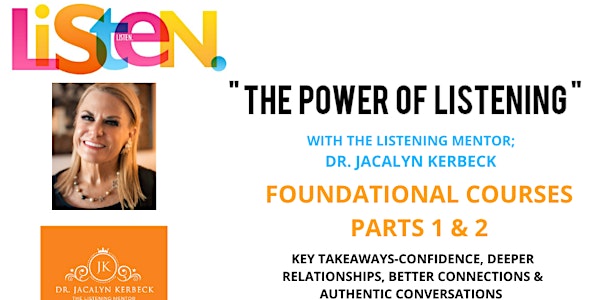 The Power of Listening
THE POWER OF LISTENING CERTIFICATION COURSE learn how to have -deeper connections -better relationships -more authentic conversations
Refund Policy
Contact the organizer to request a refund.
Eventbrite's fee is nonrefundable.
About this event
Join the World of Elevated Listeners & Communicators.
With a life forged by human challenges, adversity, and pressure, Dr. Jacalyn Kerbeck has traveled a very difficult human journey that has given her a great eagerness for helping people and supporting them towards their dreams. Having overcome a great depth of adversities whilst still amazingly succeeding for 25 years as an International 6-figure Corporate executive and then going on to become the bestselling author of "Behind The Green Screen" and achieve a Masters in Finance and Doctorate in Business Administration, she has a unique and talented insight into supporting and guiding people to the next levels in their careers and life. She likes nothing better than when she sees people smile as they achieve that next crucial breakthrough. Certified in many important and business-personal-work related disciplines she has a wide range of expertise and seasoned expertise in elevating people, brands and businesses towards their greatness.
The Power of Listening Parts 1 & 2 Certification Course
If you are unable to attend in person,we will email you the link to take the course at your leisure. This is an online webinar.
After completing the course, we will send you a 7 question quiz. When you score 100%,
you will become a Certified Elevated Listener on USA GLOBAL TV & RADIO.
You will be invited to appear on The Listening Mentor TV/Radio Show.
Your certificate will be promoted on social media and on drjacalyn.com
Parts 1-2
I hope you can join me and learn how to have
-deeper connections
-better relationships
-more authentic conversations
and
-inner peace.
During this Listening Seminar, we will explore the various types of listening skills, what prevents us from being fully present, the differences between "hearing" and "listening", and the value you can take away from being your own Listening Mentor.
Watch and Engage with Role Plays depicting scenarios at work and home.
We review role plays to provide key learnings you can incorporate immediately into your life.
You will receive a quiz upon completion of the courses. With a score of 100%, you will be deemed an Elevated Listener, earn a certificate of completion andd be eligible to be a regular guest on The Listening Mentor TV Show on USA GLOBAL TV® & RADIO Platform.
Dr. Jacalyn®