Influencer marketing is becoming a crucial aspect of any brand's marketing mix.
About this event
Influencer marketing is becoming a crucial aspect of any brand's marketing mix. A community of creatives to support your brand not only builds brand awareness, social growth and valuable content creation, it enhances performance marketing efforts and drives concrete sales and returns. This space is commonly known as the Wild, Wild, West since there are countless varying approaches and strategies, but at its core it's really quite simple, a brand must build genuine and authentic connections to craft meaningful dialogues that resonate.
________________________________________________________________________________________________
You might be surprised to learn that, when surveyed, a large number of entrepreneurs list marketing- rather than funding- as their number one need. That is why we offer our weekly Marketing Outside the Box series!
Marketing Outside the Box Series: Do you want to make more money with your business? Are you willing to think outside the box? In this unique lunchtime series, we explore innovative and radical ideas for marketing your business. Each week, we introduce you to a new cutting-edge (but proven) marketing strategy or technology to help you attract, retain, and increase revenue from customers. Bring your own bag (or box) lunch to enjoy while you learn!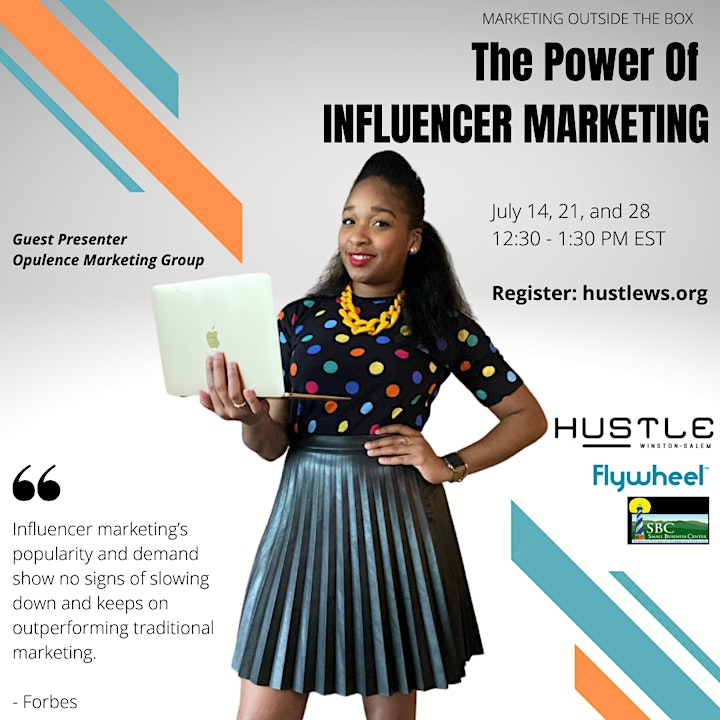 Organizer of The Power of Influencer Marketing
Our mission is to help grow the local economy by accelerating underrepresented entrepreneurs, with an initial focus on women, people of color, and marginalized business districts. We envision a thriving city where everyone has equitable opportunity to achieve economic prosperity through entrepreneurship. 
Website: hustlews.org