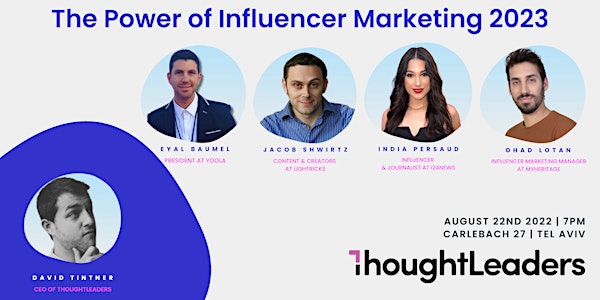 The Power of Influencer Marketing 2023
Come meet our expert panel who will provide all the hidden tips and tricks of the constantly evolving Influencer Marketing Industry.
When and where
Location
ThoughtLeaders office 27 Carlebach Street Tel Aviv-Yafo, Tel Aviv District 6713223 Israel
About this event
The Power of Influencer Marketing 2023
We will be joined by top executives in the creator economy who have worked with and managed the likes of Nastya, Charli D'Amelio and more.
Topics will cover: How influencers are changing global entertainment models, positioning your company with the help of creators, matching talent with correct brands and navigating this competitive market.
Our panel will include :
Eyal Baumel - President of YOOLA
Jacob Shwirtz - Content and Creators at Lightricks
India Persaud - Influencer and Journalist at i24 News
Ohad Lotan - Influencer Marketing Manager at MyHeritage
Moderator : David Tintner - CEO of ThoughtLeaders
The panel will be in English.
This will be a great opportunity to network with other influencer marketing managers and creators in the field.
*Drinks and Snacks Provided*
Agenda:
19:00 - Networking & Mingling
20:00 - Panel: The Power of Influencer Marketing 2023
21:00 - Networking
More about our Speakers :
Eyal Baumel is the president of Yoola, an entertainment company and YouTube multi-channel network that works with creators and brands to develop, distribute, license, promote, and monetize content and products. The Yoola network generates over 10 billion monthly views, has more than 2 billion subscribers, and manages 300 YouTube creators and channels with more than 1 million subscribers each. Baumel personally manages Like Nastya, the most popular YouTube creator in the world with more than 250 million subscribers and over 150 billion views.
Jacob Shwirtz has spent 20+ years building and scaling digital operations. Prior to leading Partnership initiatives at WeWork, which drove $200M into the sales pipeline, he held innovation leadership positions at MTV, Viacom, Endemol and completed projects for AMC, Nickelodeon, Discovery, Global Citizen and others. Jacob has done deals with everyone from Michelle Obama to Kim Kardashian and produced content with talent as diverse as Bono and the Pope. In his new role at Lightricks (2021), Jacob is overseeing all "content and creator" efforts across the portfolio of award-winning, creator-empowering apps.
India Persaud is a digital content producer and journalist at i24News with more than 5 years of work experience in content producing, researching and coordinating broadcasts. Her videos explore Israeli culture and society are viewed by millions around the world. The purpose of her work to build bridges between nations and empower others to leverage the power of media for themselves.
Ohad Lotan currently works as the Senior Influencer Marketing Manager at MyHeritage. He has over 6 years of experience in the online marketing managed influencers globally and across multiple platforms. Ohad has perfected the art of negotiation and collaboration with influencers and understands how to work with global agencies. Ohad also is a content creator himself and has a podcast Let's Talk דוגרי .