This evening is in celebration of Sadhviji's new memoir - Hollywood to the Himalayas!
About this event
Join revered holy leaders Pujya Swami Chidanand Saraswatiji and Sadhvi Bhagawati Saraswatiji for an evening of Meditation, Chanting, Wisdom Talks and Divine Blessings!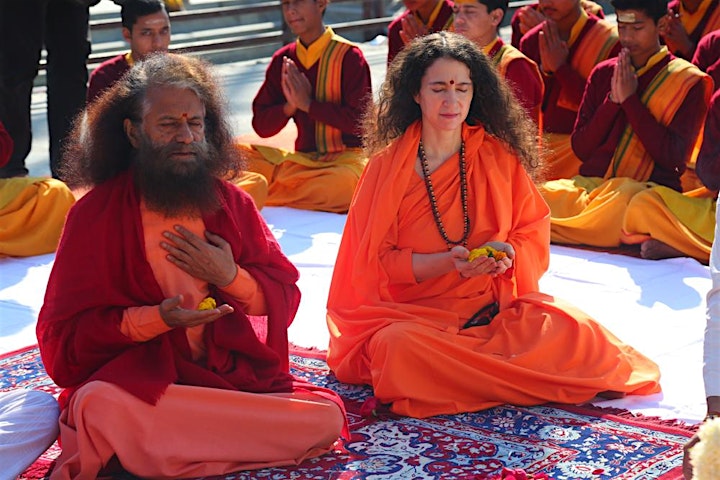 PUJYA SWAMI CHIDANAND SARASWATIJI is President, Parmarth Niketan Ashram, Rishikesh and Founder/Chair, Global Interfaith WASH Alliance.
Touched by God at the age of eight, H.H. Swami Chidanand Saraswatiji left His home to live a life devoted to God and humanity, spending His youth in silence, meditation and austerities in the Himalayas. Today He is one of India's most revered spiritual leaders. Pujya Swamiji is the President of Parmarth Niketan Ashram in Rishikesh, one of India's largest and most renowned spiritual institutions. He is the Founder/Chair of the Global Interfaith WASH Alliance, the world's first alliance of religious leaders for Water, Sanitation and Hygiene, as well as founder of numerous charitable organisations. Pujya Swamiji is the recipient of innumerable international awards for His unparalleled service to humanity.
SADHVI BHAGAWATI SARASWATI, PhD is a renowned spiritual leader, author and motivational speaker based in Rishikesh, India. Originally from Los Angeles and a graduate of Stanford University, Sadhviji has been ordained into the sacred order of Sanyas by her guru HH Pujya Swami Chidanand Saraswatiji and has been living at Parmarth Niketan Ashram for the past twenty-five years.
She is the Secretary-General of the Global Interfaith WASH Alliance, an international interfaith organization dedicated to clean water, sanitation, and hygiene; president of Divine Shakti Foundation, a foundation that runs free schools, vocational training programs, and empowerment programs; and director of the world-famous International Yoga Festival at Parmarth Niketan Ashram, Rishikesh—which has been covered in Time, CNN, the New York Times and other prestigious publications and has been addressed by both the Prime Minister and Vice President of India.She serves on the United Nations Advisory Council on Religion and the Advisory Council of KAICIID as well as on the steering committees of the International Partnership for Religion and Sustainable Development (PaRD) and the Moral Imperative to End Extreme Poverty, a campaign by the United Nations and World Bank. Sadhviji is a regular speaker at the United Nations, Parliament of Religions and other large international forums.
Sadhviji has received numerous awards and recognition for her leadership role in India, including from the Cabinet Minister of Water Resources, Government of India, as well as from the Ambassador of the United States to India. She was also the Managing Editor for the monumental project of the 11-volume Encyclopedia of Hinduism.
She oversees a variety of humanitarian projects, teaches meditation, lectures, writes, counsels individuals and families and serves as a unique female voice of spiritual leadership throughout India and the world.
Websites: www.pujyaswamiji.org, washalliance.org
Facebook, Twitter, Instagram: @PujyaSwamiji
website: www.Sadhviji.org
Facebook: @SadhviBhagawatiSaraswati
Instagram: @Sadhviji
Twitter: @SadhviBhagawati
YouTube @ParmarthNiketan
This event is in celebration of Sadhviji's new memoir - Hollywood to the Himalayas: A Journey of Healing and Transformation!
Order here: Hollywood to the Himalayas: A Journey of Healing and Transformation
All of the author's proceeds go directly to the Divine Shakti Foundation, a non-profit organization providing education, empowerment and health care to women, children and rural villagers in the Himalayan areas of India.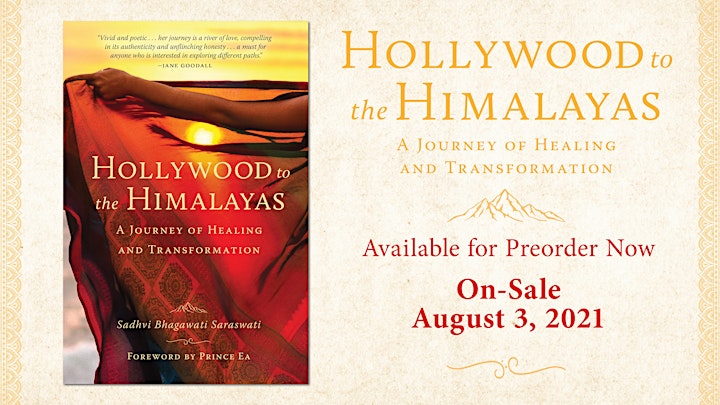 Organizer of The Power of Grace
Parmarth Niketan is a true spiritual haven, lying on the holy banks of Mother Ganga in the lap of the lush Himalayas. It is the largest ashram in Rishikesh, providing its thousands of pilgrims who come from all corners of the Earth with a clean, pure and sacred atmosphere as well as abundant, beautiful gardens. With over 1,000 rooms, the facilities are a perfect blend of modern amenities and traditional, spiritual simplicity. Parmarth Niketan is located in Swargashram, on the main road, just on the banks of the sacred Ganges River.