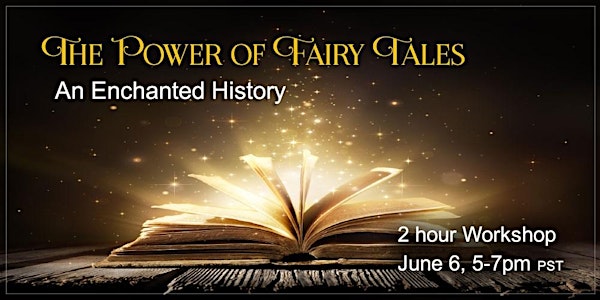 The Power of Fairy Tales: An Enchanted History (2 hour course)
Join Storyteller Jacqui Bushell in a masterclass dedicated to exploring the history of fairy tales and their importance in storytelling.
Date and time
Tuesday, June 6 · 5 - 7pm PDT
Refund Policy
Contact the organizer to request a refund.
About this event
What old fairy tales have stayed with you over the years? Did you know their origins are truly ancient?
Fairy tales have fascinated us for millennia. They form a mythopoetic undercurrent that has shaped our collective with potent archetypes, values and meaning. The rich metaphors and power of these 'wonder' tales extend far beyond the page and influence our psyche, social mores, dreams and gender politics.
Fairy tales have been perennially popular and utilized in many ways, as wise teaching tools, carriers of sacred hidden lore, bawdy romps or socio-political propaganda tools. Common tales, such as Cinderella have spanned millennia, crisscrossing borders and cultures from China, Africa to Europe. Their enduring legacy continues today with their motifs flowing through films, music, books, and advertising. So why are they so potent? What can the Fairy Tales offer us today?
Take a journey into the fascinating world of fairy tales and explore:
The changing nature and role of fairy tales over the centuries
The politics and influence of the Grimms, 17th-century French women and Disney
What a fairy tale actually is and why they are still relevant today as powerful transformational tools
Some of their hidden messages and symbology
The place and power of modern fairy tale retellings from Jungian, queer and Eco shamanic perspectives.
Come and delve into the history and mystery of 'wonder' tales in this informative, fun and intriguing workshop. Fairy tales are rather like a fairy godmother themselves, touching you with a wand of enchantment that bridges the realms of nature, dreams and the Otherworld.
Your Guide: Jacqui Bushell
Jacqui Bushell has been loving the wild abundance of the earth for much of her life. Founder of the School of Wild Presence, she is an inspiring teacher, storyteller, Reiki teacher and plant spirit alchemist. For 30 years, Jacqui has been facilitating women's circles, workshops, training programs, and retreats around the world, to enhance a deep sense of belonging through reconnecting with the mythopoetic in life, nature and the sacred feminine. Jacqui inspires people to live passionately and creatively, in communion with the earth, spirit, and their soul wisdom.
'Jacqui's deep dives into Story are transformational. This is true soul work, using a diverse variety of techniques to draw out and explore who we are in our own stories. I emerged from her course with a new understanding of an old story, inspiration for a personal creative project, and a community of kindred spirits to travel with.'
Katie Carey
'With Jacqui's guidance, I found out that I could use my magic words and love of the mythical and weave it into the every day, to grow as a less fearful person and a more confident, authentic individual.'
Alicia
'Jacqui inspires people! She manages to blend story, spirit, and earth magic into one and shine the light on wonders I never knew existed in myself.'
Kate Wilcox
'Jacqui inspired me to look deeper into all the stories I've unconsciously accepted since childhood. I discovered their hidden wisdom, baggage, and application to my life today. So much insight about what's possible if I woke to my own beauty, power and fulfillment. Jacqui carried the course so gracefully, guiding us to find ourselves and our "ah-ha" moments.'
Vyana Reynolds