Location
Dana Hotel
660 N State St
Chicago, IL 60611
United States
Description
Photos from this session are at: http://chicago-social-marketing.ning.com/photo/albums/the-power-of-facebook-advertising
You may join the online discussion about this topic by going to: http://chicago-social-marketing.ning.com/group/social-media-week
You may also join us for a screening of #Twittamentary on September 29 at 7pm at Heritage Park http://smwtwittamentary.eventbrite.com/
Use hashtag #SMWFB to discuss this session on Twitter: http://twitter.com/#SMWFB
Presentation topic:
The Power of Facebook Advertising: Connecting With, Influencing and Engaging Your Customers
Company Overview
Founded in 2004, Facebook's mission is to make the world more open and connected. People use Facebook to stay connected with friends and family, to discover what's going on in the world, and to share and express what matters to them.
Presentation by Brad Auerbach
Brad Auerbach has more than 10 years of sales and marketing experience and is currently Director, Marketing Solutions at Facebook. He partners with his clients and their agencies in a consultative role to help maximize their marketing efforts across the Facebook platform. Prior to joining Facebook in April 2011, Brad held various roles at Microsoft in their Advertising & Online division and CBS Radio at WXRT Chicago. Recently married, Brad lives in Chicago with his wife Debra.
More information is at:
http://www.facebook.com/marketing
http://www.facebook.com/business
http://facebook-studio.com
This event is organized by:
Chicago Social Media Marketing Group
About Social Media Week
Social Media Week is a worldwide event exploring the social, cultural and economic impact of social media. Our mission is to help people and organizations connect through collaboration, learning and the sharing of ideas and information.
Vision
In the past few years social media has shown us the true power of what a connected society can accomplish. Over the next 10 years, 3 billion new people will connect to each other through the Internet and mobile technology- more than three times the number who are currently online.
We are living in extraordinary times and witnessing the emergence of a networked and communication abundant society. It is our belief that a society which is more connected will lead to a more enlightened, prosperous and sustainable world. Social Media Week will be the platform and global network that will help us collectively realize this potential.
These are photos from the session last year: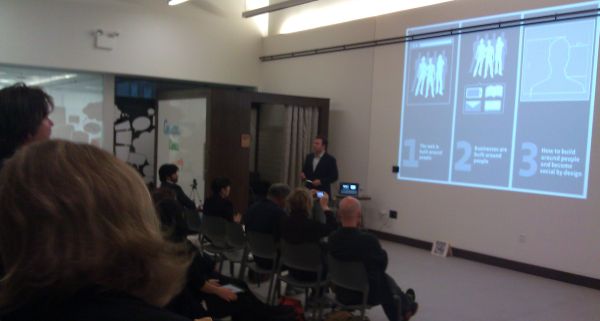 Sponsors: