The Power of Endurance Conference 2k17: The Evolution of the Revived
Description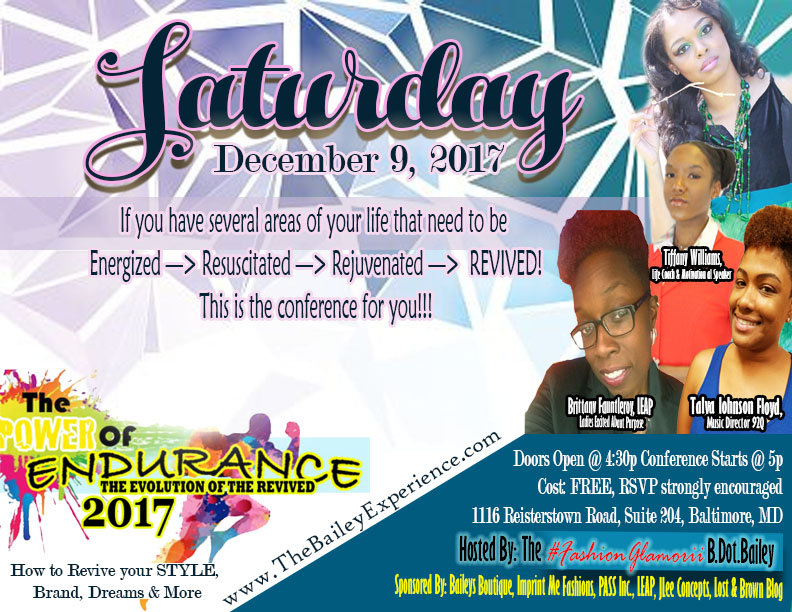 The Power of Endurance Conference 2017 Theme: The Evolution of the Revived
Sponsored By: Bailey's Boutique
Have you ever woke up one morning and decided that it was time to reinvent yourself? As you rolled out of bed and placed your feet on the floor the realization hit you that there were several areas of your life that needed to be "revived"…
Your mindset… your finances… your style…. Your dreams… your spirituality….the list goes on. They all needed to be breathed into they all needed to be —>
Refreshed—> Energized —> Resuscitated —> Rejuvenated —> Stimulated —> REVIVED!
Well we have the solution! Baileys Boutique will be sponsoring our First Annual "Power of Endurance Conference". The theme will be "The Evolution of the Revived."
This evolutionary conference will serve as a groundbreaking moment in our attendees lives. They will gather in one place to have their lives and hearts spoken into by Dynamic and Powerful speakers.
We believe that this conference will be beneficial to all who attend and it's FREE! FREE information, FREE motivation, FREE inspiration, FREE resources. Space is limited so reserve your seat today!
Hosted by The FashionGlamorii with featured guest... Talya Johnson-Floyd, Music Director at 92Q & Brand Strategist Brittany Fauntleroy, Founder of L.E.A.P. Ladies Excited About Purpose Tiffany Williams, Life Coach & Motivational Speaker...
So come out and get what you need! Bring a friend! This conference is not just for someone.. its for everyone who wants their 2018 to begin with a BANG!
Brenda Bailey, #FashionGlamorii, Event Host, Owner of Bailey's Boutique and Founder of the FG# Brand
Date: Saturday December 9, 2017
Time: Doors open at 430p conference starts at 5pm
Location: 1116 Reisterstown Road, Suite 204, Baltimore, MD
Cost: FREE! RSVP is strongly encouraged!
If you are interested in partnering/ sponsoring or vending at this event please email: fgcommunity1@gmail.com