Description
authentic
1. genuine; real; not false or copied
2. the degree to which one is true to one's own character, despite external pressures
What keeps you from expressing yourself fully?

Do you long to celebrate your unique personality freely in the workplace, with friends and at home?

Do you wish you could feel more confident in what you want to create, do or say?
Join us for a life-changing evening of fun & discovery as Women's empowerment experts, Elizabeth Browning and Lois Barth, show you what stepping into authenticity looks like for you.
Limited Seating - reserve your place now!
Wed, Nov. 19
6:00 – 8:00pm
Texas de Brazil
1011 3rd Ave, NYC 10065
(Side entrance on 60th St)
Refreshments and light fare will be served in this
beautiful new restaurant across from Bloomingdales.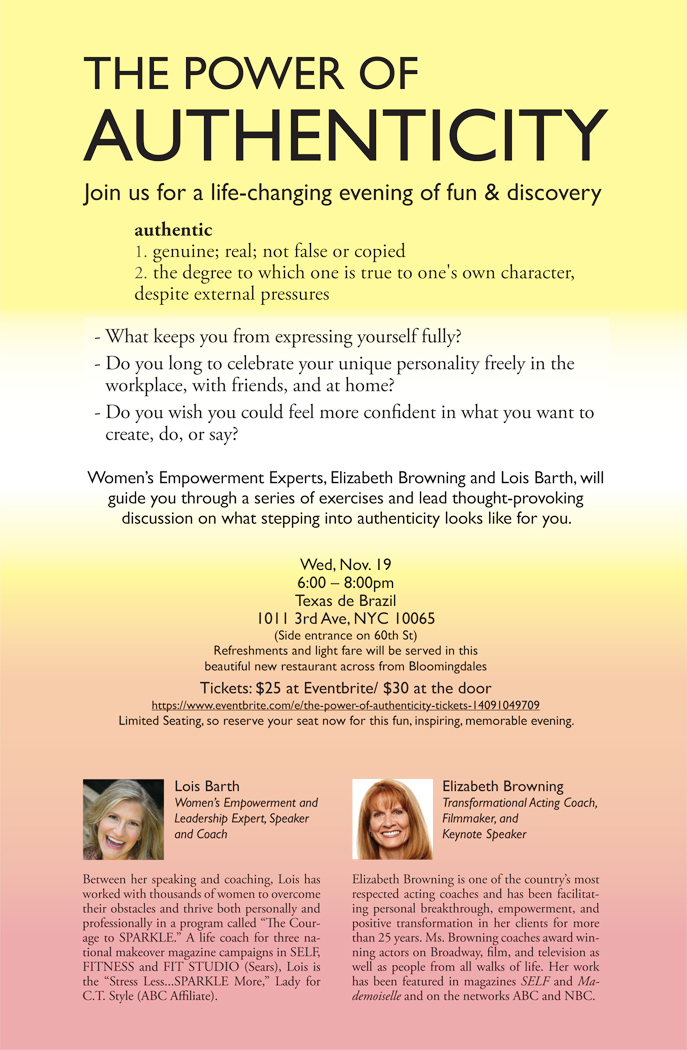 Organizer of THE POWER OF AUTHENTICITY
Elizabeth Browning, the founder of Joy Light Productions and Artistic Director of the Elizabeth Browning Studio, is one of America's most respected acting coaches. From award-winning actors on Broadway, in Film, and Television to business executives, writers, and people from all walks of life, clients come to the Elizabeth Browning Studio to celebrate their creativity, create new works of art, and become more confident, expressive, successful, and personally free. Ms. Browning's revolutionary approach to acting has been featured on NBC, ABC, and in "The Actor's Guide To Qualified Acting Coaches: New York".
As an actress, director, and collaborator on new works of art in theater and film, her vision for bringing about positive change through entertainment and individual self-expression provides the foundation for all of her transformational work worldwide, as seen in her award-winning short film, The Face-a film by Elizabeth Browning.