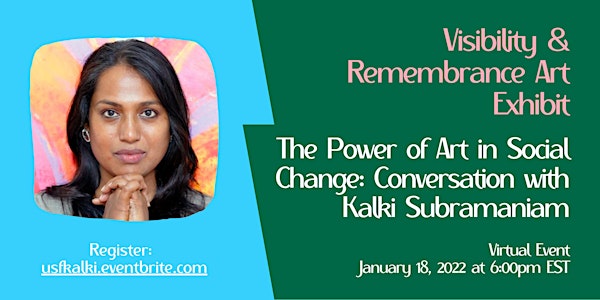 The Power of Art in Social Change: A Conversation with Kalki Subramaniam
A lecture, performance, and conversation with celebrated Indian transgender artist and activist, Kalki Subramaniam.
About this event
"The Power of Art in Social Change" is a lecture with a poetic performance and presentation by Kalki Subramaniam, a celebrated transgender artist and activist from India. Kalki will speak about how, as an artivist, she has broken stereotypes and continues to establishing social acceptance in India by encouraging transgender persons to get involved in activism through art and performances.
Kalki Subramaniam is a renowned gender rights activist, writer and painter from Tamilnadu, India. Kalki's journey with art began from childhood to express her gender identity and be a free and liberated woman. After so many years of not touching the brush, in 2015, she rediscovered her joy in painting and the power of art as a tool towards social change. Since then, she has never stopped painting and experimenting with art and poetry.
Kalki paints mostly with palette knife and few of her artworks have been with brushworks. Her favourite are acrylic fluorescent paints. Most of her artworks can be categorised as pop art and surrealism, she also mixes pop art and cubism in her works. Her artworks have been bought by art collectors in India, USA, Canada and Europe.
In 2017 she started the initiative Thoorikai Project, a community art project as a part of the her organization Sahodari Foundation, introducing art to the transgender community, offering them free workshops and promoting their artistic abilities and a powerful voice through artistic expressions of their struggle for gender justice. She has introduced art to more than 500 transgender people in India and continues to train them as active and powerful voices that raise for gender equality and justice.
List of previous art exhibitions:
June 2016 – Piece by Piece, Alliance Francaise Trivandrum
August 2016, Piece by Piece, Rangoli Metro Gallery, Bangalore
July 2016 – Piece by Piece, Arthouz, Coimbatore
October 2018 – Mohini, Arthouz, Coimbatore
June 2019 – Maya by Kalki, The Manor, Amsterdam
July 2019, "Shut Up! Because the voiceless need to speak!" – a group show of Trans artists of Sahodari Foundation, Arthouz, Coimbatore
November 2019 – Diva – digital artworks of Sridevi, The Promenade, Puducherry
February 2021, We are not the others, Bangalore International Centre, Bangalore.
Director and Curator – August 2021, India International Spiritual Art Festival, India.
Website www.kalkisubramaniam.com, www.sahodari.org
Disability Accommodations: If you require a reasonable accommodation to participate in a WGS event, please contact Jennifer Ellerman-Queen at 813-974-5520 at least five (5) working days prior to the event.