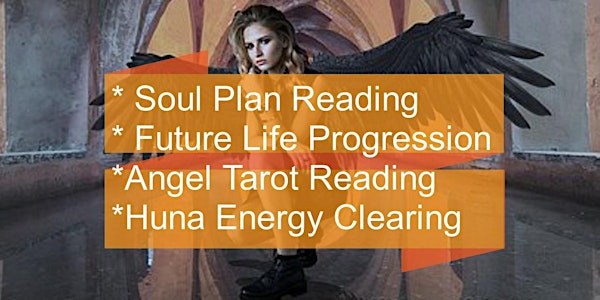 The Power of 4 Combo
The Power of 4 Combo
About this event
THE POWER OF 4 COMBO - SOUL PLAN READING, FUTURE LIFE PROGRESSION, TAROT & HUNA
A TELEPHONE OR SKYPE ACCELERATED TRANCEFORMATION COACHING SESSION
WHAT IS THE FUTURE POWER COMBO?
A blend of Soul Plan Readings, Future Life Progression, Tarot and Huna.  If you prefer to watch rather than read I've put a short YouTube video together.  CLICK HERE to watch in YT or see media player below. 
ATTENDEE FEEDBACK
One of the first attendees upon completion of Part 1 said:
"It's life changing because the awareness from the beginning of our Session to now is exponential so the potential of anyone taking these Sessions is limitless. If you're not sure (about this or your direction in life) you've got to test this out. This will help you answer those unanswered questions. It is mind blowing."
You can read the rest of their feedback about the Power of 4 Program here: http://marilyndevonish.com/if-youre-at-a-career-crossroad-or-have-unanswered-questions-about-life-read-this/
WHY THIS POWERHOUSE COMBINATION?
 Have you ever wondered what the future holds?
It was another one of those #WOW jaw dropping moments yesterday.
Had a very interesting experience at my Membership Group Workshop yesterday. Someone I've not heard from in several months shared what has been happening since they've been off the radar.
They were relaying however everything I had said about their #SoulPlan and things that had come up in their #FutureLifeProgression Session and that what I had said to them in their #AngelTarotReading had come true right down to me saying:
"You will be offered a job and they will want you to start right now."
She was offered not one but 2 jobs on exactly the same day, and both people were fighting to have her take their job and start right now.  Having been out of work for 9 months she is absolutely loving her new role having been inspired by something that happened at the Membership Group Workshop last year which encouraged her to be courageous and try something new.  (Thank you Sonny Olmo for the courage shells!) 
I didn't offer these 4 modalities as a combo. It just so happened she had booked all 3 services last year.
Soooooooo, as she was speaking and sharing with the #MembershipGroup, aside from getting goosebumps, I was also thinking it would be a fabulous idea to do so.
They are all super powerful and very insightful and revealing in their own right, and hearing yesterday about how powerfully they combined I thought it would be fun to do it with even more intention and focus and harness what I call the Gestalt Effect where the whole is most certainly much greater than the sum of its parts. 
You can read about some of the client results here: http://marilyndevonish.com/if-youre-at-a-career-crossroad-or-have-unanswered-questions-about-life-read-this/
SESSION OVERVIEW*
Power Module 1
We will start with the Soul Plan Reading. Those who took part in the 50 Soul Plans for £50 in celebration of my 50th birthday, will have already seen how amazing accurate they are when you get beyond the general words on the initial Soul Plan Report.
The Soul Plan will provide the initial blueprint for our journey and highlight the challenges, limiting beliefs, and Soul blockages we need to work on in order to open up the future possibilities. 
Power Module 2
We do a Huna Energy Clearing Session to help change old beliefs and clear out the neurology.  With the energetic and soul clearing and alignment done we will do the Future Life Progression Session for clarity on Life Purpose and life path and also to see the links and resonance between that and your Soul Destiny. 
Power Module 3
Those who take part in free Tarot Tuesday video Readings each month have seen the incredible unfolding of these messages over time so we will close the Session with an Tarot Reading and Huna Energy Clearing. If you don't know much about it you can read the Comparison Blog here: 
http://marilyndevonish.com/the-spot-on-power-of-angel-tarot-is-amazing/
Power Module 4 
I take you on a guided Future Life Progression Session. 
As you know if you have followed me for a while, the Future Life Progression messages and visualisations can be as stunningly accurate as: 
"You will be moving into a white house situation on a hill and there will be 2 entrances, one of which through which the public can enter."
That is exactly the house that Lisa moved into the following year and it was just as she had seen and described it.  If you've never seen FLP in action you can watch a short video overview here: https://youtu.be/S2jwUIW9W3o
* The order and sequence of the Sessions may vary depending upon what comes up.
SESSION AVAILABILITY 
Because these take a a considerable amount of time for me to both organise behind the scenes, and run, there are only a limited number of places available.
The previous options for those on my eNewsletter list depending up how quickly you place your booking, included:
Five places at the 'Book it Now' price.
Five places at the 'Oh go on then' price.
Five places at the 'You Snooze You Lose' price.
Once those expired, please use the next price tier available.
SESSION LOCATION
Sessions will be done via telephone, Skype, or my Online Meeting Room.
FURTHER QUESTIONS 
If you have any further questions or queries e-mail: marilyn@tranceformationsTM.com