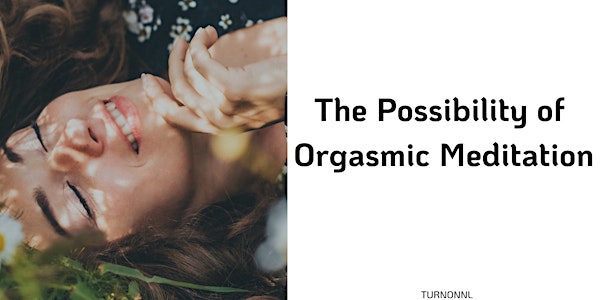 The Possibility of Orgasmic Meditation
Feel more connected and free in your intimate relationships
About this event
Orgasmic Meditation (OM) is a 15 minute wellness practice which helps people feel more confident and free with their sexuality and intimate life. You create a healthier body and you will develop a deeper connection with yourself and others.
Intimacy is a challenging topic to talk about. We often feel shy or uncomfortable around it. Yet it is important to learn what we need and desire. In knowing ourselves, our boundaries and desires we can find ways to communicate and create the relationships we want.
In this free online talk you will learn how OM helps you to connect back to your body and desires. How it helps to improve your communication and deepen your intimate relationships.
What you get in this talk
• An explanation of Orgasmic Meditation
• What you can expect to learn from practicing OM
• Ways of learning how to OM
Marga will share with you her personal journey. There will be plenty of room for questions. We will have fun and a lively conversation about things we normally don't talk about.
When: Thursday October 20
Time: 20.00-21.00 CET
No costs
Two important ways for you to show up and add your turn on to this call:
- This is an interactive lecture. While you do not have to speak if you don't want to, we request that you turn your camera on. If you are not willing to do that, no problem, but then you cannot participate.
- Show up on time. We will open the Zoom room 10 minutes before the start of the event. We will lock the room right at the start at the top of the hour.
An extra welcome email will be sent to you. Check your spam box in case it doesn't show up.
If you have any questions, email Marga at info@turnonnl.com