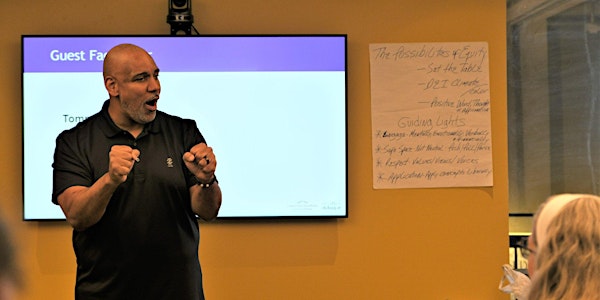 The Possibilities of Equity
Tommy engages participants in a thoughtful, interactive, spirited, and meaningful conversation, that delves into The Possibilities of Equity
When and where
Location
The Environmental Education Center 2401 Scott Boulevard Southeast Iowa City, IA 52240
About this event
Tommy engages participants in a thoughtful, interactive, spirited, and meaningful conversation, that delves into The Possibilities of Equity. Tommy brings the transformative concept of Equity to life in a clear and relevant way. Participants delve into the Essential Elements of Equity and discover their Primary Lens. Both of these tools are geared towards helping participants gain a broader understanding of identifying and implementing Equity and all of the various spaces that they dwell in, be it personal, professional or within the greater community. Tommy invites each participant to approach and enter this generational conversation in a spirit of humility and curiosity.
At the end of this session, attendees will be able to:
1. Clear understanding of the transformative concept of Equity
2. Effectively identify the Essential Elements of Equity
3. Understanding and identifying their own Primary Lens
Accommodations
If you will need disability-related accommodations in order to participate in this event, please contact Equity Director Stefanie Bowers at 319-356-5022 or stefanie-bowers@iowa-city.org. Early requests are strongly encouraged to allow sufficient time to meet your access needs.