Actions and Detail Panel
The Portland Tour
Mon, May 8, 2017, 8:00 AM – Tue, May 9, 2017, 4:30 PM PDT
Description
In 2008, Kevin Palau and dozens of churches in Portland gathered together to dream and pray about how they could work together to love and serve the city of Portland in the name of Christ. They approached civic leaders and school officials and asked the questions: How can we work together? Can we put aside our differences in order to see the people of Portland flourish?
This gospel movement story is detailed in Kevin Palau's book, "Unlikely", the account of how the churches in Portland have stepped into partnership with the city in areas like foster care, school partnerships, refugee care, and anti-sex trafficking. We invite you and your leadership team to join us for a Portland tour, where you will meet with Kevin Palau and the Luis Palau Association team, pastors, civic leaders, school officials, and other leaders who are united in present, ongoing efforts to love and serve the city.
Come with your community leaders to hear the stories and lessons learned in Portland, and to be inspired to envision the possibilities for the Gospel movement in your own city. We can't wait to have you.
FAQs
How can I contact the organizer with any questions?
Email lizzie.ng@palau.org with questions regarding tour schedule and accommodations.
How much does the tour cost?
While there is no cost for your tour ticket, we do not pay for your travel and hotel expenses. LPA will be paying for the meals shown in the shedule below.
What is the tour schedule?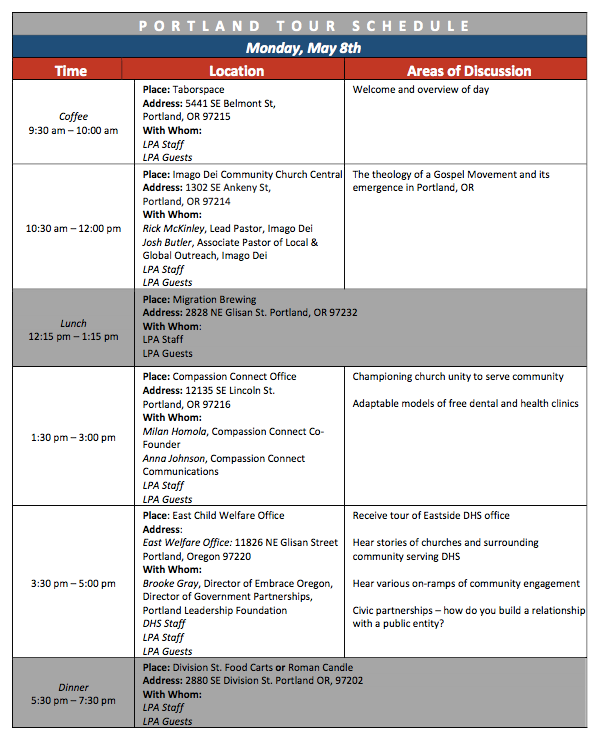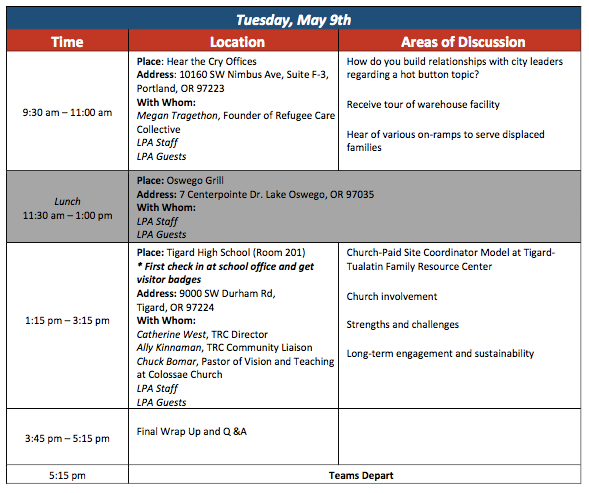 Any there any opportunities to see these partnerships in action while I am in Portland?
We will meet with many individuals who are actively engaged in thriving partnerships, but one unique opportunity to see these partnerships in action is on Saturday, May 6--the Saturday prior to the tour. There is a Compassion Clinic in Sandy, OR which is a weekend dental/medical outreach led by a team of churches serving as one to love their neighbors. This is a model that Compassion Connect (www.compassionconnect.com) helps dozens of cities implement themselves in their own community. Info about the event can be found here https://compassionsandy.com/. There will also be a dinner at 5pm that day hosted by Compassion Connect for any out of town guests who come see the clinic outreach. Location TBD (based on where guests are staying).
Which hotels do you suggest for my stay?
Our tour will take us all around the city, but we suggest hotels around downtown which is the most central location. You'll be about 20 minutes from our office and close to some of the greatest restaurants and sites in our city. Check out this image for suggested hotels: