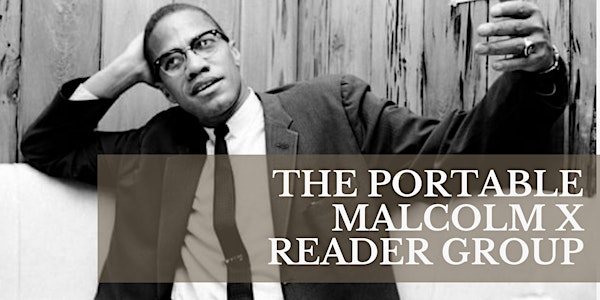 The Portable Malcolm X Reader Group Session I
The Portable Malcolm X Reader edited by Manning Marable and Garrett Felber. The first session will be on August 22nd from 7 p.m. to 8 p.m
About this event
This event will be facilitated by A'Jamal Byndon, the Chair of the MORE board.
The introduction session will be on August 22nd from 7 p.m. to 8 p.m. This timeline will give participants a chance to obtain the book. The Portable Malcolm X Reader edited by Manning Marable and Garrett Felber.
Omaha is the birthplace of Malcolm X, and many are surprised we don't have adequate support in the city of his birth and promulgation of Malcolm X's teachings. Racist educational institutions are not about challenging the existing paradigms or their misdeeds. We are facing ominous times, as indicated by critical indicators both locally and nationally in the United States. There are ways to deconstruct the substance from the style and measure improvements for African Americans and others willing to join in the struggle.
Often folks look to leadership to help establish a way out of the maze. Malcolm X was one such truth-teller, and it cost him the ultimate sacrifice. His goal is to engage the oppressed and challenge hostile conditions. Just as we had 450 years of enslavement, Jim Crowism, and outright practice of genocide toward African Americans and other People of Color, we are establishing this series to have a ten-week weekly book discussion utilizing The Portable Malcolm X
About seven lean years ago, we attempted to offer a course at the University of No Opportunity (the University of Nebraska Omaha). We did not get the minimum number of students to enroll in this elective course in the so-called Black Studies Department. We also planned to host a series at the Malcolm X Memorial Foundation in Omaha that did not happen for many reasons.
This weekly book discussion on Malcolm X and its implications for giving a fresh approach to reducing the historical and current raw racism practiced in public and private institutions is our goal. We will ask participants to read the book in the sequence of the assigned pages and log on to Zoom or Facebook Live to be engaged in robust discussions of the book. The knowledge or teachings can help us fight this worldwide pacification promulgated and apathetic dance with the status quo. Organizations, associations, and individuals have lost their way and become part of the machine that keeps people locked at the bottom of society. The time has come to call out and make it plain, as Malcolm used to say.
Leading questions for the readers:
1. What were significant points gleaned from the reading?
2. How can we advocate with the insight from the readings and alter the current conditions for oppressed folks?
3. Is it possible to increase the scope of Malcolm X's teachings within our communities or society under current conditions?
We ask that you register and share your contact information. We expect participants to adhere to guidelines to ensure comprehensive dialogues on the readings. Our goal is not to merely agree or convert but to learn how to transform conditions for Victims of American Democracy.
The Portable Malcolm X can be purchased here
If you need more information, feel free to contact me.
A'Jamal Byndon, Chair of MORE Board of Directors
Moreinfo@moreomaha.org
402-212-7083
Register Today!