Description
"FOR THE CULTURE" TRIVIA NIGHT
In what film did Oprah make her acting debut?
When was the first issue of Ebony published?
Does Tommy actually have a job?
Was Takeoff left off of Bad and Bougie?
If you have the answers, join us for a night of trivia and charity! Proceeds will benefit The Pop-Up Care Shop's upcoming Care Shop for Nazareth Housing (Park Avenue Thorpe site). Learn more about us below!
---
The event will take place on SATURDAY, NOVEMBER 18TH from 5:00pm - 8:00pm at
333 Flatbush Avenue, Brooklyn, NY 11217
CHECK-IN WITH US BY THE BAR (NEAR THE MIDDLE AREA OF THE VENUE)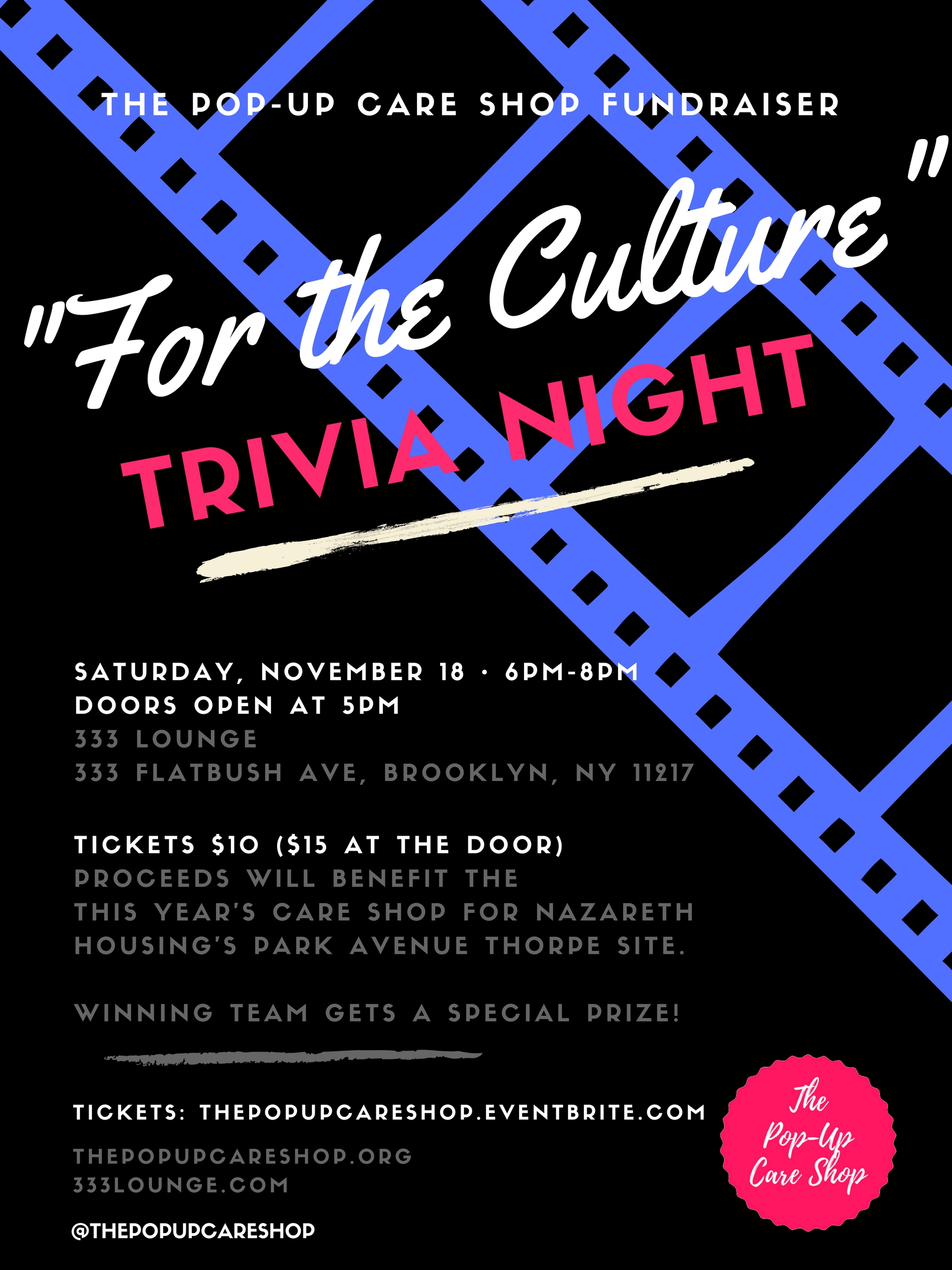 Doors will open at 5:00pm
6:00pm to 8:00pm - Trivia time
COME EARLY! We'll be starting promptly at 6pm; so come early, grab a drink, eat some food, and come up with a solid game plan.
Attendees will form teams of 1-4 players (no worries if you ride solo -- we'll help find you a team!) for 4 rounds. Winning team will receive a voucher for a one-time treat of FREE BOTTOMLESS DRINKS with their brunch at 333 Lounge.
Get ready to be quizzed on:
- Black history
- Pop culture (music, movies, and memes)
- Sports
- Famous clapbacks
- Notable cultural figures
And more!
After the game, come over and say hello! If you're interested in donating clothes or volunteering for a great cause, let us know.
CAN'T MAKE IT? No worries! We'll miss you! But you can still support us by donating to our GoFundMe:
***Fine print: Tickets are $10 online, $15 at the door. Ages 21+ only. Drinks and food will be available at venue -- no outside food or drinks permitted.
We can't wait to quiz you! Contact us with any questions: thepopupcareshop@gmail.com
ABOUT OUR CAUSE
Homelessness is still a major epidemic in New York City, with over 60,000 homeless people, including families and children, counted in July 2017. Sadly, that number continues to grow. With so many shelters and programs underfunded and understaffed, distress saturates the space and everyone dwelling within -- from the people in need to the folks who provide those needs. This year, we want to lift some spirits with a new way of giving. The Pop-Up Care Shop is an interactive charity drive project founded by Kadia Blagrove and Kydee Williams, two NYC writers who are dedicated to the empowerment of women and compassion for humanity.
ABOUT NAZARETH HOUSING
Founded in 1983, Nazareth Housing grew from the grassroots efforts of families and individuals on the Lower East Side dedicated to reclaiming housing through urban homesteading. Under the direction of our Founder Sr. Marion Agnes Daniel, MSBT, Nazareth Housing refurbished buildings and taught individuals and families critical skills to maintain stable housing.
Thirty-four years strong, Nazareth Housing has developed highly successful supportive housing and emergency family shelter programs. These housing options are augmented by an extensive homelessness prevention program along with growing financial empowerment and food pantry services. Born from the need in the Lower East Side, Nazareth Housing now serves residents from all five boroughs. In 2016 Nazareth Housing officially merged with Thorpe Family Residence Inc., expanding housing services to the Bronx. All of our services and programs are delivered with the goal to ensure safe and stable housing for families, seniors and veterans in our communities. Learn more: http://nazarethhousingnyc.org/about-nazareth-housing/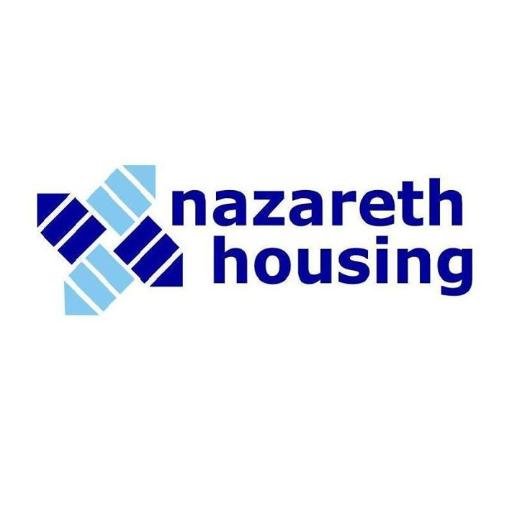 ABOUT 333 LOUNGE
333 Lounge is a Brooklyn hotspot known for its delicious food, signature rum punch cocktails, and lit vibes. Perfectly set in between The Barclays Center and the historic Brooklyn Museum, 333 Lounge is a neighborhood oasis of culture and entertainment. Beyond the nightlife, 333 also supports their community through charitable efforts like their annual Thanksgiving Community Dinner. With unity and love being the core of their values, 333 Lounge is a proud venue sponsor of The Pop-Up Care Shop. Learn more: http://333lounge.com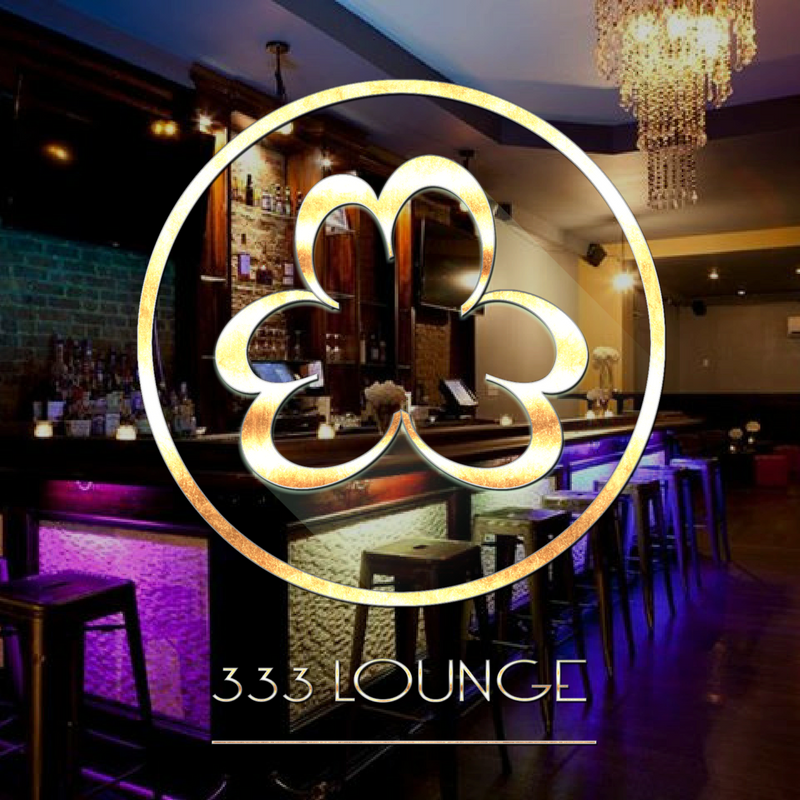 ABOUT THE POP-UP CARE SHOP
The Pop-Up Care Shop is an interactive charity drive project. Partnering with different non-profit organizations, we collect donated goods and "set-up shop" to create a fun shopping experience for those truly in need. Items are nicely displayed in retail-fashion and shoppers get to thoughtfully pick out what they want. Our unique method rejects the standard of drop-off donations and brings the goods to the people directly and with style! Learn more: https://thepopupcareshop.org
Check out our website: www.thepopupcareshop.org
Follow us
Instagram: https://www.instagram.com/thepopupcareshop/
Twitter: https://twitter.com/popupcareshop/
Facebook: https://www.facebook.com/ThePopUpCareShop/
YouTube: https://www.youtube.com/channel/UCwNBQuOXRU84UUg-Zhbi9kA/
SPREAD THE WORD!