Description
Food Trucks & Dogs.... What could be more San Francisco?
Come on out for some fun with your dog for our
October SF Dog Connector's Meetup at the SoMa StrEat Food Truck Park.

The Pooch Coach - Ask The Trainer - SF's expert dog behaviorist, will be on hand to answer your questions and give tips for handling your dog in these types of situations.
A percentage of all proceeds will go to our guest nonprofit - SF Dog Owners Group. They help fight to keep off leash rights for our dogs here in the Bay Area and promote responsible dog ownership.
We will have several other dog businesses in additon to SFDOG there for your entertainment:
Petcube Ready for your pet to go high tech? Petcube is a home camera for pet owners. It's the first gadget that allows pet owners to watch, talk to and play no matter where they are, using their smartphone.
Happy Hounds Massage - Is your dog a bit stressed? Happy Hounds will help relax him. And Shelah will explain to you how and why therapeutic massage can keep your pup moving and feeling great through all stages of their life.
Lotus Veterinary Housecalls - Ask the Vet - A holistic veterinarian will be here to answer questions about your dog's healthcare... with both Eastern & Western medicine.
Our Happy Tails Bakery - They use only the finest, freshest and all natural ingredients to create pastries that will fill your pets belly and warm their hearts.
Wag Hotels - Founded in 2005, Wag Hotels is the ultimate stay & play resort for dogs and cats, including hotel-style boarding, doggie day care and grooming.
The Barking Meter - SF's new premier dog walking & concierge service.
Soulful Pet Photography will be on hand to take pics of the doggies and their peeps.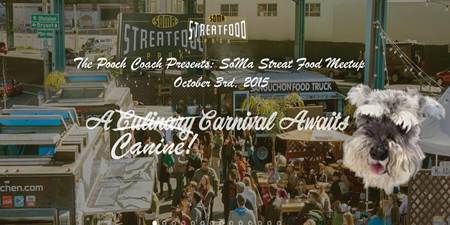 Notes for dogs: Dogs must be on leash and friendly towards people and other dogs.
Online tickets 50% off door price!
Buy Now!
Organizer of The Pooch Coach Presents: SoMa StrEat Food Bark Meetup... A fun event for dogs & their people.