The Political Culture of Democracy in the Americas, 2016/17 (LAPOP)
Description
2016/2017 AmericasBarometer Regional Release
The Political Culture of Democracy in the Americas, 2016/17
Tuesday, September 26, 2017 | 9 AM | FIU Modesto A. Maidique Campus | GC 243
Comparative research on democratic governance is critically important to understanding today's realities, anticipating key political challenges, and identifying actionable policy solutions. Around the globe, and in the Americas, democracy is on the defensive against public disillusionment with what it has delivered. The AmericasBarometer is the premier comparative survey on governance in the region. It is carried out by the Latin American Public Opinion Project (LAPOP). LAPOP has deep roots in the Latin America and Caribbean region after four decades of public opinion research.
Panel One: A Comparative Study of Democracy and Governance
Presenters:
-Elizabeth Zechmeister, Director of LAPOP, Vanderbilt University
-Noam Lupu, Associate Director of LAPOP, Vanderbilt University
Commentators:
-Barry Levitt, Associate Professor, Department of Politics & International Relations, FIU
-Gabriela Hoberman, Assistant Director, Extreme Events Institute, FIU
Panel Two: The Challenges of Democratic Governance in the Andes: Colombia, Ecuador & Venezuela
Presenters:
-Miguel García Sánchez, Associate Professor, Universidad de los Andes, Colombia
-Daniel Montalvo, LAPOP Program Manager, Vanderbilt University
-Mariana Rodríguez, LAPOP Program Coordinator, Vanderbilt University
Commentator:

-Astrid Arrarás, Instructor, Department of Politics & International Relations, FIU
This event is free and open to the public. For more information please call 305 348-2894.
Part of LACC's Governance and Security Program of Excellence. Co-Sponsored by USAID, Kimberly Green Latin American and Caribbean Center, and LAPOP.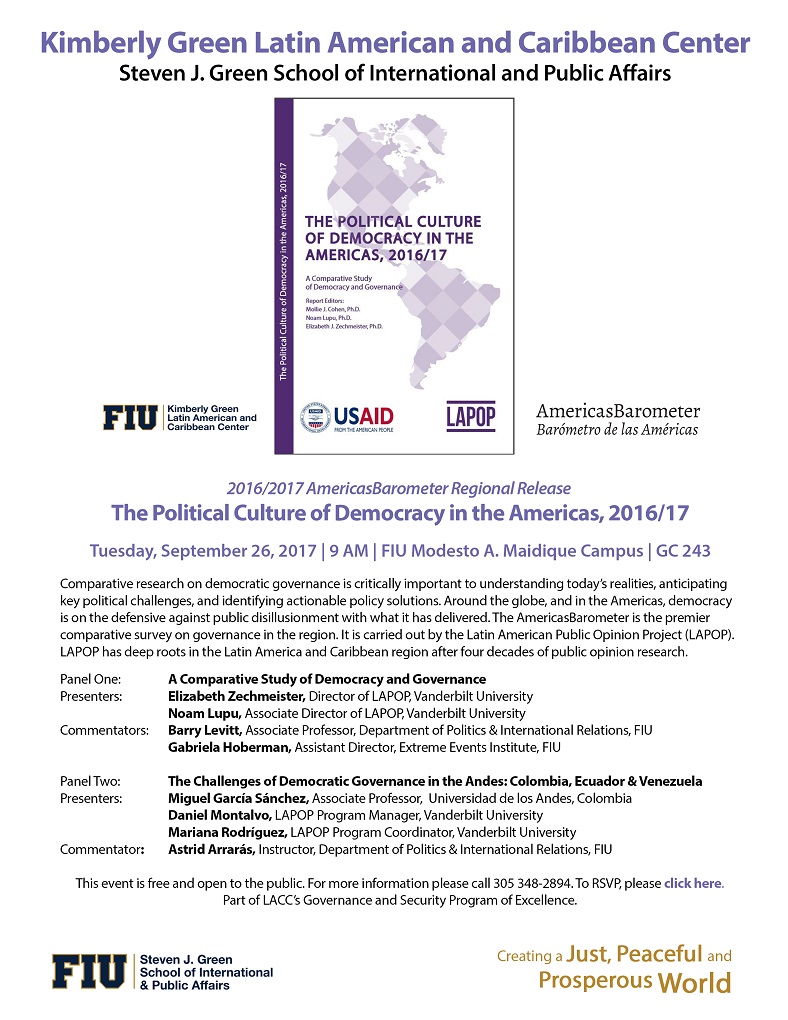 Please click here to view the flyer.
---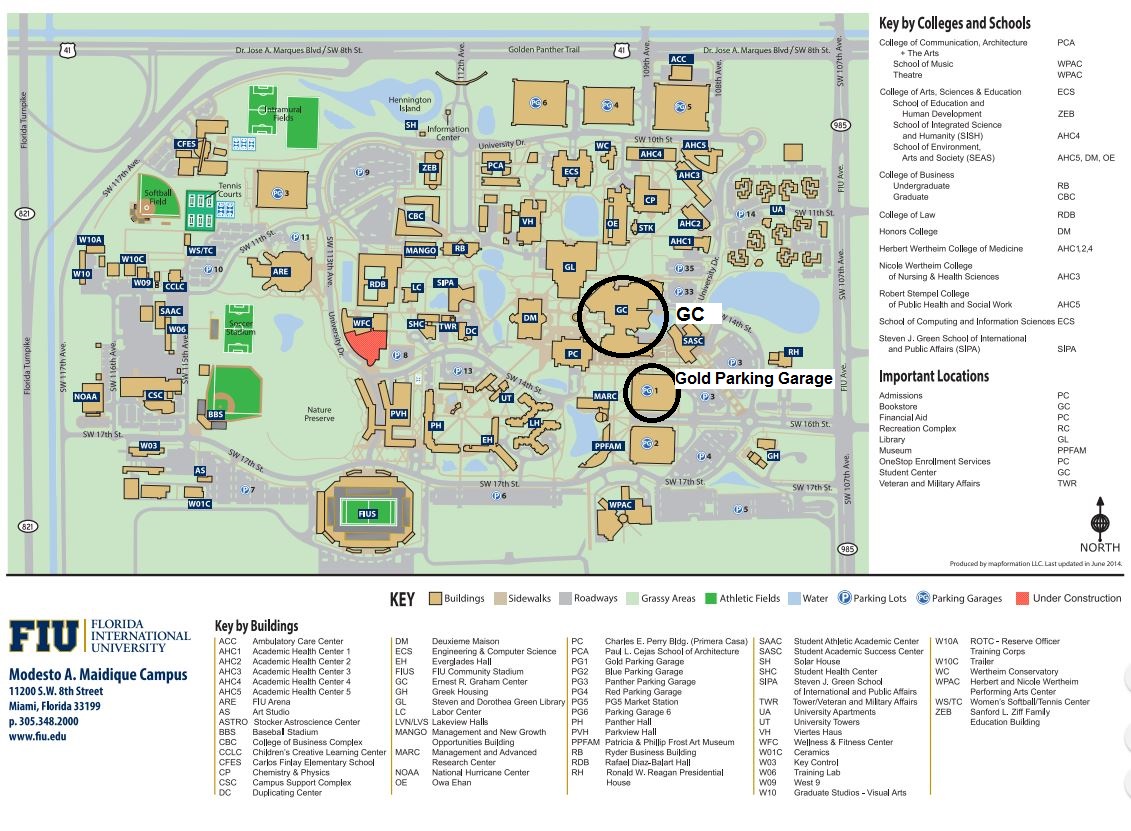 Directions:
From Miami International Airport:
Take the I-836 WEST exit from the Airport
Follow I-836 to the Florida Turnpike
Take the Florida Turnpike SOUTH exit
Follow the Florida Turnpike to the Tamiami Trail exit (SW 8th Street)
Take the SW 8th Street EAST exit
Follow SW 8th Street, FIU will appear on the right before SW 107th Avenue
From I-95 , Downtown Miami , Ft. Lauderdale , and West Palm Beach:
Take I-95 to I-836 WEST
Follow I-836 to the Florida Turnpike
Take the Florida Turnpike SOUTH exit
Follow the Florida Turnpike to the Tamiami Trail exit (SW 8th Street)
Take the SW 8th Street EAST exit
Follow SW 8th Street, FIU will appear on the right before SW 107th Avenue
From western Palm Beach / Broward County or the Florida Turnpike north:
Take the Florida Turnpike SOUTH
Follow the Florida Turnpike to the Tamiami Trail exit (SW 8th Street)
Take the SW 8th Street EAST exit
Follow SW 8th Street, FIU will appear on the right before SW 107th Avenue