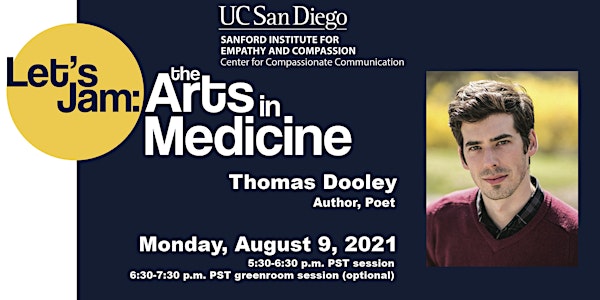 The Poetry of Loss: An Elegy Workshop with Thomas Dooley
Give yourself an hour to reflect, learn, laugh and celebrate the art of medicine.
About this event
The elegy is one of the most ancient poetic forms we have to reflect on and express our grief. As clinicians, how do we navigate the multiple losses and traumas in our professional and personal lives? Participants will be introduced to a selection of powerful elegies, from ancient to contemporary, and invited to give shape to their loss through the exploratory use of expressive writing.
This series has AMA PRA Category 1 Credit™ This activity is eligible for 1.0 credit(s) per session
Thomas Dooley is the author of Trespass (Harper Perennial, 2014), selected by poet and novelist Charlie Smith for the National Poetry Series. His poetry has appeared widely and most notably on National Public Radio, PBS Newshour, Poetry Daily, National Endowment for the Arts' Art Works podcast, Academy of American Poets' Poem-A-Day series, and with the Poetry Society of America. Thomas is the Founding Artistic Director of Poetry Well, a nonprofit literary organization that promotes poetry as a vital part of our individual and collective wellness. Thomas has presented internationally on the intersections of poetry and illness and is Poet-in-Residence at Overlook Medical Center and New York Presbyterian Columbia University Medical Center.
Mark your calendar for the second Monday of the month and stay tuned to our website for an updated list of guests. This month, the Sanford Institute for Empathy and Compassion presents:
The Center for Compassionate Communication is uniquely positioned to lead the charge in the development of evidence-based training in interpersonal communication, in order to ignite compassionate relationships in healthcare.
Our personal perspectives, emotions, and goals influence what we recognize and what we ignore. Through reflection and experiential learning, our curriculum will provide a simple, repeatable process and tools to help you recognize the needs of others and communicate with authenticity and compassion. The way we communicate is deeply tied to our personal story. Who are you in this moment? What is your history? What are the emotions and relationships surrounding you that impact how you choose to speak? How do you even determine the best way to begin?
Our curriculum uses interdisciplinary tools to help healthcare teams learn skills in listening, awareness, clarity, and connection. We will embolden you to find your authentic voice, confront your biases, and determine your motivations. You will learn a great deal about the power of compassion for your patients and yourself.