Event Information
Location
89-37 164th St
89-37 164th Street
Queens, NY 11432
Refund policy
Contact the organizer to request a refund.
Eventbrite's fee is nonrefundable.
A "Master Class" in Serenade form. 2 very accomplished artists sharing the stage for 1 night
About this event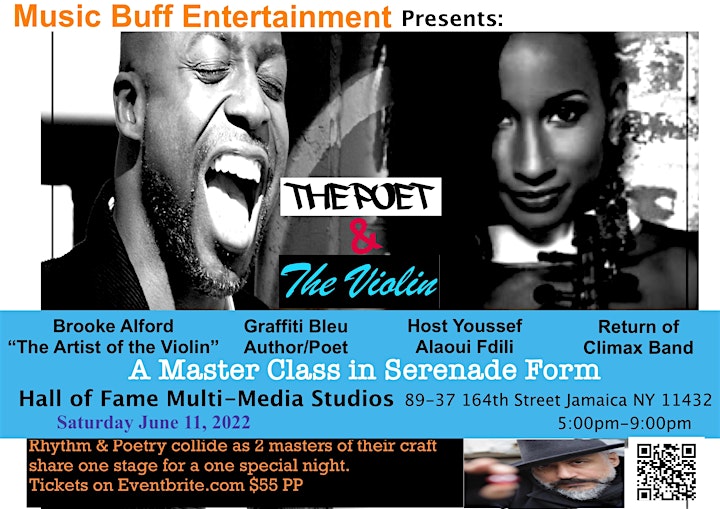 What do you get when you place a bunch of talented artist, under one roof designed specifically for artist? What also do you get when you place those artist in that setting in front of a savvy audience. You get one spectacular night! Worldwide Music Buff Recordings presents
"The Poet & The Violin"
An event where masters of their craft come together for an audience that appreciates a collaboration of artistry on this level. The talent on the roster for this event is as follows:
Brooke Alford
The Artist of the Violin
A North Carolina native raised in Marietta, GA, Brooke Alford, The Artist of the Violin brings a

smooth, soulful sound with creative flow to the violin. Her captivating stage presence and musical vibrancy energizes any stage in which she plays! Performing is what Brooke likes to refer to as her "paradise".
Making her official debut as a National Smooth Jazz Recording Artist in 2018 with her radio single "Closer", featuring Bob Baldwin, Brooke has gained the love of new fans globally. The song has reached over 120,000 streams on Spotify alone.
Novelist/Author/Poet Graffiti Bleu
The artist known as "Graffiti Bleu" was born LaMont Anthony Wright in the Bronx Burroughs of New York City. His ability to write prolifically was noticed early by his teachers and mentors. Leading to his first published work in a school newspaper at age 13. He is now an accomplished author who has written and published 6 books to date which includes the "Poet's Pursuit of Pleasure" series. He is also an accomplished musician who has record 6 studio albums. He has performed the spoken word domestically
and abroad. He has performed for dignitaries like the Lieutenant Governor of New Jersey in 2012. He has also performed in Salerno Italy for the 100 Thousand Poets for Change
Conference in 2015.
The Return of Climax Band
This group of musicians originally banded together in 1975. In addition to a Classic R&B sound and a Classic Jazz sound, they also have a "Silksonic" and Bruno Mars sound as well. Being together for so long makes that sound even richer.
Youssef Alaoui Fdili Writer/Poet
You would be hard pressed to find a more sincere, honest, talented, seasoned & eclectic artist to host such an event.
All of this is brought to you by:
Music Buff Ent is a multimedia entertainment company, which will supply profitable, positive, audio and visual entertainment to a Worldwide international consumer group. Music Buff is also a Radio Company committed to delivering great entertainment across the board and Strongly believes in the quality of music for our viewers and listeners to receive.
Music Buff Ent is a partnership that shares the same Vision and Goal, Dennis James and Von Belgrave the Founders of Music Buff we work together as a family unit producing and creating all styles of music and visual content.
Music Buff movement is to create a safe environment where artist and staff can work on Projects freely and safely without distraction or concerns,.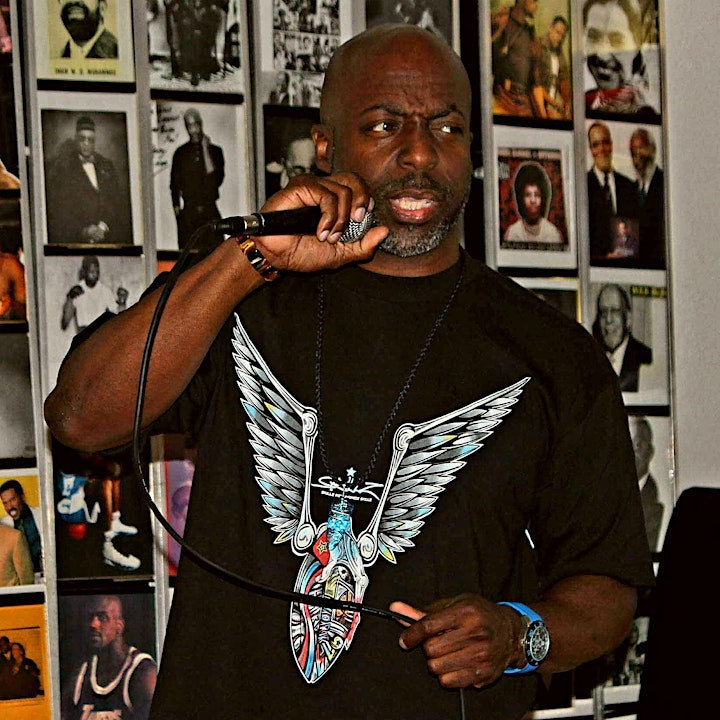 Date and time
Location
89-37 164th St
89-37 164th Street
Queens, NY 11432
Refund policy
Contact the organizer to request a refund.
Eventbrite's fee is nonrefundable.