Description


EVERYTIME YOU POST BAD AUDIO YOU LOSE AN OPPORTUNITY.
…an opportunity to engage your fans.
…an opportunity to be taken seriously.

You lose an opportunity to be HEARD.

The Podcasters Retreat is a ONE DAY podcasting intensive for new podcasters that don't know where to start and seasoned podcasters looking for a fresh take on their shows.

We'll cover:
Equipment

Sound/Recording Techniques

Organizing your content

Basic editing

Interviewing / Storytelling

Sustaining your program

and more!
NEW: PICK ONE OF OUR TWO UPCOMING DATES!
NOV 19 - WEBINAR (2.5 hours) We will correspond about time via email.
DEC 10 - In Studio (5.5 hours)
Taking place at Bondfire Radio Studio in Brooklyn, NY- it is an intimate session available to no more than 5 people. Through conversation and and a multi-media approach to learning about each participant's needs, a personalized action plan is created by the end of each session.

Healthy lunch & snacks provided. Just bring yourself, a notebook or tablet for notes to supplement the after class notes that will be emailed to you.

Continued support leading up to one's first podcast is provided via email and private facebook group for all past retreat attendees and is a place to post & share resources.

You can lock your space in with a non-refundable 50% deposit, with balance due the week of class.

We hope to see you at our next session!
All workshop attendees will recieve a 90 day Trial of Hindenburg Radio Editing Software.
Check out this review from our mini session at The City Reliquary Museum!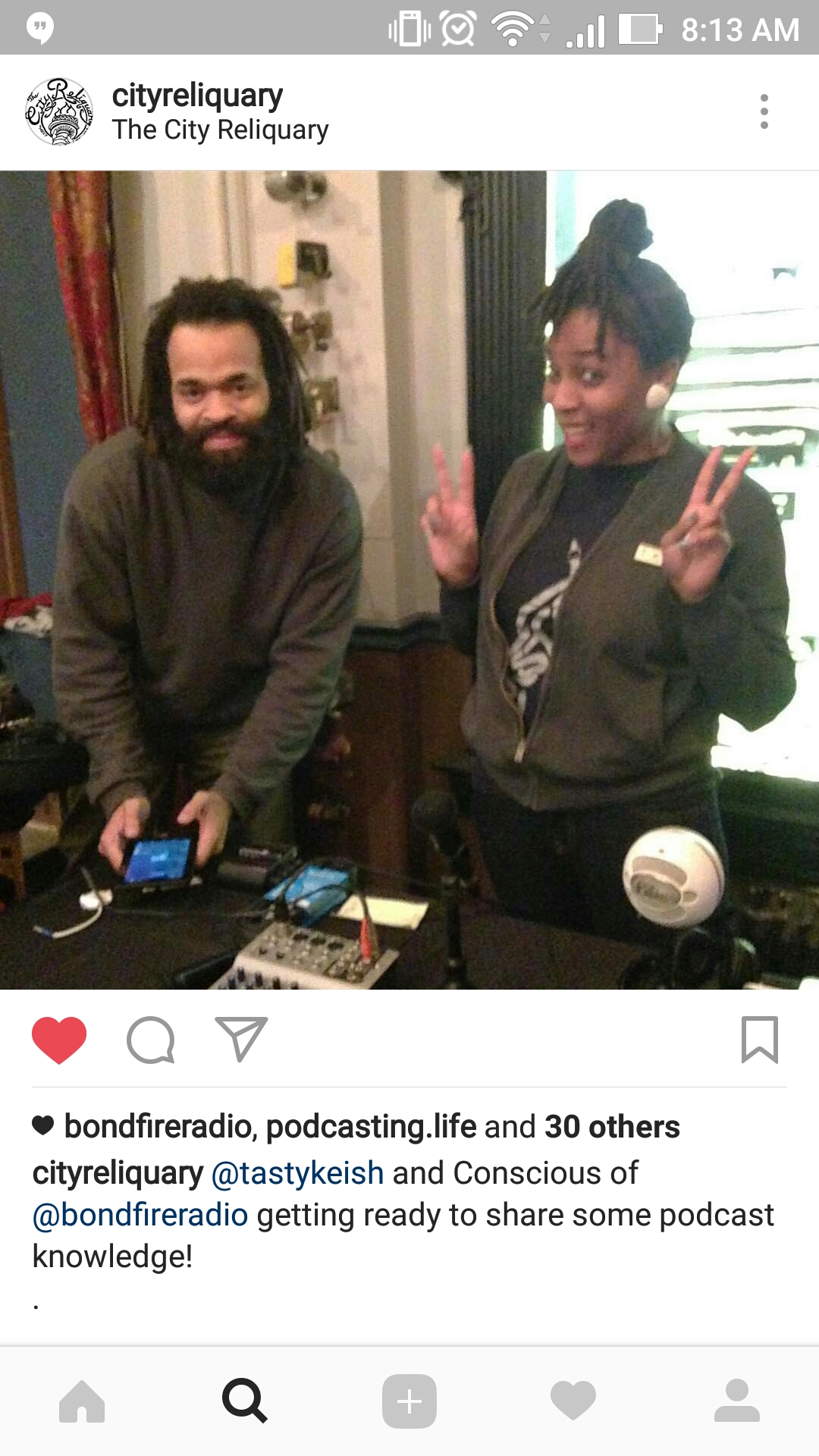 "I met TK & Conscious when I commissioned them to teach a podcasting workshop at The City Reliquary Museum. They're total all-stars who know the ins and outs of radio broadcasting and podcasting, and are able to teach the material in a way that's accessible, fun, and humble. The dynamic between the two of them inspired the class to feel comfortable and participatory. An incredible span of material was covered in two hours, and at the end of the night, the class attendees understood the basics and were ready to start recording. The whole crew at Bondfire Radio has my full recommendation and support. They rock! And I look forward to working with TK and Conscious in the future." -Molly Cox, The City Reliquary