Description
A free, informative gathering for fiction writers who wish to become published authors, but don't necessarily know where to begin.
In this day-long event, small, interactive group workshops will be offered, providing participants with information and personal attention. Attendees will be able to choose three workshops from the six offered. [See Below]
Some of the workshops offered will focus on developing skills in elements of the craft of writing and will include instruction and exercises. Other workshops will provide goal information about the business aspects of publishing, promoting, and selling your work in today's marketplace.
Remember: This is a workshop. Bring your laptop or pen and paper and be ready to do some writing exercises!
SCHEDULE:

9:00: Registration
9:30: Meet Greet Introduction
10:00: Workshop: A1: Character Development OR A2: Start Writing/Finish Draft
11:00: Break
11:15: Workshop B1: Hooking Your Reader OR B2: Self-Publishing
12:15: Lunch [Please bring a bag lunch and drink; there is a grocery store next door and other fast food places nearby, however ]
1:30: Workshop C1: Writing Dialogue OR C2: Plot Development
2:30: Break
2:45: Question & Answer Panel
4:00: Closing remarks/cleanup
NOTE: When you sign up, be careful not to reserve two panels at the same time. Choose A1 or A2, B1 or B2, and C1 or C2.

PRESENTERS:
A1: Character Development: Aleksej T. Wilczek
A2: Start Writing/Finish First Draft (Organizing and Planning Your Work): Sahar Abdulaziz
B1: Hooking Your Reader (The Opening Page): Michael A. Ventrella
B2: Self-publishing (Knowing If Indie Publishing is Right for You): Belinda M. Gordon
C1: Writing Dialogue: Kelly Jensen

C2: Plot Development: Laurel Wilczek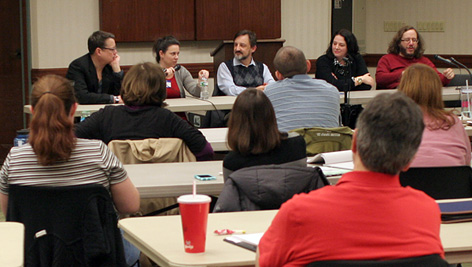 The members of The Pocono Liars are committed to making this workshop one where every person in attendance feels supported and respected for their endeavors, and a place where all writers feel welcome and are treated with courtesy, patience and respect. While we as individuals might not share the same world views, we in The Pocono Liars believe it is imperative to develop a safe environment for creatives from all backgrounds and beliefs to gather in support of one another. It is our collective wish to provide such a venue in support of the intellectual integrity of all those who attend and wish to participate.
Additionally, as writers, we feel it is especially important that we respect the boundaries of each individual. Therefore, while proactive critiques are most certainly welcome and appreciated, we especially request that those in attendance refrain from putting fellow writers in a position of validating their choice of genre, lifestyle or story. Thank you.