Description
**This event is currently at capacity. Standing room only tickets are available for viewing in the overflow space. The overflow space will be in Veteran's Memorial Hall, located in Dahlberg Hall. All other seating options are sold out. A ticket is required to enter any of the viewing locations.
A ticket will be required for entry into the event.
The 2017 Plummer Lecture: Dr. Carol Anderson
Dr. Carol Anderson is the Charles Candler Professor and Chair of African American Studies at Emory University. The title of her lecture will be that of her 2016 book White Rage: The Unspoken Truth of Our Racial Divide that was a National Book Critics Circle Award Winner, New York Times Bestseller, a New York Times Notable Book of the Year, a Washington Post Notable Nonfiction Book of the Year, a Boston Globe Best Book of 2016, and the Chicago Review of Books Best Nonfiction Book of 2016.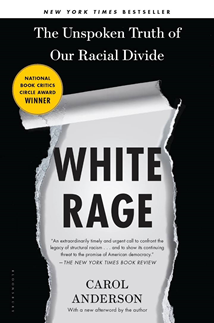 The Hellen Ingram Plummer Lecture is the College of Arts and Sciences' annual endowed lecture, featuring noted scholars, scientists, artists and performers who have made notable contributions to their fields of achievement and to society at large. The Plummer Lecture was endowed in 1999 in honor of the late Atlanta arts patron.
Hellen Ingram Plummer was a strong supporter of the arts in Atlanta for decades. The mother of Pulitzer Prize-winning poet James I. Merrill and the former wife of Merrill Lynch founder Charles E. Merrill, Mrs. Plummer counted among her friends such artistic greats as George Gershwin, Charlie Chaplin, Katherine Hepburn and Gloria Swanson.
A RSVP is required to attend this event. A copy of your ticket is required for entrance to the event.