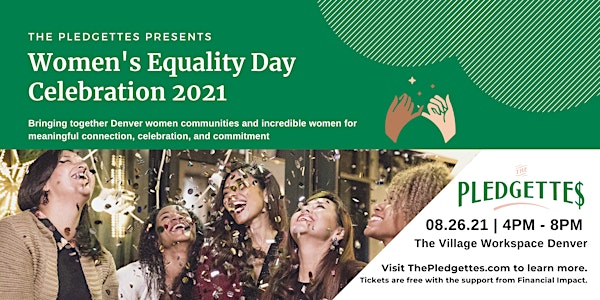 The Pledgettes Women's Equality Day Celebration
Women's Equality Day. The Pledgettes Anniversary. It's time to get together!
When and where
Location
The Village Workspace 7173 South Havana Street #600 Centennial, CO 80112
About this event
The Pledgettes is on a mission to abolish the gender wealth gap by facilitating money conversations. We know that when women hold more wealth, they build healthier and wealthier communities. So we are inviting some Denver communities to join us in the celebration fo Women's Equality Day!
4-5:30pm Open House meeting with different women communities in Denver including: Denver Women's Sports Collective, The Giving Forward Project, Impact to Income, KIN Connected, Second Act | Women, SHE Leads Group, Together Digital and Women In Sustainability.
5:30pm - 7pm Programming including Women Talking Money Small Group Discussions with Holly Morphew of Financial Impact
7-8pm Open House
Let's celebrate! Let's get together! Let's talk money!
This is a free event open to Members, Not-Yet-Members, Friends, Sisters, Colleagues, and that awesome woman you just met! Yup, she's invited too!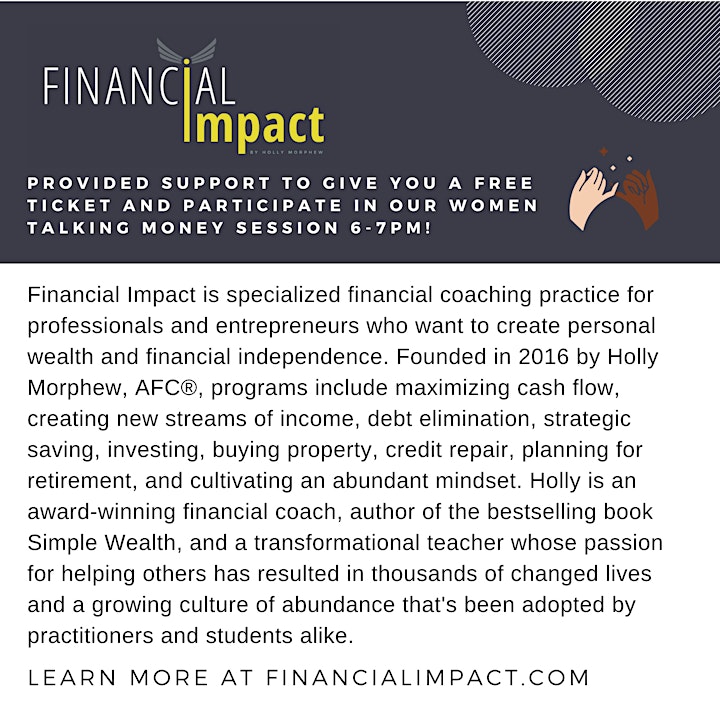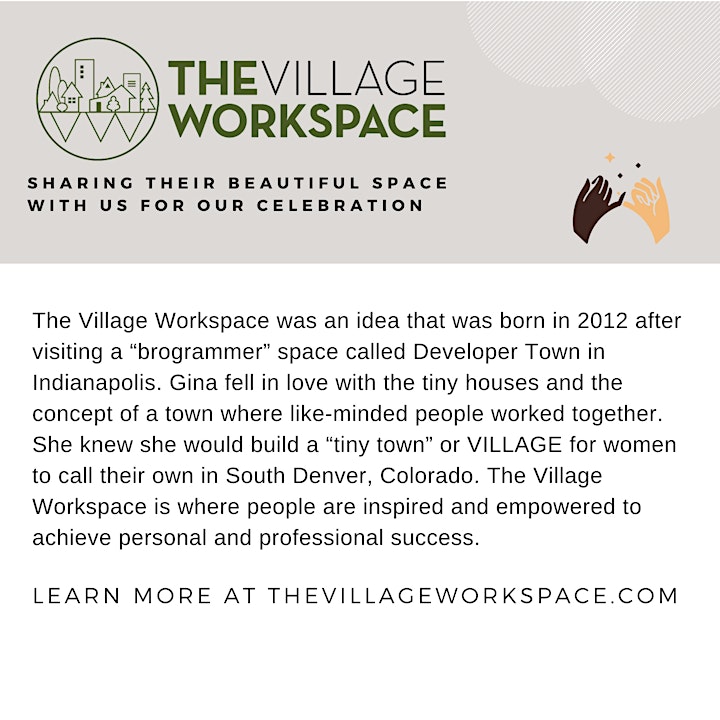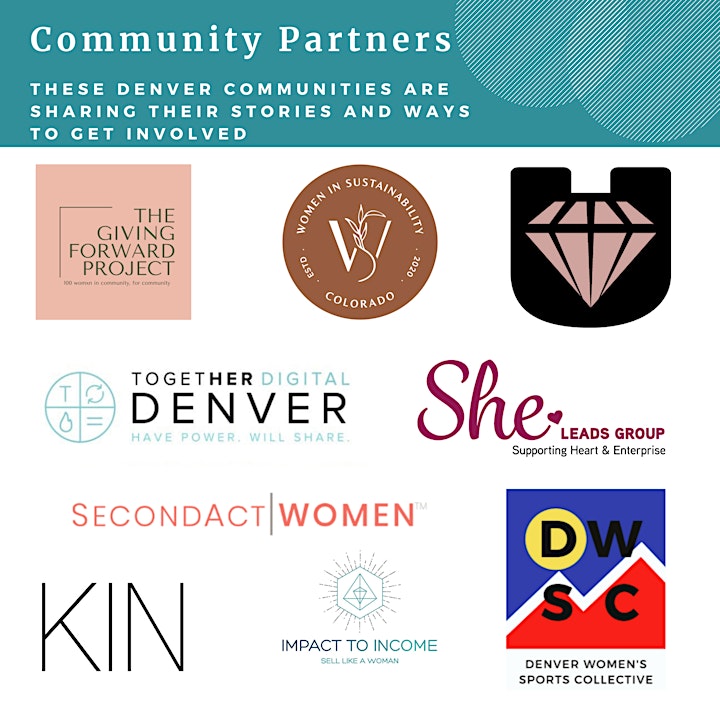 The Denver Women's Sports Collective mission is to be the leading resource for connections, empowerment, education, career development and support for like-minded women and their allies within the sports, events and marketing industries in Denver, Colorado. denverwsc.com
The Giving Forward Project is dedicated to showing up for our community with our community. Based on our four pillars of purpose, service, community and connection, we strive to bring together 100 womxn every quarter to donate $100 to one of our Colorado based organizations. As we continue to foster and grow this community, we are reminded of the benefits to working together and the impact that can be made. Instagram.com/thegivingforwardproject
Impact to Income knows you CAN create a feminine sales structure that allows you to clarify your strengths, communicate your value, and confidently close more sales. impacttoincomeprogram.com
KIN. Built on the foundation of knowledge, inspiration, and network, KIN is an improved professional community that leads with the person. KIN is built on deeply-rooted relationships, tools and support to help women grow personally and professionally as leaders. kinconnected.com
SecondActWomen, ReDefining what we do and who we are at 40 & 50+, is a membership community rallying businesswomen in second act to proudly own their "chapter" number and receive the gifts, learnings, opportunities and new friendships this life stage brings. secondactwomen.com
SHE Leads Group is a women's leads and networking organization with a culture of women supporting women. S H E stands for Supporting Heart & Enterprise™. Women business owners and women in business development roles will find a variety of leads groups and networking events to make quality connections. sheleadsgroup.com
Denver Together Digital- for women, by women. Our purpose is to educate and empower women within digital to be their best selves professionally and personally. We are the network where women help women succeed in digital – and life. togetherindigital.com
Undestructable is a non-religious nonprofit organization and social enterprise that will be working with survivors of domestic and intimate partner violence on their journey to reclaiming their self-worth and gaining economic independence from their harm-doers. We will do this through an employment program that not only provides an income along with life and job skills training, but also promotes the healing and rediscovery of each survivor's innate self-worth by creating sustainable products made from post-consumer waste. undestructable.org
Women in Sustainability is an inclusive nonprofit based in the U.S. that brings together women and allies who are passionate about sustainability. We provide a safe place for like-minded individuals to connect, learn, and collaborate in order to fight climate change and social injustice. Our overarching goals are to save the planet through advocacy, to create an inclusive community, and to educate others about sustainability in all industries. womeninsustainability.org