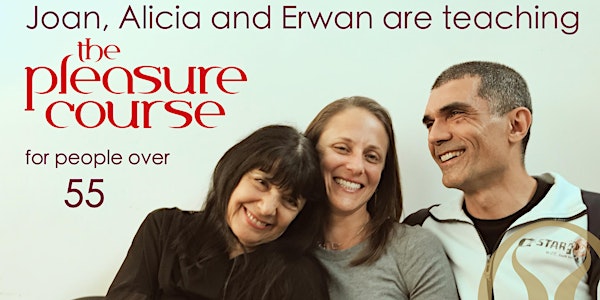 The Pleasure Course for people 55+ yrs old with co leader Joan Bordow
Join us for a delightful in-person exploration of pleasure, sensuality & intimacy- for singles & couples!
When and where
Location
The Loft 2501 Harrison St #15 San Francisco, CA 94110
About this event
1 day 8 hours

Mobile eTicket
The Pleasure Course has been taught to singles and couples of all ages for 25 years, covering everything from masculine feminine dynamics to overcoming problematic relationship patterns to increasing sensual skills. 
Now we have a Pleasure Course for the people who brought us Eastern Religion (think Zen and everything Yoga)… not to mention psychedelics (we probably shouldn't say that), people over 55!  This Transformational Course, normally taught by Alicia and Erwan Davon, will be co-hosted by the fabulous Joan Bordow and will NOT be your average transformational course.  Rather we are going where people seldom tread… s*x… higher states of consciousness… and how to be intimately connected when cultural norms tell us that time is over.  Today, we can have the last third of our lives be the best third of our lives!  You will learn to do that in the Pleasure Course with Alicia, Erwan and Joan through experiential exercises (think light partner yoga, eye gazing, free movement) and powerful inquiries!  You'll walk away with a refreshing perspective on intimacy, wisdom, and new skills to create and enjoy intimate connections.  We do get older but maybe it can only get better!
In the Pleasure Course, you'll:
1. Uncover your personal relationship blueprint and gain freedom from it
2. Learn how the unconscious forces that attract partners to each other are also the source of conflict
3. Make deep contact with yourself and learn who you really are.
4. Gain the understanding and skills needed to succeed in all of the stages of a relationship, from the first date to long-term commitment.
5. Unlock your potential for sexual pleasure and begin exploring Extended 0rgasm, one of our specialties.
Join us on this extraordinary journey where you will reset your relationship blueprint, develop the skills necessary for each stage of romance, and create an exceptional sex life and exhilarating love life.
All participants that are not already in an ongoing program with us will receive a follow up coaching session after the course included in your Pleasure Course tuition.
*to register, please contact Joan Bordow at 707 486 8849 or jbordow@gmail.com
*price is per person