About this Event
…STILL PIST…
The only Connecticut band I knew to unite all the punks! THE PIST is probably the most important underground punk band from this state. Initial run from around 1992-1996, they toured the US relentlessly and put out some of the best politically-infused hardcore punk of their time. THE PIST and affiliate bands were, and continue to be, huge influences in the international punk scene. Members of THE PIST played in other bands like: BEHIND ENEMY LINES, BRUTALLY FAMILIAR, MANKIND?, BROKEN, M-13, THE DEACONS, and so many more. Since the late 2000s, they began playing a few shows from Montreal to New York City to Pittsburgh and a few places in between.
…WARXGAMES…
Coming in from Baltimore, WARXGAMES is just what you need in life right now considering all the turmoil in our society. I read a description of WARXGAMES as making "ferociously angry music." This is straight forward straight-edge hardcore played by veterans of bands past and present that include: DEEP SLEEP, COKE BUST, STRONG INTENTION, WALLBREAKER, THE PIST, and more. Since 2012, WARXGAMES has been keeping it real for true fans of early hardcore and power-violence.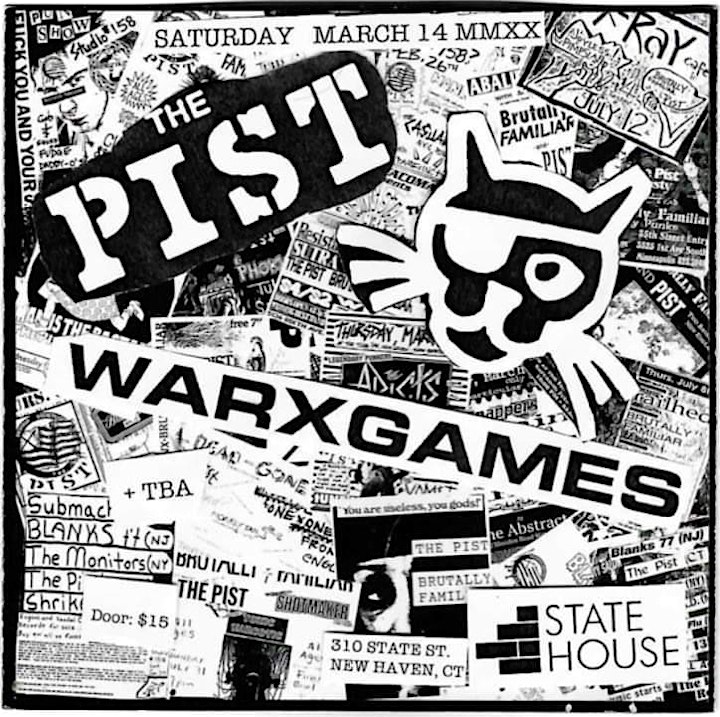 ...Chem-Trails...
CHEM-TRAILS is from Connecticut, U.S.A. We are comprised of members of BROKEN, OILTANKER, MAN THE CONVEYORS, and ORDINANCE. We have been playing together since 2013. We are purveyors of heavy and driving punk.
...NIGHTMARE SOLUTION...
(new band! killer crust/d-beat songs from members of ordinance, oiltanker)
https://nightmaresolution.bandcamp.com/
...World Game...
Punk from New Haven.
"Make the world work, for 100% of humanity, in the shortest possible time, through spontaneous cooperation, without ecological offense or the disadvantage of anyone."