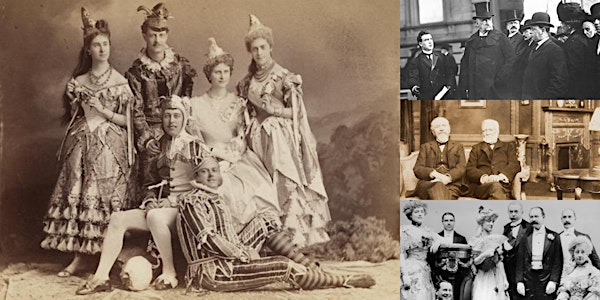 'The Photography Pioneers of New York's Gilded Age' Webinar
Can't make it live? Register and get access to the full replay for one week! New York Adventure Club | www.AdventureClub.com
By New York Adventure Club
Date and time
Tuesday, April 4 · 10am - 12pm PDT
About this event
In a world where we can take out a pocket-sized camera and snap as many selfies as our ego desires, it's hard to imagine a time when such an act would have been a rare luxury. But over a century ago, capturing a moment in time on to a piece of paper was an incredible feat, one that not many could perform or afford. Who were some of these early photographers and what sort of people used their services? It's time to explore the earliest photographs of New York society and pioneers on both sides of the camera.
Join New York Adventure Club for a digital showcase of the photos, photographers, and subjects that encapsulated New York's Gilded Age, from scenes of elite society's social functions inside their extravagant mansions to staged family portraits inside photography studios.
Led by Sylvia Laudien-Meo — art historian, museum educator, and NYC tour guide — this virtual journey through photography's early days will include:
A look at early camera technology, and why taking a photo required a lot of time, patience, and money
The preeminent NYC photographers and studios of the Gilded Age, including the Byron Co., Mathew Brady, and Jose Maria Mora
Photos of NYC's Gilded Age elite taken in both photography studios and their homes
The first "snapshots" of everyday life in NYC by amateur photographers out in the streets
Newspaper illustrations based on photographs, which depicted the city's social life
Afterward, we'll have a Q&A with Sylvia — any and all questions about Gilded Age photographers are welcomed and encouraged!
Can't make it live? Don't worry, you'll have access to the full replay for one week!
See you there, virtually!
*Immediately upon registering, you will receive a separate, automated email containing the link to join this webinar
**For the best possible viewing experience, please ensure you're using the latest version of your internet browser — Google Chrome is the most compatible. Exact technical requirements and a webinar user guide will be shared in the automated confirmation email upon registration.
***A full replay of the experience will be available to all registered guests for up to a week
About Sylvia
Sylvia Laudien-Meo is a freelance Art Historian who works in and around the city in various capacities, specializing on Modern and Contemporary art, with a strong focus on Public Art. She teaches art history at Fairleigh Dickinson University and has been working as a museum educator at MoMA, the Guggenheim and the Jewish Museum for over many years, engaging visitors in conversation based, interactive art experiences of permanent collections and changing exhibitions.
For the Municipal Art Society, UFT, Brandeis Univ., and private clients, she has been touring the city for over 20 years, exploring art and architecture, parks, neighborhoods and history. Working in various different capacities gives her a unique opportunity to make intriguing connections and weave together the complex perspectives that make out the tapestry of our fascinating city.
SLM holds a Masters Degree in Art History (with minors in History and American Studies) from the Joh. Gutenberg University in Mainz, Germany, as well as a Tourism degree from the EST in Paris France.
Testimonials
"A great variety of types of images were organized to give an interesting picture of the culture of the era." -Deborah
"Sylvia gave a fascinating and very comprehensive presentation as usual. I learned a lot! I really liked the wonderful unusual images. I look forward to your future talks." -Peter
"I liked the variety of pictures. Hearing the names of the photographers." -Joel
"Some lesser known facts and names were included and made the program even more interesting" -John
Disclaimer
By attending a New York Adventure Club experience, you accept our terms of service.
Categories: Virtual, Gilded Age
About the organizer
NEW YORK ADVENTURE CLUB | Unlock Your City
We give you insider access to the city's best-kept secrets. But we're so much more than a tour company.
WHO WE ARE
We are a community-driven club that curates the most unique experiences in town, with a focus on history and storytelling. We show you a city you never knew existed, and offer a community you can't live without.
You won't find our special-access tours and exclusive events anywhere else. Think after-hours tours of New York City's most celebrated spaces, themed parties in unexpected locations, and weekend excursions to incredible destinations. All of our events end with social hangouts so you can meet people who love exploring as much as you do.
THE 'CLUB' IN NEW YORK ADVENTURE CLUB
Our current community is more than 50,000 members strong and includes everyone from recent NYC transplants to lifelong residents. Whatever borough you're from (or city or country, for that matter), we'll make it easy for you to take full advantage of the unique places and great people this city has to offer.  
Subscribe with our newsletter to get the inside scoop on the city's most interesting events.
 Visit our website to see our full line-up of fun experience.
"Don't be boring, go do something"
New York Adventure Club