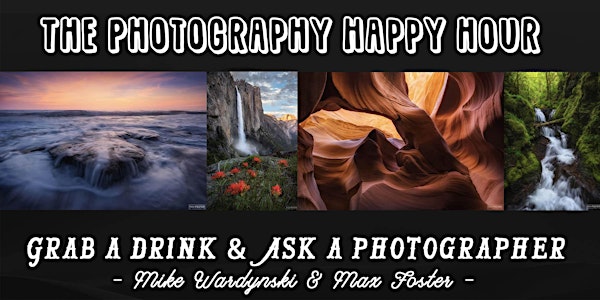 The Photography Happy Hour Featuring Max Foster Hosted by Mike Wardynski
Landscape photographers Max Foster and Mike Wardynski discuss photography over their favorite drinks followed by a Q&A session.
About this event
Join Max Foster and I for another episode of the Photography Happy Hour on July 10th at 4pm mountain time. During this virtual event, Max and I will sip a few of our favorite drinks while discussing what is means to be a landscape photographer. Max is an established fine art nature photographer who knows his way around the lens. His work consists of well thought out compositions and precise post processing. Max is an established photographer and sells large scale prints through his website at MaxFoster.com.
After Max and I finish our conversation, we'll open the floor to Q&A where participants are encouraged to ask Max and myself any questions that they'd like. If you'd prefer to ask your question off the air, you can always email them to me in advance at info@naturemike.com