A lecture by Prof. Angela Knobel
About this event
Johns Hopkins University
The Thomistic Institute at Johns Hopkins University presents a lecture by Prof. Angela Knobel of the University of Dallas titled "The Philosophy of the Abortion Debate."
This lecture will be on Zoom. Register to receive the Zoom credentials in your email inbox.
Monday, Dec. 13
7:00 PM ET
About the speaker:
Associate Professor of Philosophy Angela Knobel received her doctorate in philosophy from the University of Notre Dame in 2004. From 2004 to 2020, she taught philosophy at her alma mater, the Catholic University of America. Her work focuses primarily on Aquinas' theory of infused virtue, virtue ethics and applied ethics. Her book Aquinas and the Infused Moral Virtues is forthcoming from the University of Notre Dame Press.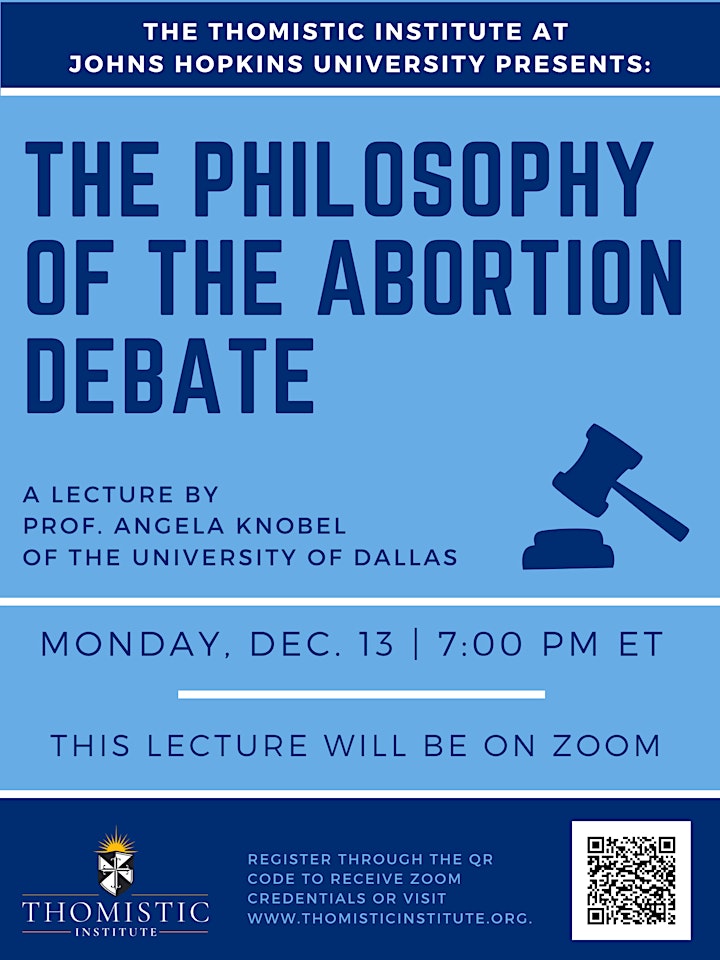 Organizer of The Philosophy of the Abortion Debate
The Thomistic Institute exists to promote Catholic truth in our contemporary world by strengthening the intellectual formation of Christians at universities, in the Church, and in the wider public square. The thought of St. Thomas Aquinas, the Universal Doctor of the Church, is our touchstone.  The TI is an academic institute of the Pontifical Faculty of the Immaculate Conception at the Dominican House of Studies in Washington, D.C.
You can find all of the Thomistic Institute lecture recordings on https://soundcloud.com/thomisticinstitute or through the Apple Podcast by searching "Thomsitic Institute."