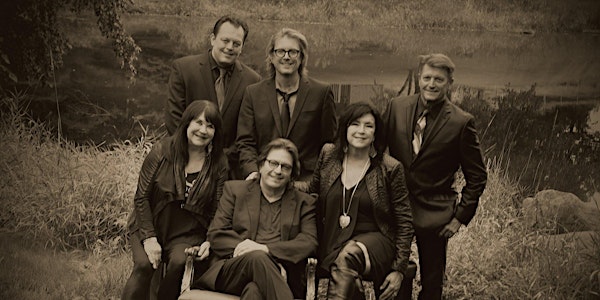 The Peterson Family Presents "Legacy" - Drive-In or Dine-Out
Event Information
Performers
Linda Peterson, Billy Peterson, Patty Peterson, Ricky Peterson, Paul Peterson, Jason Peterson DeLaire
Location
Crooners Supper Club
6161 Highway 65 NE
Minneapolis, MN
Minnesota's First Family of Music Returns to Crooners!
About this event
The Peterson Family is often referred to as "Minnesota's First Family of Music." Everyone in the Peterson Family is a musician/singer, including extended family (cousins Russy and Tommy), and the next generation.
The Peterson Family has played with Dizzy Gillespie, Bob Dylan, Steve Miller, Prince, Kenny Loggin's, Michael Bolton and countless others.
LINDA PETERSON
is an international recording artist, song writer, pianist and vocalist. She has appeared at the Copenhagen Jazz Festival several times.
Linda has five CDs to her credit, two of which were recorded in Copenhagen, Denmark and the most recent CD, recorded in Buenos Aires with famed Argentine guitarist, Luis Salinas. A new CD of Linda's original compositions was released in the summer of 2015, entitled "You Gotta Be Somewhere".
Ms. Peterson lives and works in Palm Springs, California during season and travels to Florida, Minnesota and Europe and South America to work during the summer months.
BILLY PETERSON
is one of the premier, most celebrated bass players in the world. His uncompromising talents as a performer have brought him widespread recognition, as well as his plenty credits as a composer, arranger and producer. So it is no surprise that the world-renowned bassist is quite often also compared with a chameleon, but not only as he can fill many positions, but also as he is at home in several genres of music whether it be rock, pop, R&B, soul, jazz, folk or country.
Peterson´s contributions to the music scene are inestimable and his imagination and boundless enthusiasm behind the bass are singular and stunning. During his extensive musical career, the permanently in-demand bassist has worked with many internationally famous, acclaimed artists, among them Carlos Santana, Bob Dylan, Neil Young, Prince, Les Paul or Steve Miller, just to name a few.
PATTY PETERSON
is a dynamic vocalist with 7 Minnesota Music Awards to her credit. She is a radio talk show host and is a mainstay in the jingle and recording industry. She has four CDs to her credit, the most recent is called "The Very Thought of You." She is involved in singing for spiritual workshops across America and is in negotiations to have her own mind, spirit, body talk show on radio. She is a featured author of the LISTEN section for Edina Magazine, and most recently had the honor of performing on national television for CNBC'S big reveal of Minnesota as "America's Top State for Business". Patty is also the host of her own weekly contemporary jazz show on KBEM 88.5FM
RICKY PETERSON
is one of the most sought after studio and session keyboard players and producers in America. While continuing as the musical director for saxophonist, David Sanborn, Ricky has a solo career as a vocalist/keyboardist, with four CDs to his credit. He co-produced "The Most Beautiful Girl in the World" for Prince and continues to produce for many other artists.
PAUL PETERSON
was discovered at age 17 by the legendary artist, Prince, and was featured in his award winning film Purple Rain, performing with the group The Time. Prince dubbed him St Paul, and had him lead singing in his group The Family, now called fDeluxe. He is a multi-instrumentalist, playing bass, piano, guitar and drums. Paul is also a studio musician for George Benson, Oleta Adams, Anita Baker, and Paula Abdul to name a few, and spent the summer of 2016 touring on bass with legendary rocker Peter Frampton.
JASON PETERSON DeLAIRE
Jason is the son of Linda Peterson, and was the first of the "next generation" to call music his occupation. He is proficient on keyboards and saxophone, as well as being a talented singer, songwriter and producer. Currently touring as the Saxophonist/Keyboardist with Michael Bolton, he has also toured and/or recorded with renowned artists such as Prince, Alexander O'Neal, Richard Marx, Donny Osmond, Oleta Adams, Solo, Cherrelle as well as Bobby Brown, Ben Sidran and Jimmy Jam and Terry Lewis' Flyte Time Productions. Jason attended Berklee School of Music in Boston, studying film score and musical harmony. He is a well-rounded and versatile performer of classic jazz and R &B and has earned a reputation as a solid touring accompanist and 'front' solo performer. His debut CD "In My Life" received critical acclaim during the inauguration of President Barack Obama for his reflective lyrics.
Performers
Linda Peterson, Billy Peterson, Patty Peterson, Ricky Peterson, Paul Peterson, Jason Peterson DeLaire
Date and time
Location
Crooners Supper Club
6161 Highway 65 NE
Minneapolis, MN
Refund policy