Description
This December 9, let's kick off the holiday season in Blue + Gold with some fantastic people, for a great cause.
Join us for this unique opportunity to #Resist the status quo and #Persist towards gender equality. The #Persist Party is a holiday event not to be missed; featuring inspiring talks, delicious bites, drinks, unbelievable raffle prizes, and the opportunity to network with like-minded friends, old and new.
ATTIRE: COCKTAIL | The #Persist Party has a festive BLUE & GOLD Theme
GIVE THE GIFT OF SAFETY
ALL the proceeds from this fundraising gala will benefit an amazing organization that is a refuge and a beacon of hope for mothers and children who are survivors of domestic violence: La Casa De Las Madres.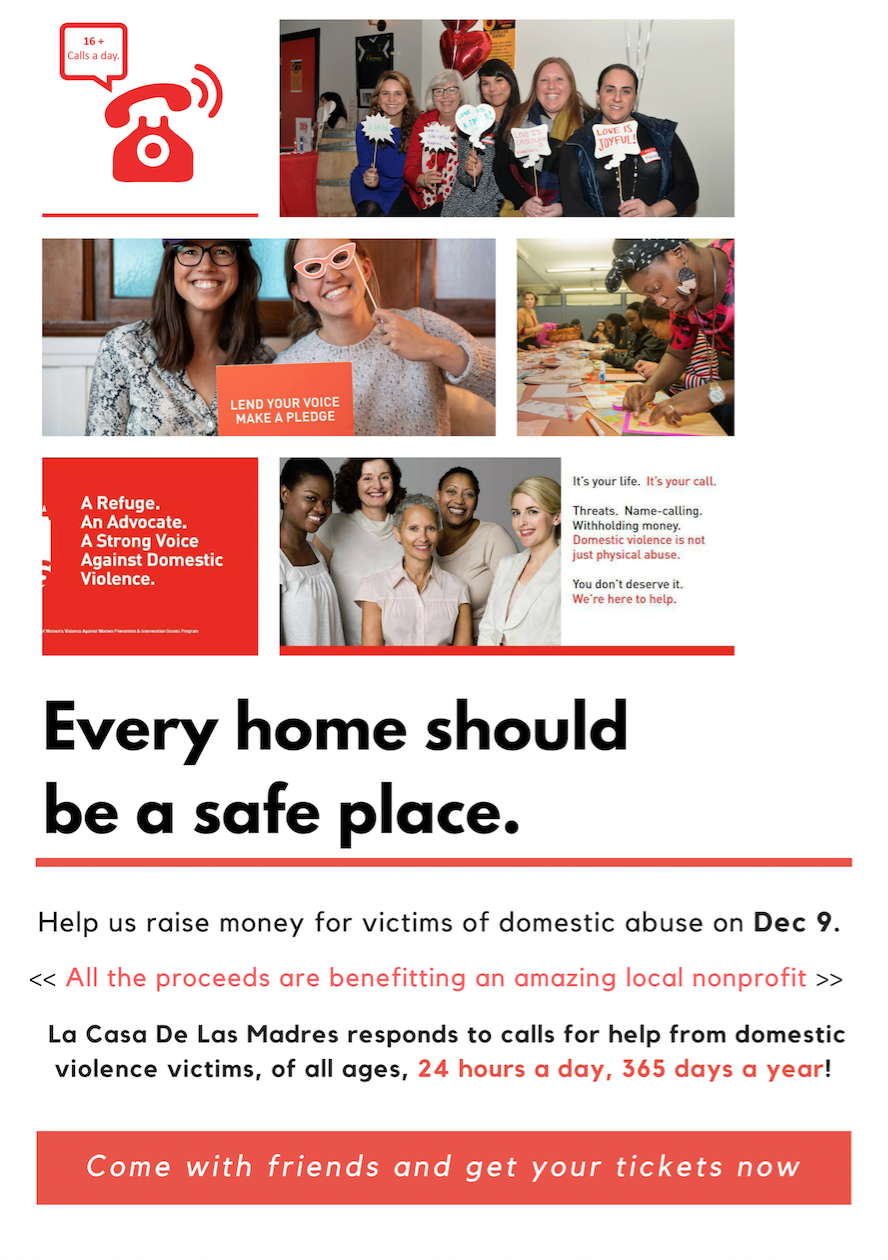 Your presence at the event can make this big of an impact:
$50 ~ 1 ticket = Two meetings with one of La Casa's expert advocates to devise a plan that keeps a mother and her children safe from abuse.
$100 ~ 2 tickets = A day + a night of safety, refuge and comprehensive support services for a mother and child following a police response to their abuse.
Humans of ALL genders are welcome!
ATTIRE: COCKTAIL | The #Persist Party has a festive BLUE & GOLD Theme
Mix and mingle with awesome men & women passionate about social impact!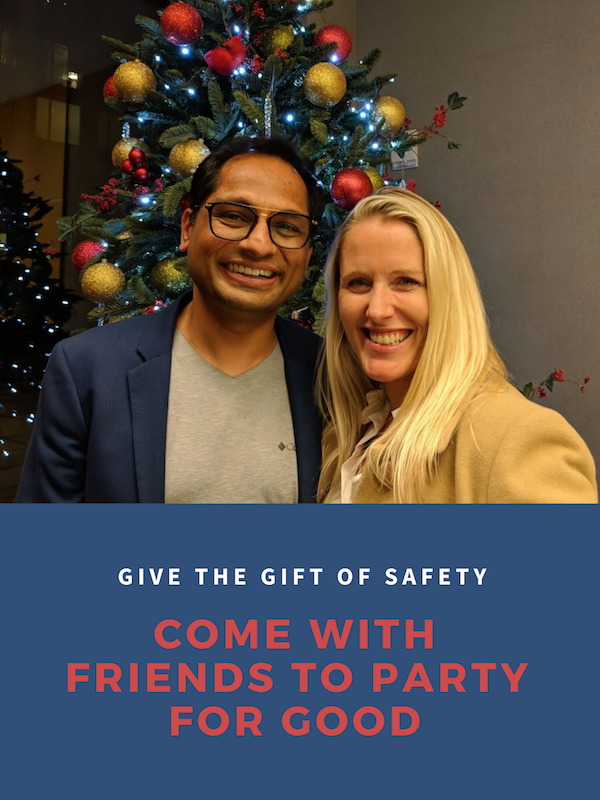 ---


PARTY FOR GOOD AGENDA
6:00PM - 6:30PM Welcome reception (photobooth, foods/apps, signature cocktails, DJ, partner non-profits booths, amazing raffle prizes)
6:30PM - 6:45PM Live music: acoustic tunes by Pitch, Please!
6:45PM - 7:30PM Lightning talks by female leaders and changemakers from Women4Good, Google, Callisto, La Casa De Las Madres
7:30PM - 7:50PM Keynote speaker
8:00PM - 8:15PM Live music: acoustic tunes by Pitch, Please!

8:15PM - 8:30PM Announcement - Raffle WInners
8:30PM - 9:30PM #PesistParty continues with DJ set [dance party] and meaningful networking
POWERHOUSE KEYNOTE & SPEAKERS LINEUP
Michele Dauber, Professor of Law at Stanford Law School
Jessica Ladd, Founder and CEO of Callisto
Kara Duggan, Director of Community Partnerships and Philanthropy @ La Casa De Las Madres
Zanoon Nissar, Founder at Women4Good & Googler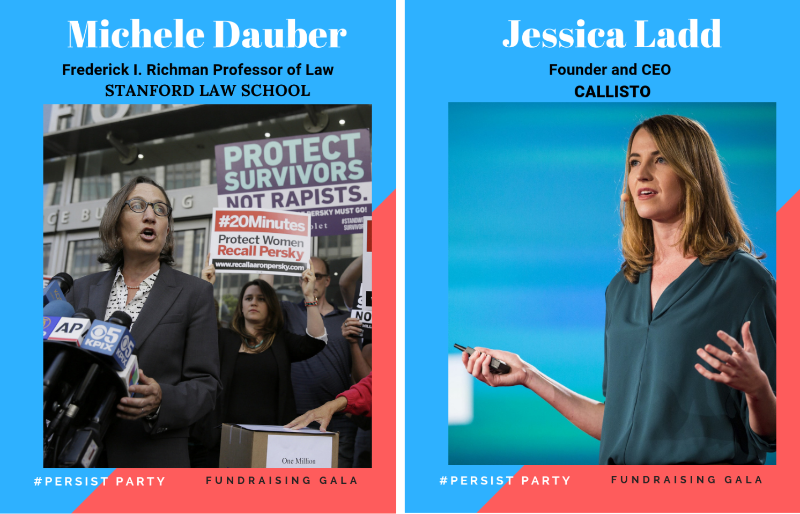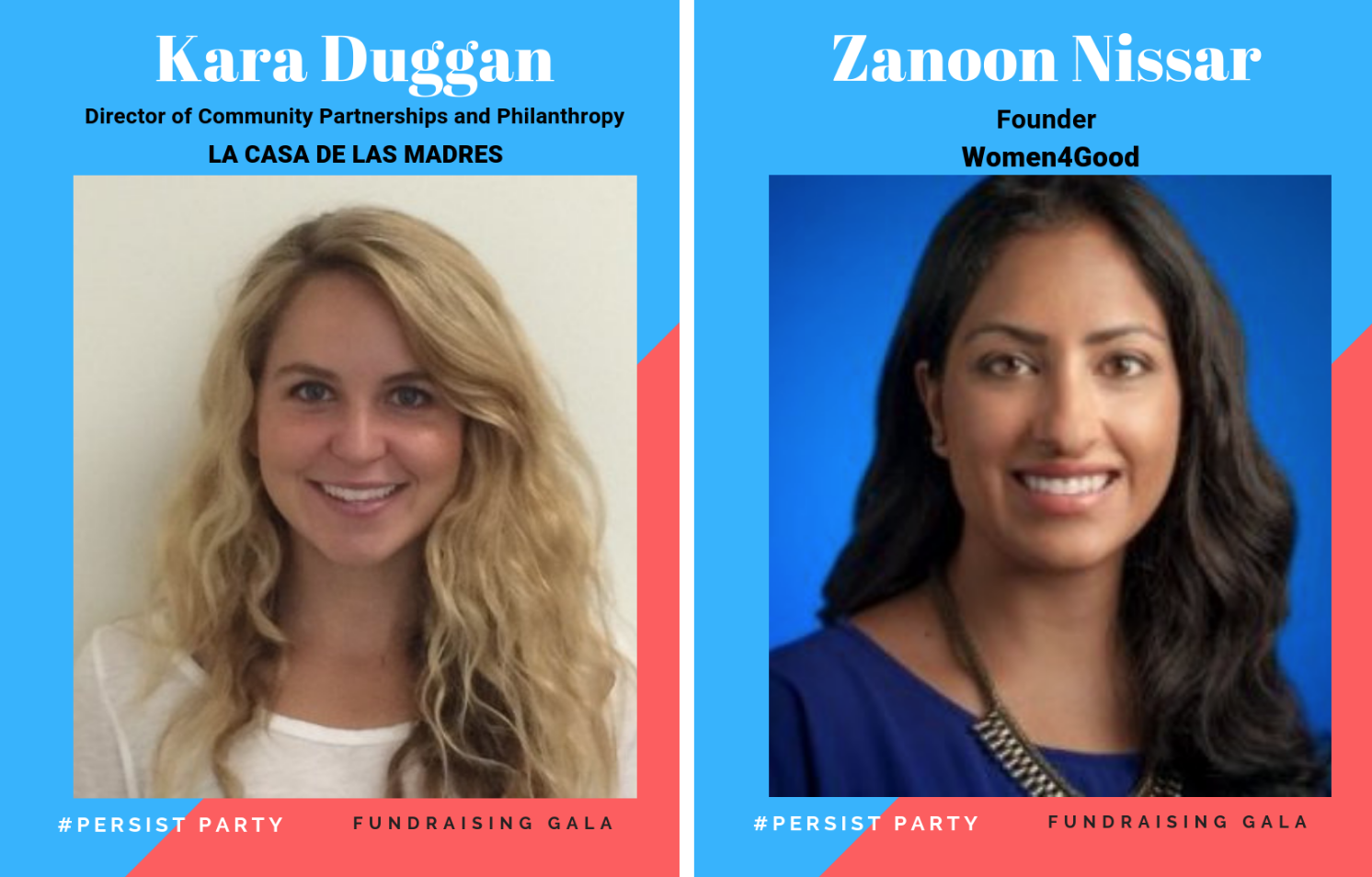 ---
SPONSORS AND AMAZING RAFFLE PRIZES YOU CAN WIN
-> 8 Google Hardware products - 5 Pixel Phones | 1 Google Mini | 2 Pixel Buds
-> A $90 MasterClass Gift Card

-> Italian designed evening dress by EVARO.IT valued at $500

-> Equinox Sports Club Pass
-> $150 Gift Card - 5 class passes at Uforia Studios
-> Yoga class at Deep House Yoga SF
-> 'Lean Impact: How to Innovate For Radically Greater Social Good' Book by Ann Mei Chang, former Chief Innovation Officer at USAID.
..... more coming up soon!
---
PARTICIPATING NON-PROFITS AND ORGANIZATIONS
Let's honor together impactful nonprofits working on issues that affect women!
La Casa De Las Madres is San Francisco's leading voice for victims of abuse. The most comprehensive domestic violence provider in SF, their work reached over 27,000 community members last year. La Casa responds to calls for help from domestic violence victims, of all ages, 24hours a day, 365 days a year. They give survivors the tools to transform their lives. They seek to prevent future violence by educating the community and by redefining public perceptions about domestic violence.
Callisto is a non-profit organization that develops technology to combat sexual assault and professional sexual coercion. Callisto Campus provides survivors with trauma-informed options for reporting sexual assault and is now in place across 13 partner institutions. Callisto Expansion addresses sexual assault and sexual coercion in professional industries.
SAHR | Strategic Advocacy for Human Rights SAHR is a gender justice NGO founded in 2008 and primarily based in Afghanistan and India with the mission of challenging biased laws, oppressive norms, and broken judicial systems that stand in the way of justice for the most vulnerable survivors of gender violence. By practicing the law through a feminist lens, we push courts to recognize women's rights and needs. And when they don't, we find ways for survivors of rape, abuse, and other forms of violence to testify to their truth so that they can heal from their trauma and move on.
Women4Good connects Bay Area women who have a passion for social impact. We work at corporations, nonprofits, startups. We fundraise, volunteer, and empower each other to be our best selves. Our members work together to inspire and encourage women looking for fresh perspectives on their social impact, at their jobs or beyond their work.
---
Food and beverage sponsors:
Everyone can look forward to delicious bites provided by Market Hall Caterers, and on-theme BLUEberry acai cocktails provided by Van Gogh vodka. There will also be plenty of wine and non-alcoholic choices!
---
SPEAKER BIOS
Keynote

by

Michele Dauber
Michele Dauber is Frederick I. Richman Professor of Law at Stanford Law School. She has received numerous distinguished book awards and prizes including from the American Historical Association, the American Sociological Association, the American Political Science Association, the American Society for Legal History, and the Law and Society Association. Professor Dauber is the recipient of the 2006 Walter J. Gores Award, Stanford University's highest teaching honor.
From 2011-13, Professor Dauber co-chaired the Board on Judicial Affairs and helped to lead the process that initially revised Stanford's policy on sexual assault to bring it into compliance with Title IX.
Dauber chaired the successful 2018 campaign to recall Judge Aaron Persky, the Judge who sentenced Stanford swimmer Brock Turner to just 6 months in jail after a jury convicted Turner of three felony sex crimes for sexually assaulting an unconscious woman behind a dumpster at a campus fraternity party. Judge Persky had a pattern of light treatment in cases of sex crimes and violence against women, particularly where the
perpetrators were college athletes. In June 2018, after a nationally high-profile campaign, Persky was recalled in a landslide election with 62% of voters supporting the recall.
In July 2018, Dauber and the recall team founded the Enough is Enough Voter Project, a new political action committee that made headlines when it formed in September of this year. Enough is Enough is dedicated to ensuring that violence against women is a voting issue. Many politicians who have been credibly accused of serious sexual misconduct or abuse have faced no meaningful consequences -- not from law enforcement, the government, or even their own political party. Others have made disparaging comments, harassed women, or consistently voted against proposals that would help survivors of sexual assault to find justice. Enough is Enough will hold them accountable.
Jessica Ladd
The reporting system that sexual assault survivors want | Jessica's TED TALK
Jessica is the Founder & CEO of Callisto, a nonprofit that creates technology to combat sexual assault, support survivors, and advance justice. Callisto's online sexual assault reporting system helps detect repeat sexual offenders and connect survivors with support.
Before founding Callisto, she developed a series of online services for STD prevention and control, worked for the White House Domestic Policy Council, and took on such positions as sexual health educator, policy advocate, and researcher for a variety of organizations.
Jess is a 2018 Skoll Award for Social Entrepreneurship recipient, a 2018 Ashoka Fellow, named a Fearless Change Maker by the Case Foundation, and a Senior TED Fellow. She is the founder of The Social Innovation Lab, an incubator for startups for social good, in Baltimore and was named Civic Hacker of the Year by Baltimore Innovation Week. Jess completed her Masters in Public Health at Johns Hopkins and her BA in Public Policy/Human Sexuality at Pomona.
Kara Duggan
Kara is the Director of Community Partnerships and Philanthropy at La Casa De Las Madres. In this role, she oversees La Casa's Education and Outreach programming, which reaches over 20,000 community members each year. Additionally, Kara is responsible for managing public and private funding for La Casa, ensuring that the organization is financially equipped to meet the unique and diverse needs of domestic violence survivors in the San Francisco Bay Area. Kara began volunteering at La Casa's Emergency Shelter in September of 2014 and joined the team full-time in July of 2016.
Prior to her work at La Casa de las Madres, Kara spent five years working in financial services and investment management. She has been an intern for the Economic Empowerment Program at Sanctuary for Families and the Anti-Violence Project, both located in New York City. Kara earned a B.A. in Political Science, with a concentration in Legal Studies from Williams College in 2011.
Come with friends and party for good with Women4Good!