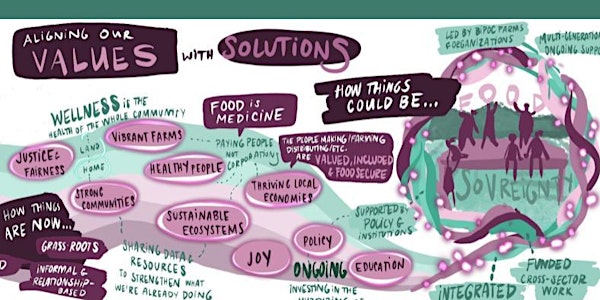 The Peoples' Vision for Food Sovereignty in the Bay Area
Join us to develop the People's Vision for Food Sovereignty in the Bay Area
About this event
The People's Food and Farm Project is developing the People's Vision for Food Sovereignty in the Bay Area. We want to increase community access to affordable and nutritious food, give our communities more control over where our food comes from, and protect the health, well-being and rights of essential food and farm workers and all people who want to provide their families with nourishing, affordable food.
Our team has spent the last two years talking with hundreds of people in the Bay Area— farm workers, food workers, families, and everyday people – to develop our draft Vision.
Now, we're coming together to engage with other residents, farmers, and food workers, to refine the People's Vision for Food Sovereignty for all our communities. We invite you to take a look at the draft Vision Statement whether or not you attend the roundtable. You'll have an opportunity to review a portion of the statement during the roundtable meeting.
Thank you for visioning a just and sovereign food future in the Bay Area with us. Together, we can support everybody's well-being: workers, communities, and the environment in the Bay Area.
We hope to see you at our final roundtable event this Saturday!
* * *
Saturday, October 29th | 1:00 - 3:00 pm PT | Co-Hosted by ALAS, Valley Verde & City Slicker Farms
South Bay: Amah Mutsun, Awaswas, Muwekma, Tamien Nation Territories
*Spanish language interpretation will be provided
* * *
CELEBRATION!
We invite you to join us on November 5th from 3:00 - 8:00pm PT for an in-person celebration at City Slicker Farms' West Oakland Farm Park. There will be FREE food, games, live Afro-Brazilian music by NDL (Namorados da Lua, or Moon Lovers in Portuguese) and dancing!
The West Oakland Farm Park, is a 1.4 acre working urban farm, educational space, and outdoor recreation site located at 2847 Peralta St. in Oakland, CA. It has a lovely central lawn area, picnic tables, benches, playground, outdoor kitchen, bathrooms and a farm area with two chicken coops and a fruit orchard.
RSVP today at www.peoplescelebration.eventbrite.com!