The Pen & The Plate presents Aline Kominsky-Crumb & Drawn Together

Wednesday, November 14, 2012 from 6:45 PM to 10:00 PM (EST)
Event Details
The Pen & The Plate
presents
Aline Kominsky-Crumb
&
DRAWN TOGETHER
by
'that thing with 2 heads'
Aline & R. Crumb
On: November 14th 2012
Cocktails: 6:45 PM
Introduction: 7:15
Dinner & Readings: 7:30 PM
$60.00 per person
(includes 3 course dinner, a welcome cocktail, tax & gratuity*)
*all beverages, and tax & gratuity on same, additional
Where: In the PDR
ALISON EIGHTEEN
15 West 18th Street
New York City
For more Information: 212 366-1818 or events@alisoneighteen.com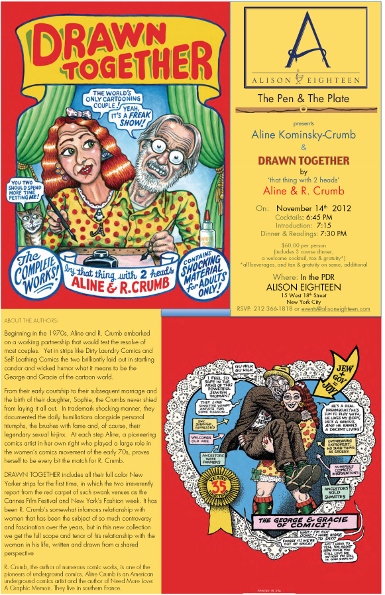 ABOUT THE AUTHORS: Beginning in the 1970s, Aline and R. Crumb embarked on a working partnership that would test the resolve of most couples. Yet in strips like Dirty Laundry Comics and Self Loathing Comics the two brilliantly laid out in startling candor and wicked humor what it means to be the George and Gracie of the cartoon world.
From their early courtship to their subsequent marriage and the birth of their daughter, Sophie, the Crumbs never shied from laying it all out. In trademark shocking manner, they documented the daily humiliations alongside personal triumphs, the brushes with fame and, of course, and their legendary sexual hi-jinx. At each step Aline, a pioneering comics artist in her own right who played a large role in the women's comics movement of the early 70s, proves herself to be every bit the match for R. Crumb.
DRAWN TOGETHER includes all their full color New Yorker strips for the first time, in which the two irreverently report from the red carpet of such swank venues as the Cannes Film Festival and New York's Fashion week. It has-been R. Crumb's somewhat infamous relationship with women that has been the subject of so much controversy and fascination over the years, but in this new collection we get the full scope and tenor of his relationship with the woman in his life, written and drawn from a shared perspective R. Crumb, the author of numerous comic works, is one of thepioneers of underground comics.
Aline Crumb is an American underground comics artist and the author of Need More Love: A Graphic Memoir. They live in southern France. 
 twitter @alisoneighteen      www.alisoneighteen.com     #dineoutNYC#
When & Where

Alison Eighteen
15 W 18th St
New York, NY 10003


Wednesday, November 14, 2012 from 6:45 PM to 10:00 PM (EST)
Add to my calendar
The Pen & The Plate presents Aline Kominsky-Crumb & Drawn Together