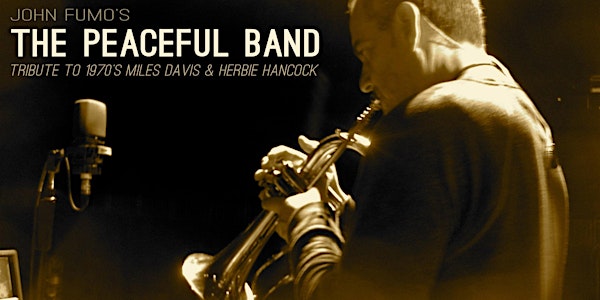 The Peaceful Band - A Tribute to 1970's Miles Davis & Herbie Hancock
The Peaceful Band - A Tribute to 1970's Miles Davis & Herbie Hancock
When and where
Location
Rudy's Jazz Room 809 Gleaves Street Nashville, TN 37203
About this event
The Peaceful Band covers 1969-1975 cuts from Miles Davis and Herbie Hancock's jazz fusion era as well as original works by John Fumo.
John Fumo has been a Miles Davis fan from his early days with Charlie Parker, through the "cool" period into his "In a Silent Way" seminal recording. When John first heard the album "Bitches Brew" he already had an affinity for rock and funk music. "With the electric guitar, electric bass, Fender Rhodes piano, echos and delays, Miles and his band hit me right were I lived, a fusion of Rock, Funk and Jazz" says John. Herbie Hancock and his Mwandishi band with it's hypnotic grooves and free jazz approach was also a main influence in John's work.
Fumo relocated to Nashville in 2021 after a long career in Los Angeles, freelancing, recording, composing and touring with Neil Diamond, Neil Young, Brian Setzer and a host of others. Teaching at California Institute of the Arts and at USC for over 20 years, the idea for The Peaceful Band was born.
The Peaceful Band:
John Fumo Trumpet
Ted Wilson Keys/Piano
Andre Cailliet Guitar
Madison George Drums
Kevin McClallen Bass
Jim Hoke Sax/Bass Clarinet
Claude Cailliet Percussion/Trombone

This show is 21 and over only. All sales are final and we unfortunately cannot offer any refunds. Additional tickets may be available at the door on the day of the show even if it is sold out online.
Please try to arrive 15 minutes prior to the show start time. If you do not arrive within 45 minutes after the show start time on your ticket your seat may be resold to other patrons at the door. If you arrive after 45 minutes from the start time of the show and your ticket has been resold, although we cannot guarantee it, we will try our best to make space for you to attend the show.