Description
Congratulations...you have made the right choice! To reserve your FREE seat, all you have to do is click the green REGISTER button on the right.
We look forward to meeting you at the Grandview Hotel on the day. Registration starts from 8.30, and we'll get things started at 9.30. Be sure to put mark this event in your calendar for November 25 and set yourself a reminder alarm...you don't want to miss out!
Here's a quick reminder of what's in store for you at this Payoneer Forum on 'E-Commerce and Digital Marketing Strategies for 2018:'
A chance to be a part of the first-ever Payoneer Forum in Thailand

Top-notch speakers delivering quality content for entrepreneurs

Tons of useful, actionable information and advice to help you grow your business

A wealth of ideas, insights and inspiration to help you raise your game

The perfect opportunity to prepare for an awesome 2018

A great chance to network with other talented business professionals

A totally FREE event, complete with complimentary hospitality

A great conference venue with the facilities to make your day great

An opportunity to spend some time in the fascinating city of Chiang Mai

A fantastic introduction to the warmth of the Payoneer community
Our renowned international speakers and the Payoneer management team look forward to welcome you to a day that could transform your business future: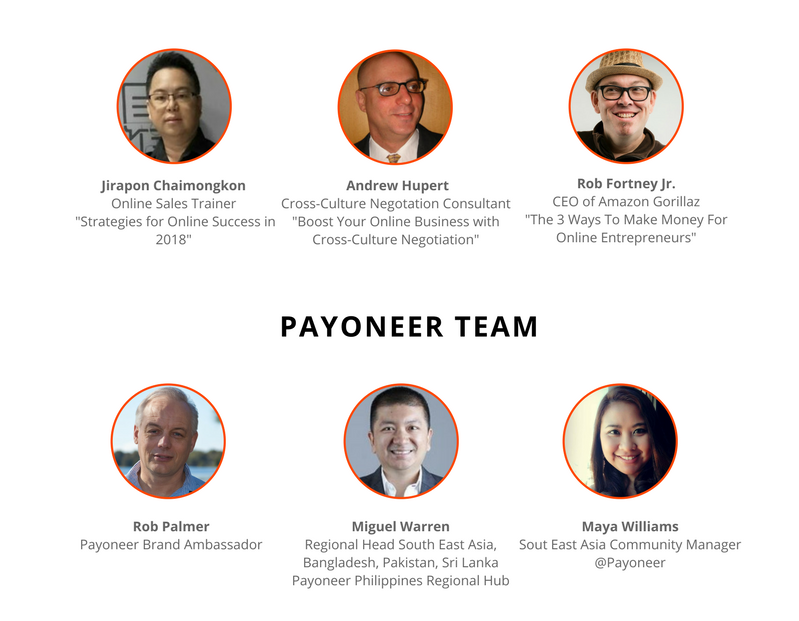 P.S. Don't forget to click the green REGISTER button at the top right and secure your place before the seats are all gone.