The Paths of Life: Back to Basics - How We Got Off Track

Multiple Dates
Event Details
It's your journey through life, but who is guiding it?
Life has a funny way of catching up with us, at any age, at any time.  Eventually the covers are pulled.  We look for more.  We look for answers.  We look for peace 
Many people find themselves spending their life trying to overcome old beliefs (old tapes that play over and over in our minds). We attend seminars, read self-helps books all for the purpose of gaining personal growth.   For many people these old beliefs have been playing for 20, 30, 40, 50 years and nothing has changed.
The Paths of Life Online Discussion Class Series will take you on a journey that will help you understand what caused our beliefs to get distorted in the first place, and how to let go of old beliefs and be open to accepting new ones.
You will begin to find the power within that allows you to go back to the very core if what you came into the planet with… values.
This Series will reignite those values and assist you in uncovering and discovering answers… as you identify the presence of a new idea, examine the relevance of the idea, and the availability of a solution.
When you solve the same problem over and over and nothing changes, have you ever considered the problem might not be you... maybe you are just trying to solve the wrong problem!
What if ....
You could discover why the programs you have tried didn't work for you?

You could discover the root core of the real problem, which blocks your life and limits your success?

You could implement a process that leaves wishful thinking behind and opens the door to true reality?
It has been said that positioning and timing are the two critical factors for success.  If this is the case, then you may have found the right place.  After reading the following course outlines, you can decide for yourself if the time is NOW...
In the Paths of Life journey, you will discover:
The illusions of personal growth

Why spirituality only works some times

The 5 dimensions of the human experience

How we have been taught to cover up the truth with illusions

How we have been tricked into forgetting principles and following rules

How you can begin to let go of the past… and look inside the mind of the child that created your beliefs...

An introduction to a basic to basics approach to balance the "I" and the "We"

Why for most people fear is an illusion, which seems like a reality

An introduction to Pocket Wisdom Principles
Many who have attended this class have gained deeper insight and appreciation for their path of life, and found hope.  The Paths of Life Online Discussion Class Series provides you with an understanding of how your life may have gotten off track and a proven process to uncover and discover how to rebuild your personal power and self-esteem.
This is the start of your journey and your opportunity to add some insight to your very own Pocket Wisdom…
We look forward to seeing you in class...Enjoy!
 
Please note that this is Step 1. After completing this registration form you will receive a confirmation email (check your junk mail, too). The confirmation letter will provide you with details on your next step.
The Paths of Life is a Free Resource offered by The Life Skills U eMod APP Network Center 
To get the most out of this Online Discussion, explore the FREE eMod APPs available from the Life Skills U Network Center. Your confirmation letter will provide you the download link forThe Online Discussion Class hosted in partner Microsoft's Live Meeting VIoP Conference Rooms. If desired, we will be happy to assist you in the download and installation of the Microsoft Office Live Meeting and orient you in with the conference resources and APPs.
Have questions about The Paths of Life: Back to Basics - How We Got Off Track?
Contact eModMe™
Organizer
eModMe™
eModMe™ offers you affordable, sustainable and measureable solutions to support and discover your Journey of Life. Unlike traditional educational and self-help models, eModMe™ delivers a SOS process supported by MyGuide - a live person in the cloud. This offers a unique Transformational Learning Experience.
 What if you could:
Improve your ability to learn and apply essential life skills for personal and professional development?
Build awareness and understanding of self and others?
Overcome fear, anger and control?
Unlearn old habits that you can't seem to break and relearn a healthier way of life?
Overcome learning challenges that hold you back, and ignite your individual intelligences?
Belong to a community of like minds focused on learning and discovery in all areas of life?
 eModMe™ brings you:
FREE eMods
Affordable eMods with Emotional Maturity-Transformation
Affordable Professional Support, Assistance and Monitoring
Homogenous Online Discussion, Facilitation and Support Groups
Employment Readiness Programs and Professional Career Opportunities
Come and Explore the Many Topics...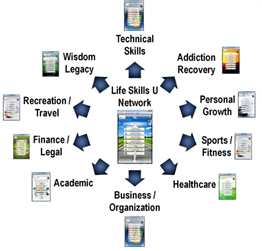 If you are a service provider or an industry leader interested in teaching at eModMe™ Contact Us
Don't forget to sign up for FREE Online Discussion Classes!  Enjoy your journey...