The Path of the Wisdompreneur: Shifting the Paradigm - For Real

Friday, February 19, 2016 from 9:00 AM to 5:00 PM (PST)
Event Details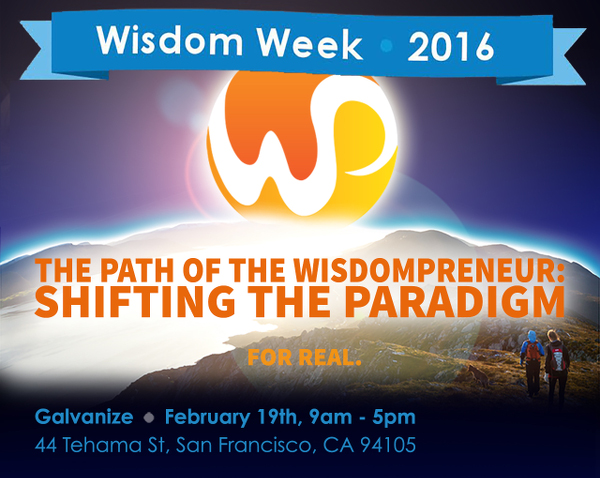 Wisdom Week 2016 is a series of daylong and evening events taking place in the Bay Area February leading up to and including the 2016 Wisdom 2.0 Conference. Each event allows participants to deep dive into one particular focus area, alongside friends and colleagues who share an interest in promoting greater mindfulness, compassion, and awareness in the digital age.



As one of Wisdom 2.0's two Intensives, this Day Long focuses on the intersection of wisdom practices and entrepreneurship, inviting participants to embark on a collective journey while addressing their specific interests through one of nine pathways.


FOR MORE INFORMATION ON THIS INTENSIVE, CLICK HERE!
---


For more information on Wisdompreneurs' other events during Wisdom Week, Click HERE!

The Path of the Wisdompreneur: Shifting the Paradigm - For Real.
An offering of nine focused Pathways that will support wisdom practioners, entrepreneurs, intrapreneurs and those at the intersection of wisdom and business to cultivate and sustain wisdom practices, creativity, diversity/inclusion, business practices, purpose, social impact, inner wisdom and collaboration. 
Our curated team of Catalysts and Contributors will engage you through a combination of experiential and interactive exercises, guided practices, and personal insights that will offer participants the opportunity to explore the intersection of wisdom and entrepreneurship in nine unique scenarios.

The day will begin and end in a larger group context while the core of your day will be spent in the pathway you selected.
Discover more about each individual Pathway and the Intensive by visiting SHIFT2016.


If you would like to join us, you will register for the event above. You will receive a an order confirmation and information regarding choosing your pathway.  
We want to ensure that anyone who would like to attend this event can, if you would like to attend and scholarship assistance, please click here to apply!
---
Your Hosts:  Alison Raby and Paul Zelizer Co-Founders of Wisdompreneurs. Paul and Alison have built one of the most dynamic brands in the conscious entrepreneur space; with a highly engaged online community of over 11,900 and growing.  They were both part of the team that grew Wisdom 2.0 from 650 to 1800 people in one year. Joined by Wisdompreneurs' International Liaison Team, this event will be a global experience.
---


Fine Print and Cancellation Policy:
Tickets cancelled before January 15th, 2016 will receive a refund less 50% of your purchased ticket price. January 15th, 2016 is the final date by which you are eligible to transfer your ticket to someone else. If you need to transfer your ticket, you must do so by that date. There will be a $25 transfer processing fee. 
We do not support partial ticket-swaps or ticket sharing of any kind; nor can you apply the cost of a ticket to future events. Cancellations and transfer requests must be received in writing from the original ticket buyer; send requests to info@wisdompresneurs.community.
After January 15th, 2016, all tickets are non-refundable and non-transferrable. In the unlikely event that the conference is cancelled, we will refund all tickets. We will not, however, be able to refund flight, hotel, or other purchases made. All listed speakers are confirmed -- however, sometimes life events such as sickness or death in the family prevent them from making it at the last minute. Speaker cancellations do not affect the cancellation policy.Purchase of a ticket indicates that you have read and agree to comply with this cancellation policy. This policy is subject to change; all registered attendees will be notified of any changes. 

Please Note: Registration for the The Path of the Wisdompreneur is managed separately from the Wisdom 2.0 Conference, and our cancellation policy only applies to our event. Please contact Wisdom 2.0 directly for information about the conference, or to cancel or transfer your Wisdom 2.0 Conference registration: info@wisdom2conference.com.
When & Where

Advent Software
600 Townsend Street
San Francisco, CA 94103


Friday, February 19, 2016 from 9:00 AM to 5:00 PM (PST)
Add to my calendar
Organizer
Wisdompreneurs
Wisdompreneurs is THE emerging community at this profound nexus of transformation, technology, innovation and entrepreneurial drive. On the intersection of mindfulness and entrepreneurship; we fill a unique niche in the wisdom world. Born at Wisdom 2.0 in 2013, as an offshoot of that conference, Wisdompreneurs has grown to an international community of just under 12,000 and continues to expand rapidly.
Wisdompreneurs has a twofold, highly pragmatic mission: To help wisdom-based practitioners succeed in business, and to help entrepreneurs incorporate wisdom practices into their lives and their organizations. Wisdompreneurs is also part of a larger vision: to contribute to a wiser and more just economic system; to shift the criteria for "success" worldwide so that we include our own well-being, our capacity to connect with ourselves, to give back to others, and to bring joy into our lives.
The Path of the Wisdompreneur: Shifting the Paradigm - For Real