Description
The Path of Future (TPOF) merupakan salah satu serangkaian kegiatan yang bertujuan untuk informasi kepada lulusan baru maupun professional mengenai lowongan pekerjaan dan pendidikan lebih lanjut. Adapun kegiatan yang dilakukan adalah :
1. Jobfair
Memberikan informasi peluang kerja pada pencari kerja, baik yang berasal dari kalangan profesional maupun fresh graduate serta memberikan informasi edukasi serta kebutuhan pelatihan selepas kelulusan. Inilah event yang menghadirkan banyak perusahaan yang ingin merekrut karyawan dalam satu tempat dan dalam satu waktu.
2. Education Fair
Tidak hanya mencari pekerjaan namun para profesional maupun fresh graduate juga membutuhkan informasi mengenai pendidikan ke jenjang yang lebih tinggi maupun pelatihan yang bersifat . Hal inilah yang coba diangkat oleh TPOF untuk meningkatkan pentingnya pendidikan masyarakat Indonesia khususnya warga Jabodetabek. Melalui jenjang pendidikan yang terstruktur, para lulusan baik lulusan SMA/SMK, Sarjana Muda ataupun Sarjana akan mendapatkan masa depan yang lebih terjamin karena dengan mengemban pendidikan yang tepat dan memiliki kualifikasi tinggi dalam suatu bidang, kesempatan untuk masa depan yang baik terbuka lebar.
3. Kelas untuk kegiatan Pelatihan
The Path of Future (TPOF) juga menyediakan kelas khusus bagi kegiatan pelatihan yang dapat dilakukan selama acara berlangsung. Dengan melakukan sewa kepada panitia per jam maupun paket harian, ruang kelas tersebut dapat digunakan lengkap dengan peralatan yang ada di dalamnya.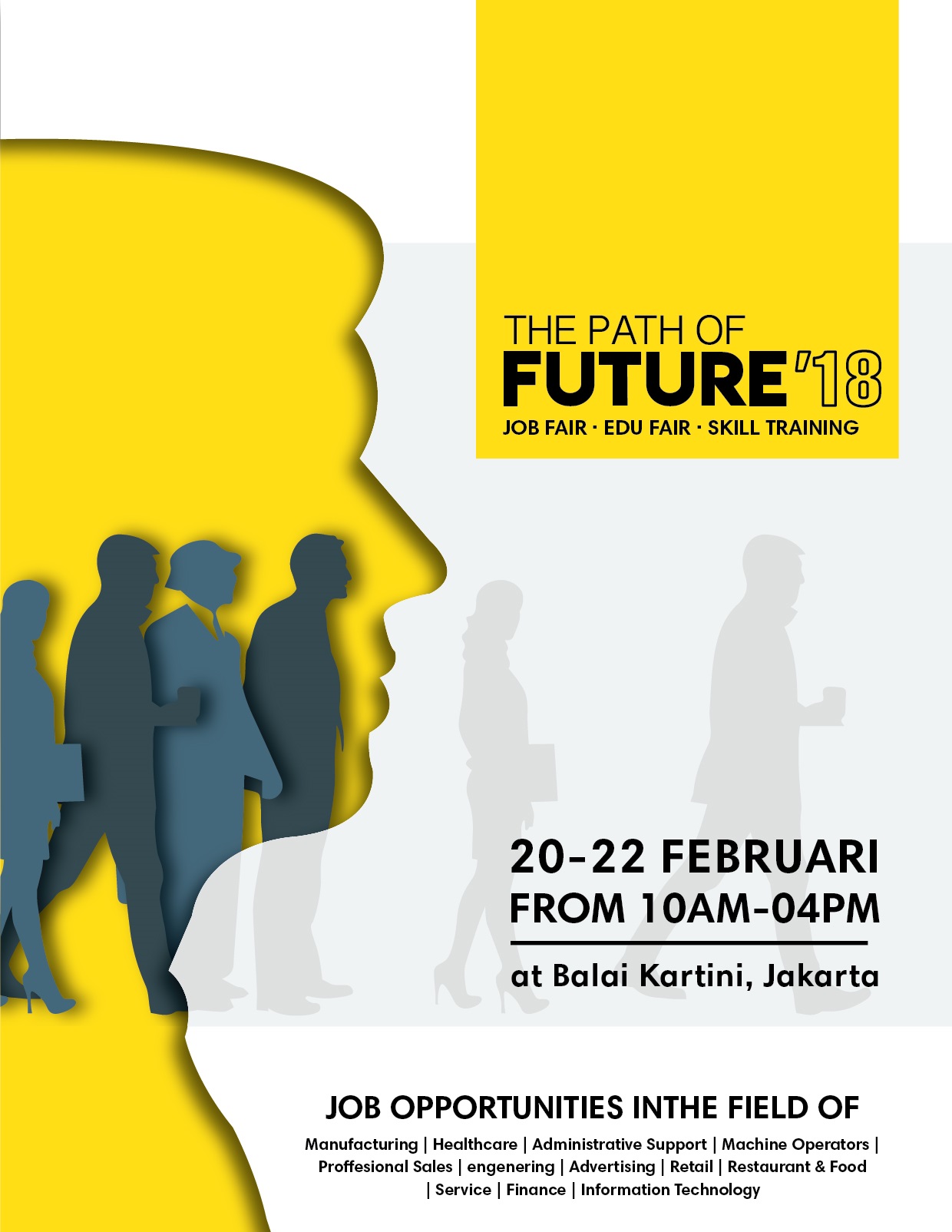 Date and Time
Location
Balai Kartini
Jalan Jendral Gatot Subroto
Setia Budi, Daerah Khusus Ibukota Jakarta 12950
Indonesia