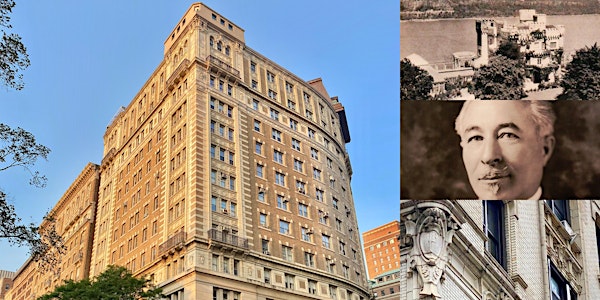 'The Paterno Family: Chronicling a New York Real Estate Legacy' Webinar
Can't make it live? Register and get access to the full replay for one week! New York Adventure Club | www.AdventureClub.com
About this event
How did one of Manhattan's most successful real estate family dynasties of the 1900s happen mostly by accident? And how could it be that almost all of their buildings still stand generations later? Fortunately, a great-granddaughter of the family has meticulously cataloged each of their projects and New York story like never before. From 35th Street to 188th Street between Riverside Drive and East End Avenue, it's time to explore the real estate legacy of the Paterno family and their significant contribution to New York architecture.
Join New York Adventure Club as we chronicle the Paterno family's real estate development legacy spanning from 1896 to 1964. As one of New York's preeminent apartment house building empires of the 20th century, the Paterno family built a total of 164 buildings throughout Manhattan, nearly all of which are still standing.
Led by Carla Golden, great-granddaughter of Dr. Charles V. Paterno, our virtual deep dive into the Paterno family's architectural portfolio will include:
The early history of the Paterno family and what unexpected event prompted them to emigrate from Castelmezzano, Italy to New York City
How an unfortunate event led a young Dr. Charles V. Paterno to join his younger brother as a real estate builder instead of ever practicing medicine
Why the immediate success of Paterno Brothers Construction on the Upper West Side was a case of being in the right place at the right time
The story of how one family member's unpopular actions helped lead to the creation of New York City's Landmarks Preservation Commission
A discussion of how the Paterno buildings' quality construction and timeless aesthetic helped form the iconic style of Manhattan that is treasured to this today
A virtual visit to nearly every one of the existing and demolished Paterno buildings, ranging from 155 apartment houses, four family homes, and even a magnificent castle
A closer look at some of Paterno Brothers Construction's most famous buildings, including the Paterno Castle and The Paterno on 440 Riverside Drive
Afterward, we'll have a Q&A with Carla — any and all questions about the Paterno legacy are welcomed and encouraged!
Can't make it live? Don't worry, you'll have access to the full replay for one week!
See you there, virtually!
*Immediately upon registering, you will receive a separate, automated email containing the link to join this webinar
**For the best possible viewing experience, please ensure you're using the latest version of your internet browser — Google Chrome is the most compatible. Exact technical requirements and a webinar user guide will be shared in the automated confirmation email upon registration.
***A full replay of the experience will be available to all registered guests for up to a week
Disclaimer
By attending a New York Adventure Club experience, you accept our terms of service.
Categories: Virtual, Landmarks