Description
Emails with address, parking info, and MBTA info were sent out at 7AM, Friday, 6/1. If you purchased after 7AM, a second round of emails will go out early tomorrow.
If you purchased before 7AM and did not receive the email, please check your spam/promotions/trash folders. If you can't find it, please email rayactivation2018@gmail.com and we will forward you the info. See you tomorrow!
What could be better than a summer barbecue with your friends? A summer barbecue with your friends that supports an incredible art project, that's what!
Come spend an afternoon in a beautiful backyard garden in Waltham with your favorite Boston artists and makers to support Rayactivation, a Burning Man honorarium project led by Doug Ruuska. Your ticket will get you in to the party and includes access to a keg of fine ale and a selection of sizzling grillables and delectable sides. If you're in need of some cleansing, there will be a steam bath to help get the dust out of your pores. We'll also be unveiling our shiny new project logo! Logistics permitting, we will distribute t-shirts and stickers.
Rayactivation is a giant, interactive, illuminated Cownose Ray (Rhinoptera bonasus) that will fly over the heads of participants as it travels across the night Playa sky! For more information, be sure to check out the project's facebook page, instagram feed, and website. This project is supported in part by a grant from Burning Man.
In keeping with the art project's underwater nature, we are basing this fundraiser's theme on The Life Aquatic. If you'd like to bring portable, leave-no-trace art, please do! Creative attire of any sort is encouraged but by no means mandatory. May we suggest wearing your best Life Aquatic uniform?
At the host's request, the address will only be given to those who RSVP. Let us know if you're coming!
UPDATE 5/30!
This event is rain or shine!
We will have t-shirts ready to pick up featuring our awesome new project logo!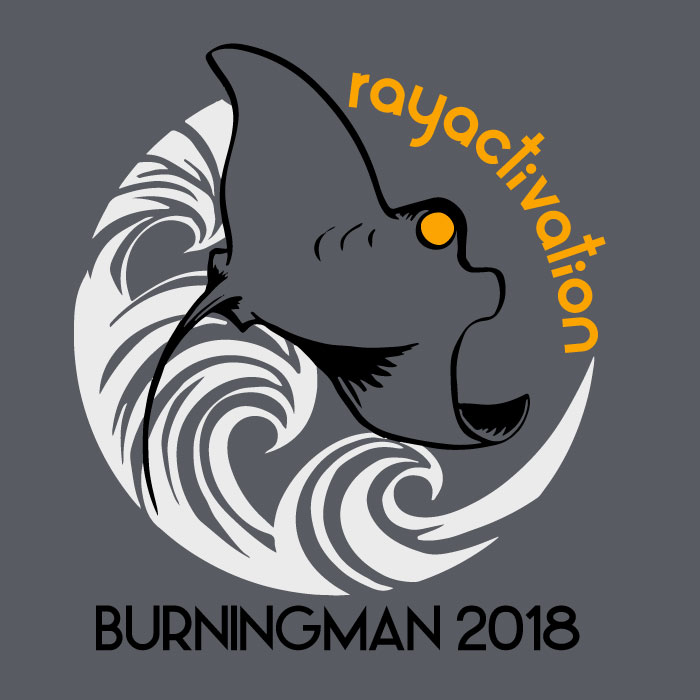 We've been busy planning the details and we're excited to announce that we'll have not one, not two, but THREE great DJs for your listening pleasure! We also have a slew of raffle prizes and some interactive art!
DJ Lineup
1:00 - 3:30: Jay Batson (https://soundcloud.com/catalyst_burn)
3:30 - 5:00: char(7) (http://mixcloud.com/char_7)
5:00 - 5:30: Raffle drawing!
5:30 - 7:00: FiG (https://soundcloud.com/fig)
Raffle Prizes!
Framed photography by Doug Ruuska
Photography by Don Perrault
Fine chocolate from the Somerville Chocolate Company
Collector's item beer from Pretty Things
Beer from Aeronaut
Beer from the Cambridge Brewing Company
Collectible stickers from past projects and events
Custom burning man art by David Shih
Ceramics from the Purple Princess and Alisa Rodney
A burning man tarot card deck
With more prizes to come!
Art!
This party will feature the spire from 2014's Cosmic Praise Burning Man project.
A 2/3 scale set up of one wing of the flying ray will be set up at the event.
In addition, we'll have new interactive art! Piccles is a collaborative drawing platform that enables everyone to be a part of art as they both create and consume it in real time. Resulting work is unique to the time, place and people participating. It launched in May during ArtWeek. For more info, visit https://vimeo.com/269411799.
Volunteer opportunities!
If you would like to contribute, we would love help in the following areas:
Party-Aquatic themed deco!

Setup and Breakdown!

Donations to the raffle!

Gate/ticketing/food prep!
To assist with any of these, contact rayactivation2018@gmail.com. See you on June 2!