Looks like this event has already ended.
Check out upcoming events by this organizer, or organize your very own event.
The Partnership for Safe Medicines Interchange 2014

Thursday, September 18, 2014 at 8:00 AM
Event Details
The annual Interchange brings together policymakers, pharmaceutical manufacturers, patient advocates, law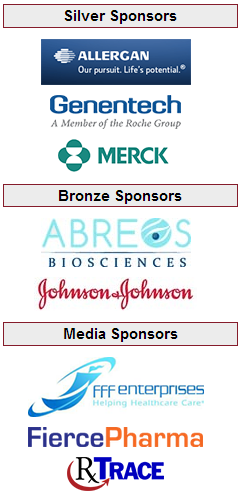 enforcement, healthcare professionals, and anti-counterfeiting companies to discuss the problem and solutions to the global scourge of pharmaceutical counterfeiting.
AGENDA 
7:30 a.m. - 8:30 a.m. Pre-conference breakfast, sponsor table browsing and networking.
8:30 a.m. - 8:40 a.m. Conference opener
Introduction - Scott LaGanga, Executive Director Partnership for Safe Medicines; Vice President, Public Affairs - Advocacy, Pharmaceutical Research and Manufacturers of America (PhPMA)
8:40 a.m. - 9:10 a.m. Original Research
Dr. Marv Shepherd, Director, Center for Pharmacoeconomic Studies
College of Pharmacy, University of Texas-Austin
Dr. Tim Mackey, Assistant Professor, UCSD School of Medicine, Department of Anesthesiology
Director, Global Health Policy Institute
9:10 a.m. - 10:25 a.m. Panel 1: New international developments in the fight against counterfeit medicines
Moderator: Tom Kubic, President and CEO, Pharmaceutical Security Institute
Panelists:
Gillian Buckley, Program Officer, Institute of Medicine
Philip Walsky, Acting Director, FDA-OCI
Jim Dahl, Assistant Director of the FDA's Office of Criminal Investigations (OCI) (retired)
10:25 a.m. - 10:40 a.m. Break
10:40 a.m. - 11.55 a.m. Panel 2: Patient safety and criminal prosecutions in the U.S.
Moderator: Linda I. Marks, Senior Litigation Counsel, Consumer Protection Branch, Department of Justice
Panelists:
James D. Durham, First Assistant U.S. Attorney
Lindsay Androski Kelly, Assistant U.S. Attorney
TBD
11:55 a.m. - 12:55 p.m. Networking Lunch
12:55 p.m. - 1:05 p.m. Pre-Panel Presentation (downstairs) PSM India
Bejon Misra, Founder, PSM India
1:05 p.m. - 2:20 p.m. Panel 3: The Impacts of Fake Online Pharmacies on Patient Safety
Moderator: Daniel Burke, Special Agent FDA-OCI
Panelists:
Libby Baney, Executive Director, Alliance for Safe Online
Mac MacCall, President, Maine Pharmacy Association
TBD
2:20 p.m. - 2:50 p.m. Panel 4: How the Black Market Impacts Patients
Panelists:
Eric Sampson, Advisor to the CDC Foundation
Heather McLaughlin, Senior Compliance Analyst, MD
Maryland Department of Health and Mental Hygiene
Kimberly New, National Association of Drug Diversion Investigators
TBD
2:50 p.m. - 3:05 p.m. Mid Afternoon Break
3:05 p.m. - 3:35 p.m. Keynote Speaker
Jim Hood, Attorney General, State of Mississippi
3:35 p.m. - 3:45 p.m. Introduction to Keynote Speaker
Scott A. LaGanga, PSM Executive Director
3:45 p.m. - 4:15 p.m. Keynote Speaker
Howard Sklamberg, FDA Deputy Commissioner
4:15 p.m. - 4:17 p.m. Closing Remarks, Scott LaGanga
4:17 p.m. - 5:15 p.m. Reception
When & Where

Newseum | The Knight Conference Center
555 Pennsylvania Ave., N.W.
Washington, D.C. 20001



Thursday, September 18, 2014 at 8:00 AM
Add to my calendar
Organizer
The Partnership for Safe Medicines is a group of organizations and individuals that have policies, procedures, or programs to protect consumers from counterfeit or contraband medicines.