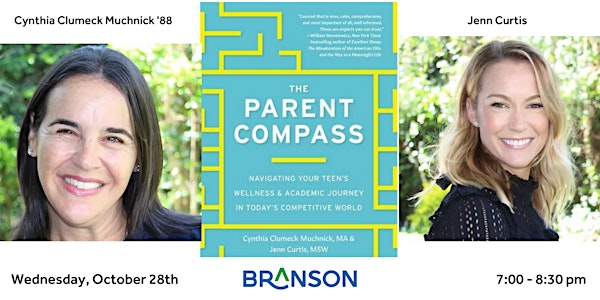 The Parent Compass: Navigating Your Teen's Wellness and Academic Journey
The Parent Compass: Navigating Your Teen's Wellness and Academic Journey in Today's Competitive World
About this event
Join Branson alum, Cynthia Clumeck Muchnick '88 and her co-author Jenn Curtis for discussion of their book, The Parent Compass: Navigating Your Teen's Wellness and Academic Journey in Today's Competitive World. Talk moderated by Chris Mazzola.
It's no secret that 2020 has not been kind. Our world seems to have been turned upside down, given a few hard shakes, and placed back on its axis a little off-kilter. As we forge on into a new school year, we are facing inevitable uncertainty; yet alongside the uncertainty, we have to be making difficult decisions. The ones that used to be small have now ballooned in their significance. And with the decisions comes the doubt: Am I doing the right thing? And how can I better help my teen navigate this period in his or her life?
Co-authors Cindy Clumeck Muchnick, M.A., Branson Class of 1988, and Jenn Curtis, M.S.W., will present an evening of insight and conversation around themes presented in their new book The Parent Compass: Navigating Your Teen's Wellness and Academic Journey in Today's Competitive World. Between the authors, Cindy and Jenn have worked in the fields of college admission, educational consulting, teaching, and counseling for the past 20+ years. They are also mothers of a total of six kids ranging from the ages 4 to 22, and they have devoted their careers to working with teens.
The authors aim to help Branson parents navigate through this "new normal" with renewed confidence in their choice of actions and decisions. During the evening you will find hope and learn some new parenting tools to help you navigate the school year ahead.
The presentation will offer:
Challenging questions that aim to jumpstart an essential conversation for parents on why we behave the way we do and how we make the choices we make in helping to navigate our teens through competitive and uncertain times.
Anecdotes from the authors' personal and professional lives working with teens that exhibit both poor parenting choices and ones to model
Research and tips gleaned from interviews with education thought leaders, teachers and administrators, counselors, psychologists, and other authors
Tangible steps and ideas to help parents preserve and not fracture their relationships with their adolescents.
This will be an interactive hour-long presentation followed by a Q&A moderated by Chris Mazzola. Branson alumni and parents are invited to join us for this special event. Con interpretación en vivo, en español, del profesor de español de Branson Sergio Ovalles!
TO PURCHASE - The Parent Compass is for sale at your local independent bookstores and through Amazon. Signed copies are available for $20 (including shipping) through this form.