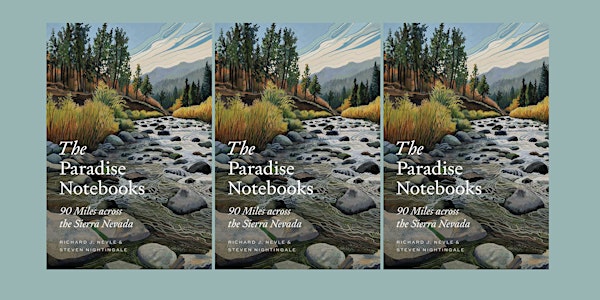 The Paradise Notebooks: A Nevada Writers Hall of Fame Event
Event Information
Location
Mathewson-IGT Knowledge Center
1664 North Virginia Street
Reno, NV 89512
Join us for a very special Earth Day celebration with authors Steven Nightingale & Richard Nevle, and singer/songwriter Deborah Levoy
About this event
Join the University Libraries and the Nevada Writers Hall of Fame for an evening of story and adventure as Steven Nightingale and Richard Nevle share readings from their new book, The Paradise Notebooks. Come along as they recount their 90-mile hike through the Sierra Nevada, which was both the inspiration and catalyst for the book. Singer/songwriter Debora Levoy will share her music, inspired by nature.
Following the presentation, there will be a book signing and light reception.
______________________________________
In The Paradise Notebooks, Richard J. Nevle and Steven Nightingale take us across the spectacular Sierra Nevada mountain range on a journey illuminated by incandescent poetry and fascinating fact.
Over the course of twenty-one pairs of short essays, Nevle and Nightingale contemplate the natural phenomena found in the Sierra Nevada. From granite to aspen, to fire, to a rare, endemic species of butterfly, these essay pairs explore the natural history and mystical wonder of each element with a balanced and captivating touch. As they weave in vignettes from their ninety-mile backpacking trip across the range, Nevle and Nightingale powerfully reconceive the Sierra Nevada as both earthly matter and transcendental offering, letting us into a reality in which nature holds just as much spiritual importance as it does physical.
In a time of rapid environmental degradation, The Paradise Notebooks offers a way forward—a whole-minded, learned, loving attention to place that rekindles our joyful relationship with the living world.
Date and time
Location
Mathewson-IGT Knowledge Center
1664 North Virginia Street
Reno, NV 89512