The Paladins Return to Don the Beachcomber plus Rumble King

Friday, June 24, 2016 from 7:00 PM to 11:30 PM (PDT)
Event Details
The Paladins
The Paladins from San Diego, California are the preeminent blues/rockabilly band in America. Founded in the early 1980s by guitarist Dave Gonzalez and his high school friend and double bass player Thomas Yearsley, they have recorded nine studio and three live albums, and along the way built a reputation as one of America's hardest-working live bands.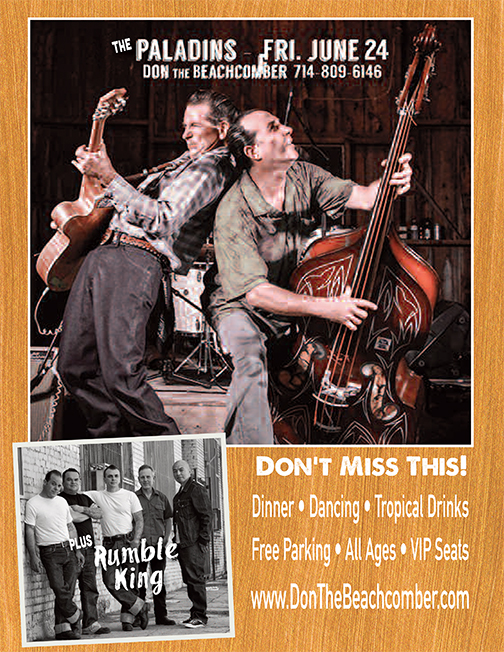 The Paladins started out as a rockabilly band during the rockabilly craze of the early 1980s. Their tagline at the time was "Western & Bop", as they played a combination of rockabilly and vintage country. Their first LP, The Paladins, was produced by Kim Wilson of the Fabulous Thunderbirds, and was released in 1987. They followed that up with Years Since Yesterday, released on Alligator Records in 1989 and produced by Los Lobos' Steve Berlin and Mark Linnet. When Let's Buzz came out in 1990 the band was firmly planted as a headliners in showcase music clubs across the country and in Europe. The band soon established themselves a regular festival headliners sharing bills with the likes of Stevie Ray Vaughn, The Fabulous Thunderbirds and Los Lobos. Let's Buzz, "an invigorating blend of rockabilly, blues, rhythm-and-blues and country," was recorded in the Los Angeles studio of 1970s soul star Leon Haywood and is their largest selling record to date. Since that time nine more critically acclaimed albums have come out. Most notably, their 1996 live album Million Mile Club, which fittingly marked the band's one millionth mile traveled on the road.
To their many fans, the Paladins appeared to have come to an end in 2004, when Gonzalez, who wanted to focus on different musical interests, formed the western-soul band the Hacienda Brothers. During this time Dave Gonzalez liked to refer to the Paladins status as being "on hiatus." Sadly, after the untimely death of Hacienda Brothers band mate and friend, Chris Gaffney, Gonzalez found time for the Paladins to reunite, first in 2010 for a festival in Europe, then again in 2011 for more European events including a small tour. Also in 2011 the band performed their first US date in seven years at the Ink and Iron Festival in Long Beach, then in 2012 at the Doheny Blues Festival. This year once again finds the band headlining some select European shows and they will also making a few special reunion appearances in the US. Dave Gonzalez has been living in Austin Texas for the past five years where he stays busy, not only performing, but also recording bands and producing records. In between all of that Dave, Tom and drummer Brian Fahey have also gotten together to record some new Paladins tracks which ended up on 10 inch single and also on the brand new "More Of The Best Of" Vol. 1 CD. So who knows what the future might bring, but for now, Paladins fans across the globe are just happy that the trio has found time to get together for these rare reunion concerts and tours.
RUMBLE KING
Rumble King is an Original American Roots Driven Rock & Roll band from Southern California. They formed in 1996 and have captured loyal fans of all ages from Coast to Coast in the U.S. and are now receiving international attention. The Group has long been respected musically among fellow musicians and have now grown to be considered one of the most ingenuitive and exciting bands on the west coast. By Putting a modern and energetic twist on the early styles of American Music, Rumble King has created an original sound that can be compared to no other.
Reserved seats available, dance floor, dinner & appetizer menu, free self-parking and 18+ show.
When & Where

Don the Beachcomber
16278 Pacific Coast Hwy
Huntington Beach, CA 92649


Friday, June 24, 2016 from 7:00 PM to 11:30 PM (PDT)
Add to my calendar
Organizer
B&B's Musical Thrills
Text to 714-809-6146 for more info and a fast reply!
The Paladins Return to Don the Beachcomber plus Rumble King