Looks like this event has already ended.
Check out upcoming events by this organizer, or organize your very own event.
The Ozarks Mini Maker Faire 2019

Saturday, October 5, 2019 from 10:00 AM to 5:00 PM (CDT)
Event Details
FAQs:
The Greatest Show, Tell, and Learn on Earth!
Join us for our 5th Command Performance of the AMAZING--  Ozarks Mini Maker Faire  on Saturday, October 5, 2019 at the Ozarks Technical Community College (OTC- Springfield Campus)1001 E. Chestnut Expressway, Springfield, MO 65802
We will be celebrating and showcasing a variety of makers whether they're of the "fine arts type maker" or the "industrial maker".  Just a few examples are: hacker, woodworker, silversmith, coder, drone pilot, baker, and candlestick maker!  You will be amazed- and more importantly you will be interacting live with thousands of creative and imaginative makers from around the US—and right here in The Ozarks region of the country.
For more information about the event and to keep up with our progress; access our website: http://theozarks.makerfaire.com/,  Facebook page: https://www.facebook.com/TheOzarksMF?ref=hl, and our Twitter page: https://twitter.com/OzarksMF
DREAM ~ DESIGN ~ MAKE ~ SHARE
Who should come?
Everyone is welcome! Youngsters of all ages will find something that intrigues them at a Maker Faire and THIS Mini Maker Faire will be no exception. There is nothing Mini about our Maker Faire- it just identifies us as a "community driven" Maker Faire. The BEST part?  You will get to interact with the Makers up close and personal—and you will even be playing and making yourself.  (Please leave Woof-Woof and Meow-Meow at home, however.  There will be loud noises occasionally and we don't want to frighten our furry friends.  Only assistance animals are allowed entrance.)
What day(s) and hour(s) will The Ozarks Mini Maker Faire be open to the public?
The Mini Maker Faire  will be held 10 a.m. to 5 p.m. on Saturday, October 5, 2019 at the  1001 E. Chestnut Expressway, Springfield, MO 65802.  There will be LOTS of eclectic "Makers" showcasing their creativeness, speakers, workshops, demonstrations, and hands-on opportunities for all ages.
Where can I park?
There is Free parking located at the site and on neighboring streets and lots around OTC.
Where is the handicap parking located?
There is Handicap parking in the parking lot.
Is public transportation available?
There is public transportation available and you may access their website to find a route: http://www.cityutilities.net/  "click" on Transit to find routes and additional information.
Can I volunteer at the Mini Maker Faire?
ABSOLUTLY!  We would love to have your help.  There are volunteer positions available starting soon!  Learn more about volunteering and our needs as it gets closer to the time of the event.
What if it rains?
The show will go on! Bring rain gear to keep you dry when walking outdoors. Fortunately, we will have many indoor exhibits to keep the family dry.
What can I expect?
To have a fantastic time! You'll be surprised and intrigued with every corner that you turn.
Rain or Shine. No Refunds/Exchanges. Tickets cannot be replaced.
 The Ozarks Mini Maker Faire is independently organized and operated under license from Maker Media, Inc.  
I understand that by registering here,  Maker Media may provide me with updates and information about Maker Faires, other events, and products of interest to the maker community.  I understand that I may opt out of these communications at any time.
When & Where

OTC- Springfield Campus
1001 E. Chestnut Expressway
Springfield, MO 65802


Saturday, October 5, 2019 from 10:00 AM to 5:00 PM (CDT)
Add to my calendar
Organizer
About The Ozark's Mini Maker Faire:
About Maker Faire:
Maker Faire is the Greatest Show (and Tell) on Earth—a family-friendly showcase of invention, creativity and resourcefulness, and a celebration of the Maker Movement. It's a place where people show what they are making, and share what they are learning.
Makers range from tech enthusiasts to crafters to homesteaders to scientists to garage tinkerers. They are of all ages and backgrounds. The aim of Maker Faire is to entertain, inform, connect and grow this community.

The original Maker Faire event was held in San Mateo, CA and in 2015 celebrated its tenth annual show with some 1100+ makers and 145,000 people in attendance. World Maker Faire New York, the other flagship event, has grown in four years to 600+ makers and 80,000 attendees. Detroit, Kansas City, Atlanta, Milwaukee, Orlando, Pittsburgh, San Diego, Silver Spring, Ottawa, Lisbon, Paris, Rome, Berlin, Newcastle, Hannover, Oslo, Trondheim, Seoul, Singapore, Taipei, Tokyo, and Shenzhen are the home of larger-scale, "featured" Maker Faires. In addition, over 120 community-driven, independently organized Mini Maker Faires are now being produced around the United States and the world—including right here in The Ozarks.
Maker Faire is supported by Make: magazine and Maker Media.
About Make: Magazine: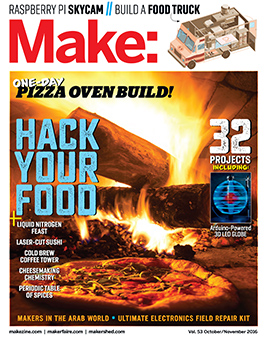 Make: is the first magazine devoted entirely to Do-It-Yourself (DIY) technology projects.
Make: unites, inspires, informs, and entertains a growing community of resourceful people who undertake amazing projects in their backyards, basements, and garages. Make: celebrates your right to tweak, hack, and bend any technology to your will.
Besides the magazine and the faire, Make: and Maker Media is:
The Ozarks SySTEAMic Coalition is a SERVICE Organization which strives to…
• Engage the public through a news and informational website with a regional Science, Technology, Engineering, the Arts, and Math focus.
• Engage the public through events and speaking engagements on Science, Technology, Engineering, the Arts, and Math.
• Provide information ranging from regional cuttingedge businesses, PreK-20 education, afterschool/informal education, internships, and workforce opportunities with an entrepreneur fortitude and focus.
• Facilitate a collaborative effort in the com-munity to interweave the benefits of Science, Technology, Engineering, the Arts, and Math along with a strong focus of entrepreneurship in the Ozarks region.
the.ozarks.systeamic.coalition@gmail.com  or