Frank conversations on weed, women, mental health, politics, and redemption in sports and culture.
About this event
10 years ago, a group of us gathered in the basement of a New York sports bar to talk about the future of sports and sports media at the first Blogs with Balls.
Over the past 10 year, the conversations that were featured on the different panels of sports bloggers, reporters, journalists were honest, with real people showing real emotion and passion about each topic.
Earlier this year, former speaker Keith Bulluck approached us about partnering and re-establishing the event. Bringing back the bloggers and journalists, but having more athlete involvement for direct integration amongst the groups. The voices of this collective group will identify issues in sports and sports culture and be the catalyst that help drive these conversations.
TOPICS & SPEAKERS
Mental Health Stigmas and Acceptance
Robin Lehner, Chicago Blackhawks
Heather Berlin, StarTalk Radio, Discovery
Ben Osborne, Editor-In-Chief, B/R
Messing Up and Bouncing Back
Athletes who misplayed their hands then made it right.
Pacman Jones
Keith Bulluck
Jeff Eisenband
Weed in the League:  Hypocrisy and Opportunity
As state after state considers legalizing recreational marijuana, how (if at all) can active and former athletes integrate into the space socially and economically in a mainstream and productive way. Further, while teams do seemingly anything to get players healthy and on the fields on game day, how do they address the hypocrisy that comes with their stances on marijuana.
Jonathan Casillas, NFL
Mackie Barch, CULTA
Greg Mescall, Broadcaster
Well-behaved women seldom make history
Female athletes are increasingly becoming more vocal on social issues, while demanding equitable pay as their male counterparts.  Are the two fights exclusive, or at some point do they come to a conflicting head?
Erin Simon, Host Cheddar eSports
Shaina Weil, Minorities in Sports Business
Joanna Lohman, Washington Spirit (Ret.)
Alex Rigsby, USA Hockey
Jessica Berman, Deputy Commissioner, NLL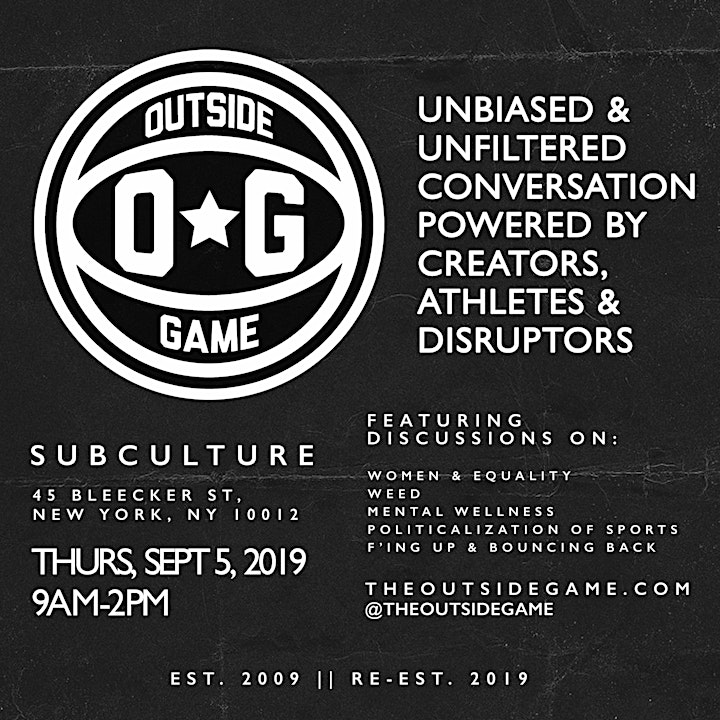 There is still a void in the market that we saw this 10 years ago. We hope we will continue to fill that void as we kick off our first The Outside Game event. Athlete-driven media outlets are censored and constrains the real voice and opinions of what athletes may want to say. While there is no shortage of issues affecting athletes, there is a shortage of platforms for athletes to speak openly about those issues. Sports marketing events seem to be focused heavily on the business side rather than the culture. The Outside Game is going to merge and redefine both.