"The Other Side of the Mirror" _ "L'autre côté du miroir" - Artist Béatrice Prost

Thursday, July 6, 2017 from 6:00 PM to 9:00 PM (AEST)
Event Details
Béatrice Prost Solo Exhibition – 3 to 17 July 2017
Opening Night – Thursday 6 July '17
Fish Lane Studios Gallery – South Brisbane
125 Melbourne St – cnr Fish Lane & Cordelia Street – 4101
We will be celebrating Béatrice's French heritage and transition from Marseille to the Noosa Everglades – Qld Australia – reflective moments for this wonderful Artist – come and meet her and share this amazing showcase of her Work!
6pm to late!



 Artist Statement –
I see this show as the continuation, the overflow of my January show 'Watermarks up the Noosa River'. I want to dive in, to take the plunge and penetrate the 'River of Mirrors' surface. I am in search of the hidden underworld of those tranquil dark lakes and wetland. What lies beneath? What is under the black reflective tannin plane? What secret lies below those mysterious calm black waters? Is it a one way mirror? And if so, which side are we who are breathing air? In front or behind?
"L'autre côté du miroir" est la continuation et le développement de mon exposition précédente « Watermarks up the Noosa River». Je veux plonger, m'élancer plus profond encore et pénétrer la surface de cette « Rivière aux Miroirs » comme on l'appelle ici.  Je pars à la recherche de ce monde caché en dessous des obscurs  lacs cristallins  et des cours d'eau tranquilles des Everglades.  Qu'y–a-t-il sous leur surface noire et réflective chargée de tanins ? Quels secrets se cachent au fond de ces eaux calmes et sombres? Est-ce un miroir sans tain ? Et si oui, de quel côté sommes nous nous qui respirons l'air ?
Technique
Digital but handmade, her original hand carved large works on paper connect her digital world to a more traditional hand crafted mark making process. Through incised dots and linear scars, she intuitively free hand "draws" white organic patterns that connect to the environment.
Béatrice also works with abstracted topographies of organic and mineral presence. She paints with inks, natural pigments and oxides powders to symbolise the elements of our Earth and Universe. From high above to down below, our Planet is her magical inspiration whether working on paper, canvas or aluminium.

Beatrice was to Exhibit with us at our – Fish Lane Studios Workshop/Gallery in April '17 – we are proud to reconvene her Exhibition now in conjunction with the celebration of all things French – here in Australia – we are coinciding and collaborating with Alliance Francaise to showcase this amazing Work of an expat who, after working in Asia has chosen to be Australian for the past 20 years and now lives on our wonderful Coast!

The French Festival will take place between the 7th and the 9th of July in South Bank to share the Brisbane's Francophile community's passion for France with Australia.
And – French Week in Australia – runs from the 7 to 14 July to coincide with the celebrations leading up to Bastille Day 2017 in France – check out https://lefestival.com.au/ for more details!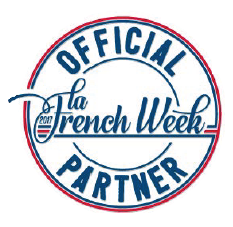 Save
Save
Save
Save
Save
Save
Save
Save
Save
Save
Save
When & Where

Fish Lane Studios Gallery Brisbane
125 Melbourne Street
South Brisbane, 4101
Australia

Thursday, July 6, 2017 from 6:00 PM to 9:00 PM (AEST)
Add to my calendar
Organizer
Fish Lane Studios Limited
Email: http://www.fishlanestudios.com/contact
Website: http://www.fishlanestudios.com
Phone: +61 (0) 419358859 Aust EST
Fish Lane Studios is an internationally based creative collective, dedicated to enhancing our built environments for the well-being of those who occupy the space.
The purpose of the Not For Profit status of the organisation is to enable us to work closely with all sectors of the Community regardless of development status, and ability to pay.
Fish Lane Studios is committed to applying the professional experience of the Collective, to create broad community benefits, through leadership, creative capacity building, developing living environments and skills transfer across continents.
Our Mode
We take the best from all genre of traditional arts to create dynamic, livable environments incorporating new media/tech capability.
Fish Lane Studios has a particular focus, though not limited to, the clinical environments.
Our goal, is to apply the 'Research' that has shown that the use of the 'Arts' – has a material beneficial effect on people in a variety of settings, both as an aid to a personal sense of well-being and as a beneficial stimulant to specific areas of treatment and recovery, in healing environments.
Save
"The Other Side of the Mirror" _ "L'autre côté du miroir" - Artist Béatrice Prost