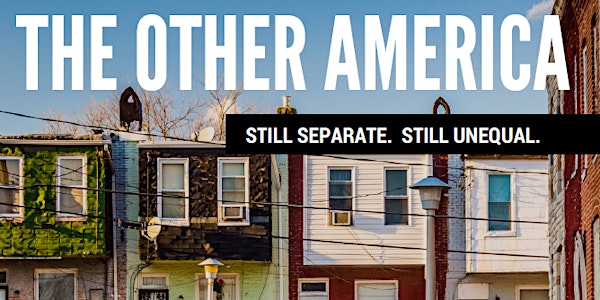 The Other America: Still Separate. Still Unequal.
When and where
Location
Michigan Union: Rogel Ballroom 2nd Floor 530 South State Street Ann Arbor, MI 48109
Description
This interdisciplinary, day-long event will focus on racial inequality as it manifests in relation to the lived experiences of Black Americans. Throughout the day, panelists will discuss the criminal justice system and state violence against Black people, economic inequality and immobility, inequities in healthcare and education, and issues pertaining to race and the environment. The event is co-sponsored by the College of Literature, Science, and the Arts, Poverty Solutions at the University of Michigan, the Institute for Research on Women and Gender, the Center for Political Studies, the Institute for Social Research, Political Scientists of Color, Rackham Graduate School, the School of Public Health and the Departments of Political Science, Psychology, Sociology, and History.
Thanks to the generous support of our sponsors, we have invited the following distinguished panelists to take part in the day's events:
9am Opening Remarks and Welcome
Hakeem J. Jefferson and Steven Moore, Event Organizers, PhD Candidates in Political Science
915am-10:40am Panel 1: Criminal Justice and State Violence against Blacks in the United States
Moderator: Christian Davenport, Professor of Political Science, University of Michigan
Megan Ming Francis, Associate Professor of Political Science, University of Washington
The Strange Fruit of American Politics
Frank Baumgartner, Professor of Political Science, University of North Carolina, Chapel Hill
Criminal Justice Outcomes and Race: From the Routine Traffic Stop to the Ultimate Penalty
Andrea Ritchie, Attorney and Activist, Barnard Center for Research on Women
Invisible No More: Police Violence and Criminalization of Black Women—Remedies and Resistance
Audience Q&A
10:40am-10:50am Break
10:50am-12:15pm Panel 2: Economic Inequality and Immobility
Moderator: Luke Shaefer, Associate Professor of Social Work, Dir. of Poverty Solutions at UofM
Darrick Hamilton, Associate Professor of Economics and Urban Policy, The New School
The (Economist's) Burden: Why Studying Hard and Working Hard ain't Enough for Black Americans
Becky Pettit, Professor of Sociology, University of Texas at Austin
Racial Inequality in an Era of Mass Incarceration
William Elliott III, Professor of Social Work, University of Michigan
From Crisis to Revolution: Making Education the True Equalizer it was Meant to Be
Audience Q&A
12:15-1:45pm Lunch Break and Graduate Student Poster Session
1:45pm-3:10pm Panel 3: Inequality in Urban Spaces
Moderator: Maggie Hicken, Research Assistant Professor, Survey Research Center, University of Michigan
Mark Rosenbaum, Public Counsel Opportunity Under Law Dir. and Adjunct Prof. of Law at UC Irvine
The Miseducation of America
Paul Mohai, Professor, School of Natural Resources and the Environment, University of Michigan
Race, the Environment, and Environmental Justice
Abigail Sewell, Assistant Professor of Sociology, Emory University
From Collateral Damage to Carceral Grief: Race, Illness, and Policing in the 21st Century
Audience Q&A

3:30pm-4:45pm Roundtable discussion including all panelists
Moderated by Bankole Thompson, Op-ed columnist at The Detroit News

Concluding Remarks Vincent L. Hutchings, Professor of Political Science, University of Michigan

--
Frank Baumgartner, Richard J. Richardson Distinguished Professor of Political Science at the University of North Carolina at Chapel Hill. Author of The Decline of the Death Penalty and the Discovery of Innocence (2008), Deadly Justice: A Statistical Portrait of the Death Penalty (2017), and Suspect Citizens: What 20 Million Traffic Stops Tells Us About Policing and Race (Forthcoming).
Website: http://www.unc.edu/~fbaum/
William Elliot III, professor of social work at the University of Michigan and the founding director of the Center on Assets, Education, and Inclusion. Leading research in the fields of children's savings and college debt. Research interests broadly focused on public policies related to issues of economic inequality and social development. His research has served as the impetus for Children's Savings Account (CSA) programs and policies across the U.S.
Website: https://ssw.umich.edu/faculty/profiles/tenure-track/willelli
Megan Ming Francis, associate professor of political science at the University of Washington. Author of Civil Rights and the Making of the Modern American State (2014), which won the 2015 American Political Science Association's Ralph Bunche in Award for best scholarly work in political science that explores the phenomenon of ethnic and cultural pluralism. Currently working on second book project that examines the role of the criminal justice system in the rebuilding of southern political and economic power after the Civil War.
Website: https://www.polisci.washington.edu/people/megan-ming-francis
Darrick Hamilton, associate professor of economics and urban policy at The New School for Social Research at The New School. Has written widely on the causes, consequences and remedies of racial and ethnic inequality in economic and health outcomes, which includes an examination of the intersection of identity, racism, colorism, and socioeconomic outcomes.
Website: https://www.newschool.edu/public-engagement/faculty-list/?id=4d6a-4579-4e44-6b32
Paul Mohai, professor at UM's School for Environment and Sustainability. Teaching and research interests are focused on environmental justice, public opinion and the environment, and influences on environmental policy making. He is a founder of the Environmental Justice Program at the University of Michigan and a major contributor to the growing body of quantitative research examining disproportionate environmental burdens and their impacts on low income and people of color communities.
Website: http://seas.umich.edu/research/faculty/paul_mohai
Becky Pettit, professor of sociology at UT Austin. Author of numerous articles focused on social inequality, she is also the author of two books, Invisible Men: Mass Incarceration and the Myth of Black Progress (2012) and Gendered Tradeoffs: Family, Social Policy, and Economic Inequality in Twenty-One Countries (2009).
Website: https://liberalarts.utexas.edu/sociology/faculty/emp2344
Andrea Ritchie is a Black lesbian immigrant and police misconduct attorney and organizer who has engaged in extensive research, writing, and advocacy around criminalization of women and lesbian, gay, bisexual and transgender (LGBT) people of color over the past two decades. She is the author of Invisible No More: Police Violence Against Black Women and Women of Color (2017).
Website: http://andreajritchie.com/
Mark Rosenbaum, civil rights attorney and adjunct law professor at UC Irvine, former professor of the practice at UM law. Rosenbaum has been principal counsel in landmark cases in the areas of K-12 public and higher education, voting rights, poverty law and homelessness, racial, gender, class and sexual orientation discrimination, health care, immigrants' rights, foster care and criminal defendants' rights. He most recently argued before the Supreme Court in Schuette v. Coalition to Defend Affirmative Action and is currently lead counsel in a suit against the state of Michigan alleging it has denied Detroit students equal access to literacy.
Website: http://www.publiccounsel.org/pages/?id=0080
Abigail Sewell, assistant professor of sociology at Emory University. Scholarship focuses on the political economy of racial health disparities, the social construction of racial health disparities, and quantitative approaches for studying racial inequality and structural racism.
Website: http://sociology.emory.edu/home/people/faculty/Abigail%20A.%20Sewell.html

Event Moderator--
Bankole Thompson is an Op-Ed columnist at The Detroit News, where he writes twice-a-week on Monday and Thursday. His column encompass politics, culture and economic issues, and his work also appears in the international media such as The Guardian. A leading voice on race and free speech issues, Thompson, has written extensively about how race and the cultural divides shaped the 2016 presidential campaign and election. His groundbreaking coverage of the 2008 historic presidential campaign led to a series of exclusive sit-down interviews with Barack Obama, as well as authoring two books on the former president. A polemic writer and culture critic, Thompson's work has drawn the ire of leading ideological opponents, culminating in an important first amendment victory in a lawsuit against him and The Detroit News by prominent white supremacist James Edwards, whose lawyer also represents Richard Spencer, founder of the Alt-Right Movement. In recognition of his journalistic contributions, the University of Michigan Bentley Historical Library, in 2015 established the "Bankole Thompson Papers, a collection preserving his work for perpetual use by students and scholars.
The event is free, open to the public, and will be held in the Kuenzel Room on the first floor of the Michigan Union. Breakfast and lunch will be provided.
For more information, contact symposium organizers, Hakeem Jefferson (hakeemjj@umich.edu) and Steven Moore (stvmoore@umich.edu).